April 9, 2013
Comments Off

on Shout Out from Totally Target
I always post comments on other blogs/websites when I am able to find good deals.  Since I started this blog I can now show in detail all of my finds here.  Totally Target posted me on there website today with a link to my blog.  This website really has been so helpful in finding good deals at Target and all other stores.  I was so excited to see it I called B and my mom to tell them how happy I was.  Below are some screen shots from the post on Totally Target.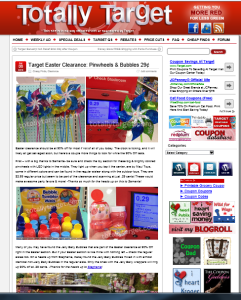 How exciting is this!!!!!!
Disclaimer: I have never claimed to be any great writer. So any mistakes that are made are my fault. Sometimes I mix up names B, S, and P, but I think you can figure out who I am talking about. If you find any grammatical errors just fix it in your mind so it sounds right.