September 25, 2013
Comments Off

on Sawyer 45 Months Update
Sawyer has made some major strides in the last three months.  He is now 39 1/8 in, which is up just shy of an inch from 3 months ago.  He only weighs about 35 lbs which is only up 1.5 lbs.  He is now talking up a storm, speaking in full sentences and says the funniest things.  The sarcasm that comes out of his mouth is amazing.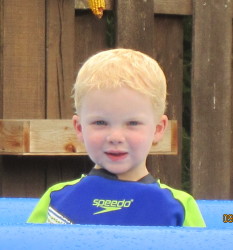 Sawyer has finally given up the binkies.  He got sick at the beginning of August with Hand, Foot, and Mouth and had a ton of blisters in his mouth, on his tongue and lips.  Because of this it hurt to use his binky so it just worked out to stop using them.  To celebrate no longer using binkies we put them on a train car that was passing under a bridge we were standing on.  Sawyer loved dropping his binkies on a train.
Sawyer has finally agreed to wear regular undies to bed every night.  He has been potty trained for over a year, but wanted to wear diaper/pull-ups at night just in case he had an accident.  I think he has only had about 3 in the last year.  If this made him feel better to sleep then I am okay with it.  Sawyer has upgraded in the last year from a crib to toddler bed to twin bed.  He now has a fully transformed room from baby to big boy.  Yes, that is a towel on the window to help black out the room.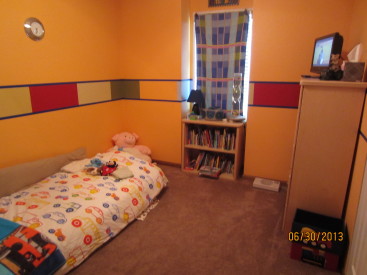 Sawyer is all about playing with his trains and is great at pretending with them.  He has also discovered board games.  I got out Candyland and he aced it.  Guess I should have gotten it out earlier.  He also loves Moo Uno!, which I do too!  Sawyer has also been interested in cards so we have been playing with them and I am trying to teach him all the numbers, royals (jack, queen, king and ace), and suits.  He has got hearts and diamonds.  He can never remember what a spade is and always calls a club a clover.  I think I did that when I was little, too.  Sawyer went tubing for the first time up at Uncle Jeff's.  He is still talking about it and wants to know when he can go again.  It's a little too cold right now maybe next summer.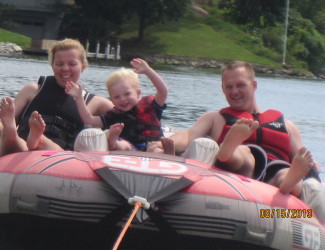 Sawyer got an F-150 Power Wheels this summer and has been riding it all over the place.  Derby loves to ride in a trailer behind him and Sawyer loves to pull him.  Between the truck and the racecar Sawyer is becoming one great little driver.  I cannot believe the way he can back those vehicles up, just like a real car.
Sawyer picked to be a handyman for Halloween this year.  It took two tries, but he was so much fun the second time getting pictures.  He got right in the studio and started posing before the photographer was even ready.  When I gave Sawyer some pumpkins, he was all about playing with them.  I couldn't be more happy with his pictures.
Disclaimer: I have never claimed to be any great writer. So any mistakes that are made are my fault. Sometimes I mix up names B, S, and P, but I think you can figure out who I am talking about. If you find any grammatical errors just fix it in your mind so it sounds right.