December 6, 2015
Comments Off

on Saturday Sales
Saturday Sales is all about the great deals I found in-store or online.   I know this is only going to show you how much I actually do or don't shop.  I do find a ton of great deals online and even in the store.  So if I don't make any purchases you can see what I thought about purchasing in the past week.  Right now I am not going to include my Target Clearance Finds in this post.  Now that the clearance is gearing back up again at Target I am hopefully going to have some great finds.
I know it is a few weeks late, but here are my pics of the Black Friday deals we got.
Meijer-Thursday Morning-$294.96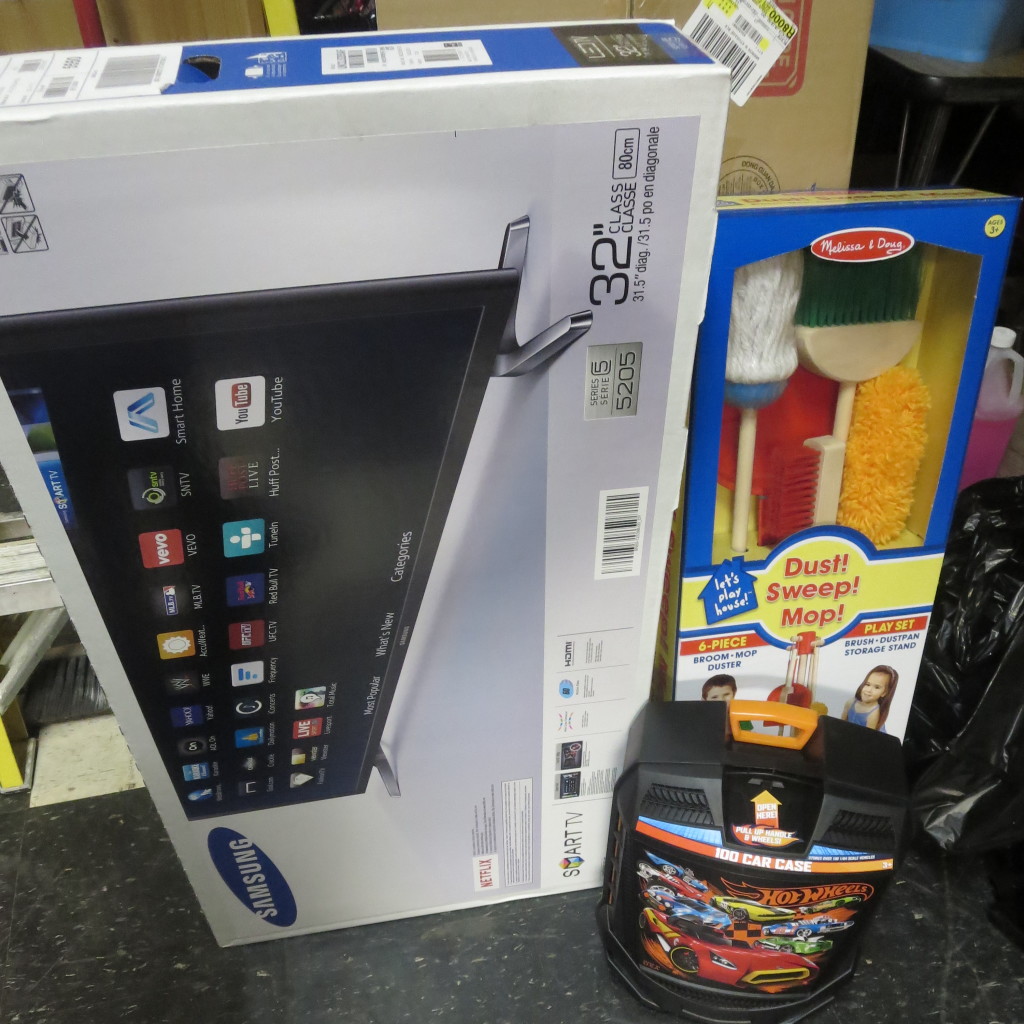 B snuck out Thursday morning and none of us even knew he was gone.  Before any of us woke up he was already back in bed sleeping.
32" Smart TV-The idea was to get the Smart TV at Wal-Mart, but B found is TV that was a little higher price $230. It is the same brand, same size, but higher quality picture.
Melissa and Doug Dust! Sweep! Mop! Set-S doesn't like to clean, but for some reason P does. She loves to walk around putting things away, wiping things off, and so forth.  It was 50% off-$14.99
Hot Wheels Carrying Case-S has so many cars that he already has a few of them and it does not even come close to holding the amount of cars he has-$9.99
Disney Storybooks-(Not Pictured) There are three more books we added to the collection-$6.00
Wal-Mart-Thursday Evening-$306.25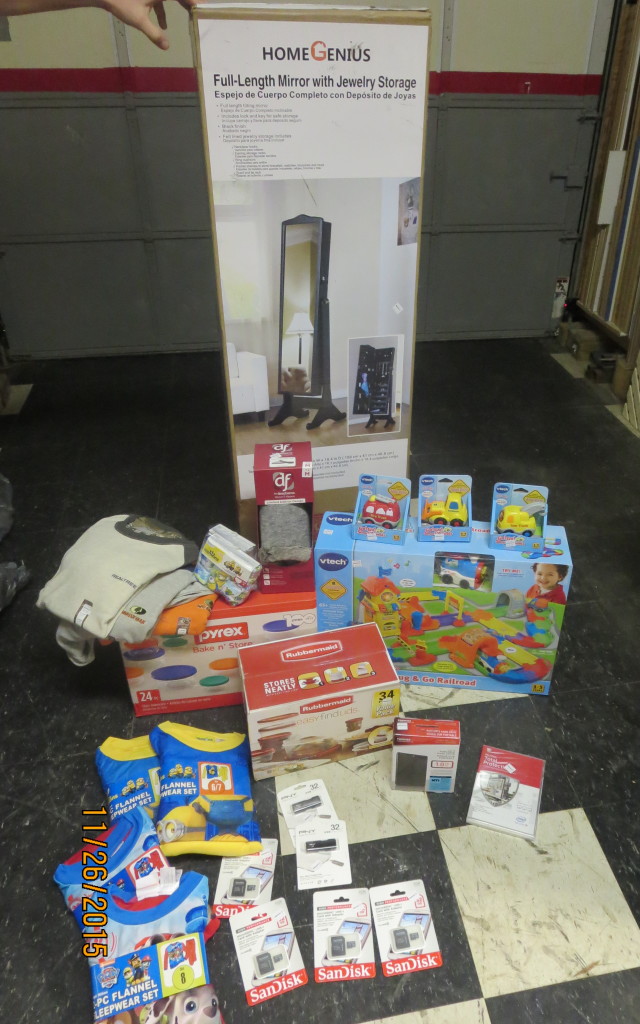 B got just about something on the list we were wanting and then some.
Full-Length Mirror with Jewelry Storage-I really wanted this but not for a stand to hang on the wall.
Dearfoam Slippers
Mossy Oak/Real Tree Thermals-$6.50
2 3-pack of boys underwear-$3.00
Pyrex Set-Looks like it was free, I can't find it on any receipts.
Rubbermaid Set-$7.50
VTech-Go! Go! Train-S really wants this for P so somehow she will get this for Christmas. It was only $25. B also got three extra vehicles to go with the set-$5.00
Boys Pajamas-There are two sets of pajamas for size 6/7 and 8-$4.75
4 Micro SD that were each 32 GB-$10.00
2 PNY 32 GB Flashdrives-$7.00
1TB Toshiba Portable Hard Drive-$49
McAfee Total Protection Software-$9.88
Disney Storybook-$6
This is my list for Wal-Mart
Wal-Mart-Starts Thursday at 6 pm
pg 3-Samsung 32" Class Smart TV-$198
pg 4-Samsung Galaxy Tab 3 Lite 7.0 Android Tablet 8 GB-$79
pg 4-Toshiba Portable 1 TB Hard Drive-$49
pg 12-Kids Storybook-$6
pg 18-VTech Chug & Go Railroad-$25
pg 21-Rubbermaid Easy Find Lids 34 pc. Food Storage Set-$7.50
pg 21-Pyrex Bake-n-Store 24 pc. set-$19
pg 24-30" Storage Ottoman-$29
pg 24-Full-length mirror w/ Jewelry Storage-$69
pg 26-Boys Character 2 pc Sleep Set-$4.75
pg 27-Boys Character Briefs, 3 pack-$3
pg 29-Ladies DF by Dearfoams Slippers-$7
pg 30-Men's Realtree/Mossy Oak Crew Thermal-$6.50
Menard's-Friday Morning-$829.54-$82.36 (Return Amount)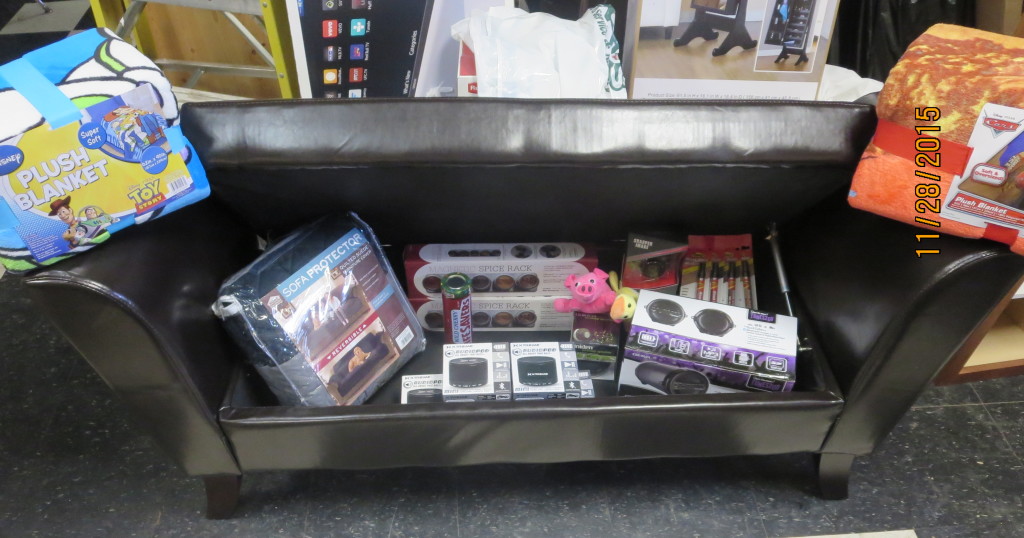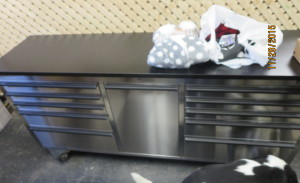 Bench-I wanted this for the end of our bed if the leatherette was black. It is a deep black/brown. When it is in the bedroom, it is close enough that we are going to keep it-$79
2 Disney Blankets-Ended up returning them-$7.99
Sofa Protection Cover-Ended up returning it-$7.99
2 sets of Magnetic Spice Racks-I want to use these for my scrapbooking supplies-$4.99
Lifesaver tin-I guess B needed a little sugar-$1.97
5 Mini-Extreme Portable Speakers-We love the ones we have bought in the past and wanted to get more-$4.99
Mini-Uniden Waterproof Portable Speaker-$4.99
Tunes2Go Rock Tube-B wanted this to use outside when he is working-$19.99
Sharper Image Head Cam-We decided to return it. It was too expensive to let S play with this-28.88
Dog toys-While I love the pig and duck, PJ does not play with stuffed animals and the kids don't need anymore toys-$1.99
4 Stain Marker Pens-3.99 Each
Toolbench Storage-B really wanted this and thinks it will help to organize the garage better-$499
There is also a bunch of other small stuff that I see on the recipe but did not get pictures of the items.

Robe-returned $6.99
3 hats-2 returned, 1 kept $3.99 each
Ear Phone Hat-returned $4.99
2 Pet Beds-kept $12.49
This was my list for Menard's
Menard's–Starts Friday at 6am
pg 1-6 hr-35×44 Giant Pet Bed-$8.95
pg 7-6 hr-Companion Gear Paw Print Keepsake-$1.99 x 6
pg 8-6 hr-Uniden Waterproof Speaker-$4.99
pg 8-6 hr-Xtreme Audio Pod-$6.49
pg 13-2-day-5 pk Magnetic Spice Rack-$4.99
pg 14-2-day-Kids Character Flip Hats-$3.99
pg 17-2 day-Bonded Leather Storage Bench-$79
Did you find any great deals this past week shopping?
Disclaimer: I have never claimed to be any great writer. So any mistakes that are made are my fault. Sometimes I mix up names B, S, and P, but I think you can figure out who I am talking about. If you find any grammatical errors just fix it in your mind so it sounds right.