July 24, 2016
Comments Off

on Santa Cruz Organic Agua Fresca Review
I applied through Green Moms Meet to try this product and review it on my blog.  I was so happy to be selected to review Santa Cruz Organic Agua Fresca Products.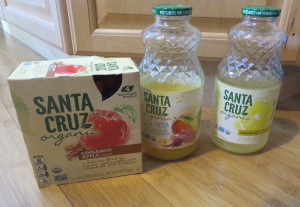 As a pioneer organic brand, Santa Cruz Organic was the first to have a wide range of organic, 100% juices and blends.  They were also the first juice processor to use all organic fruit sourced from growers certified by an independent, third-party certification organization.  With a history of developing innovative products, Santa Cruz Organic currently offers more than 50 organic items ranging from organic juices and sparkling beverages to organic fruit sauces, chocolate syrups, peanut butters, and fruit spreads.
Here are some facts about Santa Cruz Organic Agua Fresca products:
Inspired by traditional agua fresca, Santa Cruz Organic Agua Fresca is made with core ingredients such as organic fruit juice, sugar, and a hint of lemon juice.
Santa Cruz Organic Agua Fresca contains only a handful of USDA Certified Organic ingredients, including organic juice/fruit puree as the first ingredient after water.
These refreshing and lightly sweetened beverages are Non-GMO Project Verified, Gluten-Free, and available in three varieties: Pomegranate, Mango Passionfruit, and Grapefruit.
Click here with Santa Cruz Organic online to see their latest products and get exclusive access to discounts and special offers!
A 32 oz. bottle of Santa Cruz Organic Agua Fresca retails for $3.20-$3.49, depending on location.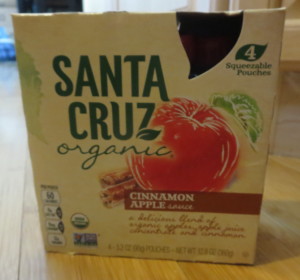 I love to drink juice but do not have it in the house because I know I will drink all of it.  When I got the two bottles of juice in the mail I immediately had to open them both up and try them.  I got a bottle of Mango Passionfruit and Lemonade.  As a bonus I got a 4-pack of applesauce pouches.  As I was going through the box, P saw the pouches and had to have one immediately.  On the bottom of the box was a coupon for another Santa Cruz Organic product.  Because P loves the applesauce so much I got applesauce with cinnamon pouches for her to try.  Back to the juices.
I love mangos, but am not really a fan of passionfruit so I had no idea if I was going to like the Mango Passionfruit juice.  I realized after I drank some that I needed to shake the bottle really well to mix in everything that had settled to the bottom of the bottle.  The second glass of juice I had a ton of taste to it.  I liked the mango in it, but again did not like the passionfruit in it.  I gave S some to try and he told me it was okay but he did not want to have another taste.  Unfortunately, we did not end up drinking the rest of the juice because it was just not something that we liked.
I really love sour things, so when I saw the second bottle was lemonade I was ecstatic.  This was definitely tart and made your lips pucker.  I ended up mixing the lemonade half and half with water.  It definitely helped me when it came to drinking the daily amount of water recommended.
Disclosure: I received this product for free from the sponsor of the Moms Meet program, who received it directly from the manufacturer.  As a Moms Meet blogger, I agreed to use this product and post my opinion on my blog.  My opinions are all my own, and do not necessarily reflect the opinions of May Media Group LLC or the manufacturer of the product. 
Disclaimer: I have never claimed to be any great writer. So any mistakes that are made are my fault. Sometimes I mix up names B, S, and P, but I think you can figure out who I am talking about. If you find any grammatical errors just fix it in your mind so it sounds right.