April 3, 2016
Comments Off

on Moms Meet Gaia Herbs Bronchial Wellness for Kids Review
I applied through Mom's Ambassador to try this product and review it on my blog.  I was so happy to be selected to review Gaia Kids.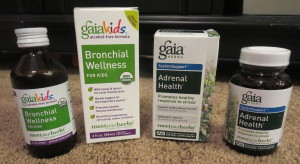 Gaia Herbs cultivates health and well-being by stewarding sustainable relationships between plants and people.  They offer more than 200 liquid extracts, functional powders, teas, and patented Liquid Phyto-Caps, each formulated to do what's best for your body and for nature.  Gaia uses only organic methods on their farms, and that same organic approach continues through manufacturing.  Part of their seed-to-shelf commitment is the industry's only traceability platform, MeetYourHerbs.  This dedication to purity, integrity & potency ensures the safety and efficacy of their products.  Take control of your own well-being and experience the Gaia difference.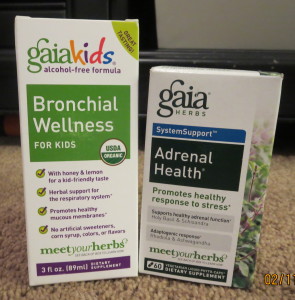 Here are some facts about each Gaia Kids products:
Gaia Herbs has a line of herbal formulas just for children–GaiaKids.  Formulated by pediatric naturopath, Dr. Mary Bove, this line consists of 10 alcohol-free herbal formulas that deliver herbal support with kid friendly tastes.
GaiaKids Bronchial Wellness for Kids provides herbal support for the respiratory system and promotes healthy mucous membranes.
Recommended for kid's ages 2 to 15, GaiaKids Bronchial Wellness for Kids has a great taste that comes from organic honey, lemon, and flavorful essential oils.
Parents can trust the purity of organic herbs used in GaiaKids Bronchial Wellness for Kids, such as Plantain and Grindelia that are used traditionally in Europe for promoting respiratory health and naturally processed to ensure high concentration and absorption.
GaiaKids Black Elderberry Syrup is a great tasting all-natural syrup, made from Certified Organic Black Elderberries and added Acacia honey that can be taken by children daily or on occasion to support their immune systems.
Honey offers tasty and soothing support for the upper respiratory system, and the formula contains no artificial flavors or colors, no preservatives, and no high fructose corn syrup.
GaiaKids Bronchial Wellness for Kids and GaiaKids Black Elderberry Syrup retails for $19.99 for 3 fl.oz.
At Gaia Herbs, purity is their promise.  By visiting MeetYourHerbs.com you can track each product and find proof that the product passes all quality tests to ensure the safest products for your children.  Interested in learning more about herbs and the ingredients in GaiaKids Bronchial Wellness for Kids click here.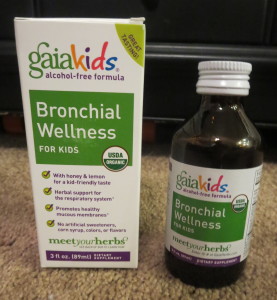 With all of that information I still couldn't figure out what you use these products for.  I guess I was looking for if you are feeling x, y, or z, then this will help to relieve those issues.  Nowhere on the box or websites did it explain to me exactly what to use this for.  I know one of the boxes said Bronchial Wellness for Kids and Adrenal Health, but still I was confused.  I did not try either product because I am not willing to give my kids or me something that I do not know what it is going to do to us.  I think I would have to pass on these products and not recommend them for use.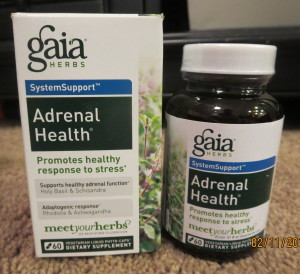 Disclosure: I received this product for free from the sponsor of the Moms Meet program, who received it directly from the manufacturer.  As a Moms Meet blogger, I agreed to use this product and post my opinion on my blog.  My opinions are all my own, and do not necessarily reflect the opinions of May Media Group LLC or the manufacturer of the product. 
Disclaimer: I have never claimed to be any great writer. So any mistakes that are made are my fault. Sometimes I mix up names B, S, and P, but I think you can figure out who I am talking about. If you find any grammatical errors just fix it in your mind so it sounds right.