November 4, 2013
Comments Off

on Manic Monday
Manic Mondays are when I let you know what plans I have for the week.  Some weeks I may be very busy where other weeks there may not be any plans.  I have also decided to do a quick recap of what we actually did versus what I thought we were going to do.
This Week
Monday-There are no plans for today, just recovering from an extended Halloween holiday.  I plan on taking the pumpkins down today and hanging up the turkey decorations.  Our Carefree Crafts package came in the mail on Saturday and I cannot wait to start some of these Thanksgiving crafts to help decorate the house.
Tuesday-I am hoping that Target Halloween goes 90% today, but I am thinking it is going to happen tomorrow when I have a busy schedule.  If I don't go to Target today I plan on just staying home and hanging out.
Wednesday-Today starts S's next session of his preschool storytime at the library.  After that we our getting our family Christmas pictures done.  Let's hope S cooperates and my hair does too.
Thursday-S is starting his next session at zoo school.  In this session, he is learning about animals that eat plants, another week is animals that eat meat, and the last week is animals that eat both.  I may make a trip to Target, it just depends how many times I have already gone this week.
Friday-Not much is going on this weekend so looks like today we will just be hanging out at home.
Saturday-S and I will be going to a Lowe's build this morning.  He loves to go to Lowe's to see his Lowe's girlfriend who runs the builds.  After the build I think we will just be hanging out at home waiting for B to get home from work.
Sunday-Today I think S and I will have a pajama morning and hang out in our pajamas reading the Sunday paper.
Last Week Recap
Okay it was busy on some days and others we did absolutely nothing.
Monday we were still out of town and went to EnterTrainment Junction for a good portion of the morning and early afternoon.  S had a great time watching all the train displays that were everywhere you looked.  Of course on the three hour drive home I fall asleep and S stays awake the whole time talking to B.  Ten minutes before we get home I look at S and he is passed out in the backseat.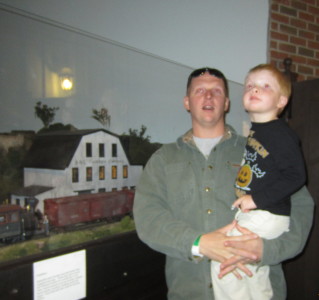 Tuesday S and B went over to B's dad's house to help finish the garage.  I stayed home, caught up on the DVR, blog posts, and some relaxation.  Wednesday we just spent hanging out at home not doing a whole lot of anything.  It was pretty nice outside so S took advantage and rode his bike and drove his cars all over the place.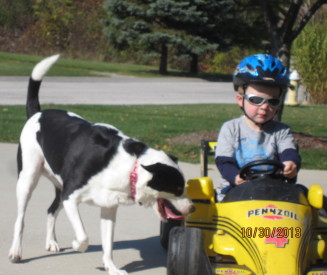 Thursday we got S ready to trick-or-treat uptown at the local businesses.  It was raining, and windy.  It was about 60°, so it wasn't terribly cold or anything.  We did get pretty wet walking around but S was having a great time.  After getting wet we decided we were not going to go at night.  Lucky for us when we got home the noon news said that they postponed trick-or-treating until Sunday night.  Bummer B has to work Sunday night and will miss it.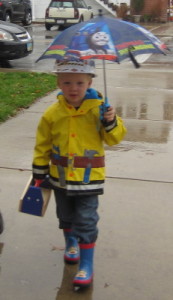 Friday we didn't really do anything.  F (S's cousin) came over to play for a little while in the afternoon which S loved.
Saturday S and I went to Home Depot and built his sailboat.  S kept asking when Uncle F was going to come and visit him.  The rest of the afternoon S kept running to the windows to check and see if there car was here.  I kept telling him it was Uncle F and Aunt D.  S had so much fun when Uncle F got here.  He just could not stop talking and telling Uncle F and Aunt D everything.  When it was time for them to leave, he just kept trying to get them to stay for just one minute longer.
Sunday I convinced B to go to Target with S and me and look at the Halloween clearance.  We did also check out the toys so B could inspect them and decide which ones he really wants to get for S.  S and I went to my mom's to hand out candy to all the trick-or-treaters.  He did end up wanting to go trick-or-treating for a little bit.  We only did one block and he wanted to go back to grandma's and hand out more candy.  He was so cute handing out candy.  S would open the front door and yell to get kids to come to the house.  Here are a few of his lines he used.
"Hey kids, I got candy!"
"Kids, come get candy from me!"
"Get over here!" (I told him to be nice so he said.) "Please, get over here!"
"My name is Sawyer, come and see me!"
"I got free candy!"
"It's not a trick, it's a treat!"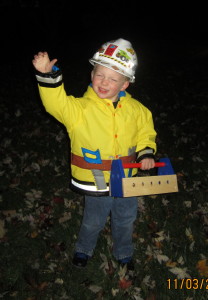 Last Week
Monday-We will be spending the day in Cincinnati at one of the largest indoor train displays.  S is going to be in heaven.
Tuesday-As of right now we will just be hanging out at home recovering from our night away from home.
Wednesday-It looks like there are no plans so it will be another day at home.
Thursday-In the morning we will trick-or-treat at local businesses, head home for a break in the afternoon and then of course go for the big trick-or-treat pending the weather.  If it is raining we will not head out.  S could care less about the candy he just likes going out.
Friday-I think today we will spend the day recovering from yesterday.  If I can I am going to try and talk B into setting up the Christmas tree and getting some decorations out.  Maybe we will start on that and finish over the weekend.  Of course we have to get out the turkey decorations pronto for Thanksgiving.  I think this year we may make turkeys out of apples.  Last year we made cupcakes look like turkeys.
Saturday-S and I are going to the monthly build at Home Depot.  This month we are building a small sail ship.  S is going to love building a boat.  I learned the hard way last month and we will not be painting this ship.  What a pain in the butt that was last month.  I ended up getting the paint on me because I was so worried about getting paint on S.
Sunday-Hopefully we can finish up decorating for Christmas and start to get into the spirit.  I cannot wait for the Christmas season.  I love the build-up more than the actual day.
Disclaimer: I have never claimed to be any great writer. So any mistakes that are made are my fault. Sometimes I mix up names B, S, and P, but I think you can figure out who I am talking about. If you find any grammatical errors just fix it in your mind so it sounds right.