October 14, 2013
Comments Off

on Manic Monday
I am trying a new link-up,  with Sami's Shenanigans so let me know if you are visiting from the link-up so I know if I should keep it up!
Manic Mondays are when I let you know what plans I have for the week.  Some weeks I may be very busy where other weeks there may not be any plans.  This week so far looks like it is going to be a very slow week.  I have also decided to do a quick recap of what we actually did versus what I thought we were going to do.
This Week
Monday-B is off so we are going to run a few errands as a family and make a pit stop at Costco while we are out.
Tuesday-This is the last week of watching Baby A so this will be my last Tuesday to get up early to watch Baby A.  (No real reason as to why I am no longer watching Baby A, my neighbor just found someone else and that works for me.  I am sure I will still have him here and there when a sitter is sick.)
Wednesday-Baby A and I will take S to his last story time for this session.  Then we have two weeks off before we start up with the next storytime session.  The rest of the day we are just hanging out at home.
Thursday-B is getting up early after working last night and will take S to zoo school.  This week they are learning about spiders and bugs.  I hope S can overcome his fear of spiders.  The farmer's market is done for the year so we will not be going to that.  Depending on how Baby A is we may make a run to Target at some point.
Friday-S and I will hang out in the morning while B sleeps and then later in the evening we are going to B's cousin for a cousin get together.  If I get my shipment from House Party (I was selected to host another party), we will take all the games that I get and try to get them to play.
Saturday-There are some Halloween activities going on around the area so I think we will try and hit some of those.
Sunday-Either we will hang out around the house all day or find some Halloween activities to do.
Last Week Recap
Monday we hung out at home and later in the day S and I did a little science project.  We have been working what happens when you mix two colors (blue+yellow=green).  S had a great time with our little science class and I think we are going to have to have more.  Any good ideas for what I can do next?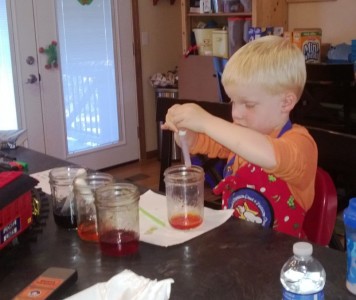 Tuesday we hung out at home playing and watching Baby A.  Wednesday S did not go to story time because we took him to the foot doctor's for x-rays because he would not walk on his right foot and said it hurt really bad.  He started limping last night and hurt it while helping B run errands.  The rest of the day S had to take it easy so he spent most of the day on the couch.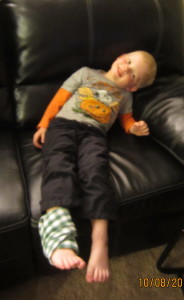 Thursday we had Baby A, went to S's first zoo school class, the farmer's market and I had a late night run to Target.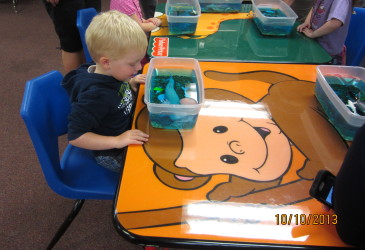 Friday S and I just hung out all day and did a whole lot of nothing.  We played inside and outside, nothing special.  Saturday S and I went to his build at Lowe's in the morning and then went home to play outside.  S spent quite a while playing in the sandbox.  I sat in my hammock seat reading my book, enjoying the weather.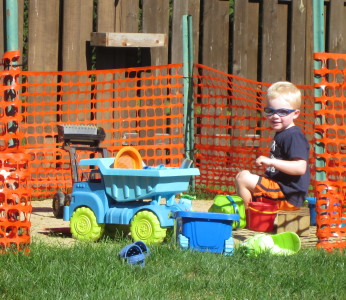 Yesterday we hung out at home.  S didn't feel like playing outside so we played inside most of the day even though it was beautiful outside.  I convinced S to run to the post office with me to weigh a few packages.  I sold a bunch of stuff on eBay this past week and need to get it out on Tuesday (post office is closed on Monday).  I finally got S to go outside in the evening and I drew him a racetrack and he drove all of his bikes, cars, etc. all over the place.
Last Week
Monday-It looks like a quiet day at home waiting for B to wake up.  Then S will get to spend a few hours with S before he has to go to work.
Tuesday-Today we have Baby A and it looks like we will just be hanging around the house.
Wednesday-S has storytime at the library today.  I am not sure if Baby A and I will take him or if B will take him.  It all depends on S's attitude about going.  He still asks if that boy that bit him is going to be there.  If he is hesitant then B will take him and sit in the classroom if necessary.  If not, Baby A and I will take him.
Thursday-Today is Target day.  Since B is home I will either go with Baby A and S will stay home or go after Baby A goes home.  B got a whole bushel of apples last week at the farmer's market, so this week we only need apple cider and to return the wooden crate to Haslinger's Orchard (where we get our fruit from).
Friday-I have a few errands to run today.  Hopefully, S will be game to run errands with me.  Other than that, we will just be hanging out at home.
Saturday-S and I will be getting up and going to Lowe's for S's build.  He is making a Spooky Stacker.  The rest of the day looks like we will be at home waiting for B to come home from work.
Sunday-B is working so S and I will probably just stay home and veg out most of the day.
Disclaimer: I have never claimed to be any great writer. So any mistakes that are made are my fault. Sometimes I mix up names B, S, and P, but I think you can figure out who I am talking about. If you find any grammatical errors just fix it in your mind so it sounds right.