February 4, 2018
Comments Off

on Manic Monday
Manic Mondays are when I let you know what plans I have for the week.  Some weeks I may be very busy where other weeks there may not be any plans.  Since I now have two little ones to take care of I am going to post weekly goals for myself to try to hold myself accountable.  I have also decided to do a quick recap of what we actually did versus what I thought we were going to do.
This Week
It is going to be a super quiet week.  There are absolutely no plans that I can remember.  So we are basically going to be hanging out at home.
Monday-Hopefully S has school today.  It is questionable based on the weather right now and how many delays there are on TV.  B goes back to his regular job so he will be home during the day today.
Tuesday-S has catechism and piano lessons.  We have the potential to get snow tonight and could possibly get a ton of snow and S may not have school on Wednesday.  The weather forecast always changes so who knows.
Wednesday-P has story time in the morning.  The rest of the day we are hanging out home.
Thursday-We are just going to be hanging out at home during the day and then after school.  I really need to work on the decorations for my sister's shower so since we have nothing going on this is a good day to work on them…..after B gets up.  I guess him going back on shift work is going to damper me working in the computer room.
Friday-B is off and I am really hoping I can convince him to go get tickets for Chris Stapleton.  The tickets go on sale today but the concert is not until October.  The closest he is playing is Cincinnati.  Good thing I have over 6 months to figure out the logistics on that.
Saturday-We are all home so who knows what we will end up doing.
Sunday-We have church in the morning as part of S's catechism classes. Maybe we will go out to breakfast afterward.
Last Week Recap
Monday not a whole lot happened.  P and I just hung out at home.  When S got home from school we worked on homework and S went to bed early because he got up so early.  Actually he went to bed early every night this week.
Tuesday not a whole was happening.  After school S had catechism and while he was at piano lessons B, P, and I ran to Michaels to see if they had grab bags.  They did!  We ended up getting 5 grab boxes for $4 each.  I definitely got my money's worth out of those boxes.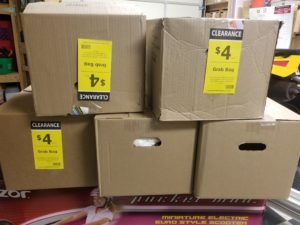 Wednesday P and I went to her story time.  The rest of the day we hung out at home.
Thursday P and I hung out at home during the day.  B started to work on redoing his brakes on the truck after he got home from work.  I ran to Michaels in the evening to get more felt to work on S's pew marker (I still haven't started it.)  When I got home B had the kids helping him with the truck instead of getting ready for bed.  P was so happy to be out helping.  This is the first time she really has helped when B has been working on stuff.  The kids and I worked on making S's dalmatian shirt for school.  They celebrated 101 days of school on Friday.
Friday P and I hung out at home because B had the wheels off the truck so we were house bound.  In the afternoon we went over to the neighbors to hang out and play.  When S got home from school he was basically missing all of the dots on the back of his shirt.  We watched Beauty and the Beast before bed.
Saturday the kids went to a build at Home Depot with B.  They made corn hole.  In the afternoon, we surprised the kids with Disney on Ice.  P loved everything about it and never took her eyes off the ice.  She knew who all the princess where because we have been reading a different story every night.  S could have passed on the entire thing.  I think at times he liked it but did not enjoy it.  P asked if we could watch Aladdin when we got home so we ended the night with Aladdin.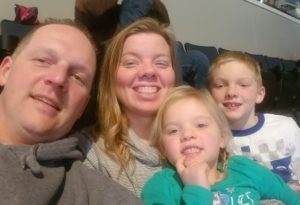 Sunday–B let me go back to sleep after he got up so basically a morning nap.  We got snow last night and today so the kids bundled up in the afternoon and went outside to play.   I stayed inside and wrote a few reviews on Amazon, worked on a post and watched a little TV.  B asked me to come out and help build the snowman. So I bundled up and headed outside.  The kids had a blast building the snowman and then making a tunnel through the bottom of it.  When P came inside she watched Snow White and the Seven Dwarfs.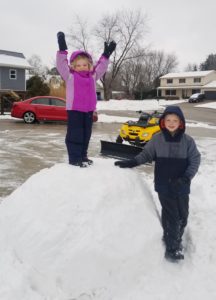 Last Week
It is going to be a quiet, boring week around here.  Just the kind that I like.
Monday-We have no plans so we are just going to hang out at home.  Unfortunately, today is the start of a cold front and the tease of spring we had is gone.
Tuesday-S has catechism and piano after school.  I am going to run so errands while he is at piano lessons.
Wednesday-P has story time in the morning and then we are meeting someone in the afternoon that I am selling items of the local garage sale Facebook page.
Thursday-I could make a run to Target with P today but there is not anything that I am looking at.  I don't think we will make more runs to Target until after Valentine's Day to do the 90% Valentine's clearance.  I guess it will be another day at home.
Friday-Wait a repeat of the other days this week.  We will just be hanging out at home.
Saturday-We have a Home Depot build in the morning and then we are surprising the kids with Disney on Ice in the afternoon.  P is going to lose her stuff when she
Sunday-B is home today.  I can't think of any plans we have but I am sure something will come up.
Disclaimer: I have never claimed to be any great writer. So any mistakes that are made are my fault. Sometimes I mix up names B, S, and P, but I think you can figure out who I am talking about. If you find any grammatical errors just fix it in your mind so it sounds right.