January 31, 2018
Comments Off

on Manic Monday
Manic Mondays are when I let you know what plans I have for the week.  Some weeks I may be very busy where other weeks there may not be any plans.  Since I now have two little ones to take care of I am going to post weekly goals for myself to try to hold myself accountable.  I have also decided to do a quick recap of what we actually did versus what I thought we were going to do.
This Week
It is going to be a quiet, boring week around here.  Just the kind that I like.
Monday-We have no plans so we are just going to hang out at home.  Unfortunately, today is the start of a cold front and the tease of spring we had is gone.
Tuesday-S has catechism and piano after school.  I am going to run so errands while he is at piano lessons.
Wednesday-P has story time in the morning and then we are meeting someone in the afternoon that I am selling items of the local garage sale Facebook page.
Thursday-I could make a run to Target with P today but there is not anything that I am looking at.  I don't think we will make more runs to Target until after Valentine's Day to do the 90% Valentine's clearance.  I guess it will be another day at home.
Friday-Wait a repeat of the other days this week.  We will just be hanging out at home.
Saturday-We have a Home Depot build in the morning and then we are surprising the kids with Disney on Ice in the afternoon.  P is going to lose her stuff when she
Sunday-B is home today.  I can't think of any plans we have but I am sure something will come up.
Last Week Recap
Monday I had a doctor appointment and P went to play at my friends.  She loves it and had a ton of fun.
Tuesday S had catechism and piano lessons.  I got a text from his piano teacher to say he is doing great and actually needs new piano books.  Basically he likes it enough to invest in piano books now.  We talked about him practicing and we have it set up now before he can play on the Xbox he has to practice for 10 minutes.  He thought it was a lot but when I explained to him he could practice for an hour and 10 minutes one day or just a little bit each day (if he plays Xbox which he does not play every day) he was okay with that.
Wednesday P and I went to story time.  She did great and went in the room without me.   Afterward we went to Wal-Mart because I was seeing on Instagram all the great toy clearance and had to check it out for myself.  We didn't find much but we got a few good things.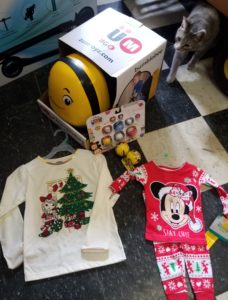 Thursday P and I went to Target to see if the few clearance toys I was watching had finally gone down.  Unfortunately they ended up salvaging the toys and I didn't get them.  I did get S some shoes but no toys.  P and I went to Wal-Mart in Oregon and found the holy grail of toy clearance.  P and I were going up and down the toy aisles finding all kinds of toys.  When I would find something I would let others know around me about the ones I left behind so they could get the good deals, too.  It got to the point where P and were shopping and my cart was so full overflowing I had to let P walk with me.  I called B and had him leave work right on time and meet us at the store because there is no way I could have fit it in the car.  I even had him grab another cart because I thought we were about done and realized they had a complete aisle full of clearance toys that I hadn't even looked at.  I thought P and I would be home by 1, 2 at the latest.  B reminded me at 3:45pm that we needed to leave so we would be home in time to get S off the bus.  I knew we would never make it in time.  Thankfully S knows if we are not home to go to the neighbor's house and that is exactly what he did.  I was looking later online at Brickseek.com and saw a hover board was available at another store that we wanted for S.  I said I would go after the kids went to bed instead B volunteered to go right then.  Unfortunately he didn't find one, but he got a few other clearance toys.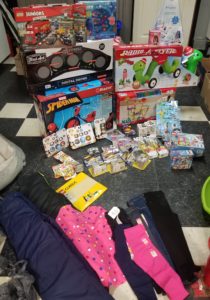 Friday we hung out at home.  I got a phone call from the neighbor to let me know there was a bald eagle perched in a tree between our houses.  It was awesome and amazing, yet scary because I couldn't let Dinky outside by herself.  She is the perfect size to be picked up by the eagle.  B ran to a two Meijer after work to check out the toy clearance for the big event tomorrow.
Saturday B got up at the crack of dawn to head to Meijer because they were doing an additional 40% off of clearance toys.  I thought he was going to just go to one, but he ended up going to the other four Meijer in the area.  I was itching to check out a few more Wal-Marts, so when B got home I decided to head out.  P wanted to come with me so I got her ready and then B said why didn't we all go.  I said if that is the case we need to take the truck.  It is a good thing we did because we found some really great finds.  The rest of the day we hung out at home.  P and I ended up doing one last run to our Wal-Mart that we went to on Wednesday and I finally found what I was looking for.  No I didn't find a hover board but I did find a skateboard that S had mentioned he would like to have.
Sunday S had a birthday party for a girl in his class at 10am at Hero's.  It is an inflatable jump house place.  While he was at the party I took those two hours to have a leisurely walk through Target all by myself.  P had open house at the school where she will be going to preschool next year.  She was not nervous at all.  S was a great big brother and took her around the room to look at all the different stations that were set up.  P got to meet the teachers she is going to have next year.  She is really excited.  Afterward we drove up to Grand Rapids to see if the ice had broken free yet.  Sadly for us it was still intact and did not look like it was going to be moving anytime soon.  P fell asleep on the way home but woke up when we got home.  I went for a walk and when I got back they were riding bikes and playing outside enjoying the weather.  A tease of spring is what today was.
Last Week
Monday-I have a doctor appointment in the morning so P is going to my friends while I am there.  The rest of the day we are hanging out at home.
Tuesday-P and I are hanging out at home during the day.  S has catechism and then piano lessons.
Wednesday-P has storytime in the morning at the library.  She seems to really enjoy it.  We may drive up to Grand Rapids to check and see if the ice broke free over the dam after S gets home from school.
Thursday-P and I will make a run to Target to check out the toy clearance.  There are still a few items I am watching.  We are also going to make a run to Meijer and check out their toy clearance.  They are redoing our Meijer and it is utter chaos.  They have been marking down toys just to make room while they are remodeling.
Friday-We don't have any plans so we are just hanging out at home.
Saturday-Another day of no plans so we are just hanging out at home.
Sunday-S got invited to a birthday party in the afternoon.  While he is at the party we are going to the open house at St. Rose so P can see the preschool and class she will be in next year.
Disclaimer: I have never claimed to be any great writer. So any mistakes that are made are my fault. Sometimes I mix up names B, S, and P, but I think you can figure out who I am talking about. If you find any grammatical errors just fix it in your mind so it sounds right.