Manic Mondays are when I let you know what plans I have for the week.  Some weeks I may be very busy where other weeks there may not be any plans.  Since I now have two little ones to take care of I am going to post weekly goals for myself to try to hold myself accountable.  I have also decided to do a quick recap of what we actually did versus what I thought we were going to do.
This Week
Monday-This is the last day of S's Winter Break.  He has been cooped up for two weeks because of the cold weather and I am ready for him to go back.  We got some really wet snow that started to melt last night so S eventually went out to play in it.  I took P out and they had a blast.  They went sledding down a small snow mound that was made from plowing and rode the 4-wheeler with B.
Tuesday-S goes back to school.  P and I are going to enjoy our quiet day at home.  S has catechism and piano lessons after school.
Wednesday-P has story time.  Since her play group broke up I needed to find another way for her to play with little ones each week.  Hopefully she will like this because the kids go in and the parents stay out.  I love it but I am not sure if she will.
Thursday-Not too much happening with the kids.  I have a meeting at church about S's First Communion in the evening.  After the really cold weather we had there is a chance of it getting into the high 50's today.
Friday-After yesterday's warm weather it looks like we are gearing up for a snow storm.  I will be curious to see if it really happens.
Saturday-We are expected to get 5"-8" of snow so I am planning on just being at home.
Sunday-The plan as of now is to take my sister and get her registered for her baby shower.  I guess it will depend on if we really get the snow they are predicting for Saturday.
Last Week Recap
I already recapped some of this in last week's post but I will do it again anyways.
Monday I got up bright and early and was at Target at 8:02am.  It was rumored that Christmas clearance would go 90% and I wanted to be there just in case.  It did and I got a ton.  Of course, I had to hit up the other stores to see what they had.  I went to Alexis Rd and found some goodies.  When I got to Monroe St. the parking lot was empty so I had a strong feeling they did not go to 90%.  I was right so I walked around and checked out what I would want to come back for if it went 90% on Tuesday.  I then went to Airport Hwy.  It also stayed 70% so I walked around that store.  I had been checking Instagram and saw some stuff I missed at my store so I went back and got more.  The rest of the day I spent taking pictures of what I got, posting it on Instagram, and putting it away.  I also took a nap in the afternoon.
Tuesday I got up early again, but had to wait till P woke up before we could head out to the other Targets and see if they went 90%.  P got up at 9am (which go figure the one day I want her up early she sleeps in) and we headed out to Airport Hwy Target.  The kids were good and very helpful.  I found quite a bit and the kids were up for going to another Target.  We hit the last Target and then went home.  The kids were done shopping and I was tired.  We spent the rest of the day hanging out at home.  It was so cold that we were not going anywhere we did not have too.
Wednesday we hung out at home.  It was still way too cold to go outside.  P started running a fever last night so she was cranky and on the couch most of the day.  When the Tylenol would kick in and her fever went down she was back to her normal self.
Thursday S had a doctor appointment in the morning so we had to wake P up to go.  P had been running a temperature since Tuesday night.  I knew S had a terrible cold but I was just grateful it had not turned into croup.  When we were at his well check appointment the doctor told me he had walking pneumonia.  He was given antibiotics and an inhaler.  If it doesn't clear up in two weeks he has to go back.  P told the doctor her ears hurt so he checked them just thinking she wanted attention.  He said they were clear but I told him about her fever so he listened to her lungs, too.  Hers were clear and the last place to check…..her throat.  She tested positive for strep.  This is the second time this year she has had it.  The only symptom she has ever had is a fever.  A fever could mean so many things, and strep is never a thought in my mind.   B and I do not get strep and S has never had it.  He said she had strep and a cold on top of it.  She also got antibiotics.  We had to cancel on going to Castaway Bay (indoor waterpark) with my sister because they were both contagious for another 24 hours.  When B got home from work I ran to Target because I heard the Christmas was still at 90% and quite a few toys had been marked down.  Again I came home with a car full.  I got a ton of toys and some Christmas.  P is done for her birthday and Easter, and I have S done for Easter.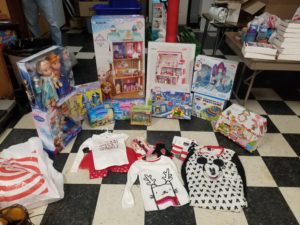 Friday we didn't do anything and just hung out at home.  Both kids did not feel good.  S had a fever in the morning.  They both laid on me the entire day, literally.  They were fighting with each other about who could lay on me more.  P usually won because she will do anything to make sure no one is closer to me.  She even moves the dog so she can be closer if need be.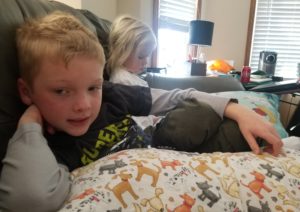 Saturday B took the kids to a build at Home Depot in the morning.  In the evening, they went to our neighbors because we went to B's holiday work party.  I thought we were eating at 7pm, but when we got there it said dinner would be at 8pm.  The talking and awards ran way late and we did not end up eating until 8:40pm.  We said we would be home by 9:30 at the latest so that only gave us a half hour to eat and enjoy ourselves.  The kids had a blast playing with their friends and we enjoyed ourselves.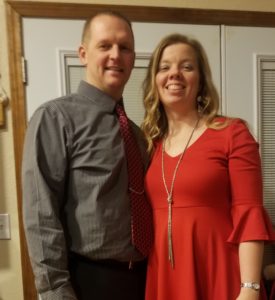 Sunday we hung out at home.  B ran a few errands doing returns and stuff for me.  In the evening my brother stopped by with his family and we got to visit for a while.  The kids love seeing them and it is good to catch up.
Last Week
I ended up writing this on Thursday with over half of the week already gone.  I intended to post it yesterday but with 2 sick kids, my plans were changed. So Friday night it is.
Monday-It is New Year's Day.  It was rumored the Target's in our area went 90% on Christmas clearance.  I got up early and went to all four Target's in my area to check it out for myself.  Only two of the four stores went 90% but I went on my normal route and did go to all of them so I was able to check out what was at the two stores that did not go 90%.  I got a ton of great stuff.  I posted pictures of it on my Instagram account and plan if I have time to do a recap on here.
Tuesday-S and I got up early and waited for P to wake up so we could go to one of the Target's that did not go 90% yesterday hoping it went today. It did go and I was able to get everything that I wanted.  The kids were doing so well and P asked to go to another store.  S said he would so we did go to the other Target and found a few more items.
Wednesday-We are just planning on hanging out at home.
Thursday-S has his 8 year well check with the pediatrician in the morning.  He already has one heck of a cold so I am curious if the doctor will say anything.  We had planned on going skating in the afternoon, but plans have changed and we are going to go to a waterpark with my sister and nieces.  B is going to meet us there after he gets off of work for the evening.
Friday-We will be at the waterpark in the morning if P will actually fall asleep in a hotel room and the rest of the day will be lounging at home.
Saturday-There is a build at Home Depot in the morning.  In the evening, we have B's work holiday party.  The kids are going to play at May's and P has been asking every day if today is the day she gets to go.  It's not like we don't see them almost daily but this is different because I am leaving them there.
Sunday-We are going to be hanging out at home.
Disclaimer: I have never claimed to be any great writer. So any mistakes that are made are my fault. Sometimes I mix up names B, S, and P, but I think you can figure out who I am talking about. If you find any grammatical errors just fix it in your mind so it sounds right.