November 27, 2017
Comments Off

on Manic Monday
Manic Mondays are when I let you know what plans I have for the week.  Some weeks I may be very busy where other weeks there may not be any plans.  Since I now have two little ones to take care of I am going to post weekly goals for myself to try to hold myself accountable.  I have also decided to do a quick recap of what we actually did versus what I thought we were going to do.
This Week
Monday-We have no plans and are just hanging out at home during the day and night.
Tuesday-S has a field trip during school today.  He is so excited for it.  After school he has catechism and then piano lessons.  P and I are just hanging out at home.  I think P and I may ride bikes to the library because it is supposed to be in the 60's.
Wednesday-S informed me that we are going to Dave & Busters after school because he got on pink (behavior chart) last Tuesday.  So I guess we are going to make an effort to try to go.
Thursday-Not a whole lot going on.  We are just going to be hanging out at home.
Friday-Today is December 1st and that means "Chippy" the elf is back.  The elf usually brings a letter and some type of small gift every day if they are good.
Saturday-There is a build in the morning at Home Depot for the kids.  I guess as of Monday B is going to help my sister move.  She has to line up others to help or it will be a no go.  B has a bad back and I don't need him getting hurt.  The kids and I will just be hanging out at home.
Sunday-We are just going to be hanging out at home.
Last Week Recap
Monday we got out Christmas family pictures done.  They turned out good.  They are not the best we have gotten but they also are not the worst.  P and I had matching dresses and that is only because we lost P's Christmas dress that I planned for her to wear.  After the pictures we took the kids out to eat at Red Robin.  They did really well and actually ate pretty good.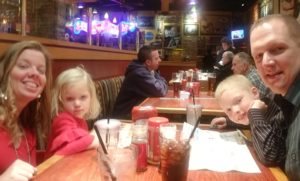 Tuesday P did not have catechism or piano lessons so we decided to go see Santa at Bass Pro and get pizza on the way home.  P was not a fan of actually getting close to Santa and did not want to go near him.  S just walked right up to him and started talking to him like they were old friends.  I had to get him to stop talking to take the picture and when it was time to walk away to let the next kid see him.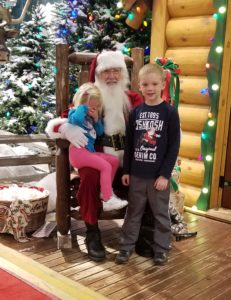 Wednesday I took the kids to see Coco at the movie theater.  This was only P's second time going to the movie theater.  We met my sister and niece at the theater.  The kids did great at the movie.  P loved the new Olaf Adventure at the beginning.  However the actual movie Coco did not start until 45 minutes after the previews started.  Halfway through the movie P wanted to leave.  She was bored and she was starting to fall asleep.  She ended up sitting on my lap the rest of the movie and just laid on me.  When we got home I was tired and ended up taking a nap while P sat/laid on the couch with me.  In the evening the kids rolled out pie dough while I made a pumpkin roll and 2 pumpkin pies.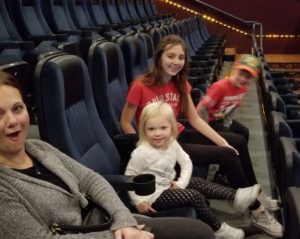 Thursday the kids and I watched the Macy's Day Parade.  They loved seeing the big characters floating through the parade.  We went to my dad's around noon for Thanksgiving dinner.  I packed lunch for the kids since they don't like turkey and mashed potatoes.  The kids ran around playing.  P was busy entertaining all the adults and getting laughs out of them.  B and I decided to run to Walmart together instead of just him.  The kids were going to go to his parents and then at the last minute P decided she didn't want to leave my dad's.  She said she wanted to stay with Aunt A.  Change of plans I had to unhook the carseats and the kids went to my sister's while we went shopping.  B and I were in and out of Walmart as quick as possible.  The sale started at 6pm and we were out of there by 6:45pm.  We hung out at my sister's for a while and then took the kids home to bed.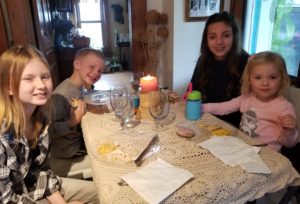 Friday B got up early and did a little shopping at Menards.  The kid and I stayed home.  In the afternoon, we went to my brother's to have Thanksgiving and hang out.  P fell asleep on the way there and took a much needed nap.  Both kids love hanging out with their aunt, uncle, cousins, and dogs.  P loves the little dog they call "Dory."  I think it is because of the name that draws her to the dog, but the calm demeanor of the dog is what keeps her playing with the dog.  Dinner was fantastic.  B and I hung out with the adults while the kiddos played downstairs with their cousins and friends.  Neither kid fell asleep on the way home but behaved really well which is all I can ask for.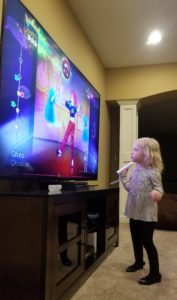 Saturday B got a massage in the morning.  While he was doing that I took the kids to Home Depot to do a build.  When we got home from Home Depot we started decorating outside.  S helped me hang bells up on the lights, and then we hung ornaments on the trees in the front yard.  We have crazy ornaments.  They are not traditional Christmas ornaments, they are pastel colored balloons.  The kids love them and that is what matters.  B started hanging lights up outside.  In the evening, we went to the Maumee Lights Parade.  P really loves Christmas lights this year and she was so excited to go to the parade.  Since she has been skipping naps she fell asleep on the way to the parade and did not want to wake up.  Well she did after a while and loved the parade.  At one point the parade stopped and right in front of us was OLAF!  She was beyond.  Olaf came over to us and shook her hand.  She couldn't even talk.  I did remember to get a picture and it is hilarious.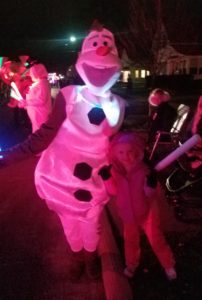 Sunday was a day of hanging out at home.  I was working on some post for the blog, taking naps, reading, and playing with the kids.  B was putting stuff away from Black Friday shopping, putting together a new organizer toy shelf for P's toys, and putting more Christmas lights up outside.
Last Week
Monday-P and I are hanging out at home during the day and will get ready for our family Christmas pictures.  I rescheduled the family Christmas pictures for tonight and then we are going out to eat.
Kohl's Black Friday deals go live online.
Tuesday-P and I are going to run some errands during the day.  We have to run to the bank, the jewelers to get my wedding rings resized, and try to drop some stuff off at my cousins.  After that we are going to go to the AT&T store to see if they can figure out why ads keep popping up on my phone.  Not only when I am using it but when it is sitting on the table in sleep mode.  Oh and I am going to try to fix the AT&T bill and see if they can correct the amount we pay.  That will depend on if P can handle hanging out for that long in the store.  P seems to have given up naps like that so if she can make it we are going to see Santa in the evening at Bass Pro Shops.
Wednesday-S has the day off from school.  I have to make 2 pumpkin pies and a pumpkin roll for Thanksgiving.  My sister wanted to go and see Coco.  P really wants to go so she can see the new Frozen short video.
Target Black Friday deals go live online.
Thursday-Either B or I or all of us are going to run to Meijer for the Thanksgiving Day deals.  I am going to watch the Macy's Thanksgiving Day Parade with the kids in the morning.  We are going to my dad's for Thanksgiving lunch.  The Walmart Black Friday deals start at 6pm.  If I can get the items I want online then I think we are going to skip going into the store.
Walmart Black Friday deals go live online in the morning.
Friday-B is going to get up early in the morning to go to Menard's for the Black Friday deals.  I am going to stay home with the kids.  Otherwise we really don't have any plans for the day.
Saturday-There is a build at Home Depot in the morning.  B has some work to do for our friends at their house so we will be gone most of the day.  In the evening, we are going to my sister's to watch the lights parade in Maumee.  B wanted to be in the parade this year with his barrel train but it didn't work out so we are going to be watching from the sidelines.
Sunday-If we haven't got the decorations done outside for Christmas we are going to make sure we get them done today.
Disclaimer: I have never claimed to be any great writer. So any mistakes that are made are my fault. Sometimes I mix up names B, S, and P, but I think you can figure out who I am talking about. If you find any grammatical errors just fix it in your mind so it sounds right.