February 27, 2017
Comments Off

on Manic Monday
Manic Mondays are when I let you know what plans I have for the week.  Some weeks I may be very busy where other weeks there may not be any plans.  Since I now have two little ones to take care of I am going to post weekly goals for myself to try to hold myself accountable.  I have also decided to do a quick recap of what we actually did versus what I thought we were going to do.
This Week
Weekly Goals
Monday-We are just hanging out at home not doing a whole heck of a lot.
Tuesday-It is going to be another nice day outside so hopefully we can spend some time outside.  P has her playgroup in the morning.  S has catechism after school.
Tuesday-Wednesday is our wedding anniversary.  We got married on the 29th and it will be 13 years!
Wednesday-I am hoping for another nice day outside again.  We are just going to be playing at home.
Thursday-Not a whole lot going on so we will be hanging out at home.
Friday-We are just hanging out at home.
Saturday-There is a build at Home Depot in the morning and then we are heading up to Detroit for Monster Jam!  Both of the kids are excited and keep asking when we get to see them.
Sunday-I am guessing today will be a day of recovery.  I am sure we will get home late which means late to bed but still up early like normal.
Last Week Recap
It was a rather quiet week at home with lots of playing outside as much as we could.
Monday I went to the four Targets for the 90% Valentine clearance.  I got sick at the second store I went to but kept on going because I could be sick at home with kids or not feel well and continue on to the next two stores.  I persevered and made it to all four stores.  I am happy with what I found and cannot wait for the next round after Easter.  I spent the rest of the day in bed.  Thankfully B was home to take care of the kids.
Tuesday was another recovery day.  P had her playdate cancelled, B and I had dentist appointments and we spent the rest of the day home.
Wednesday and Thursday we hung out at home and played outside as much as we could.  I wore capris and a t-shirt!!!!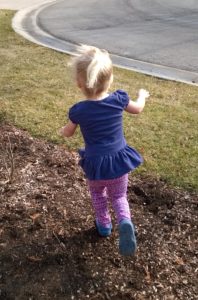 Friday I watch Baby A and Baby L in the morning.  The weather was unheard of so we played outside until it was naptime.  We had a high of 71°.  P and Baby A were happy to play together and Baby L was content to sit in the stroller and watch them with me.  I took a nap right along with P.  We went to see the play The Little Mermaid in the evening.  Both of the kids loved it and watched the entire thing.
Saturday we went to my cousin's little ones 1st birthday.  She is one of P's little playmates.  Both the kids had so much fun playing with all of the kids for a few hours.  When we got home P was already sleeping.  She woke up from her nap after like an hour and then slept three more with me.  Yup a four hour nap for her and a three hour nap for me.  Much needed.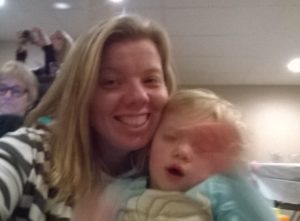 Sunday was a lazy day at home.  We hung out at home.  The Daytona 500 was on so we had to watch that and then the pre-show for the Oscars so I could see what everyone was wearing.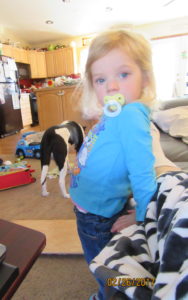 Last Week
It is going to be a taste of Spring this week so we will be playing outside as much as possible.
Weekly Goal
Monday-I am running to Target to check out all the 90% Valentine clearance.  The rest of the day we are playing outside other than naptime.  Since it is President's Day S has no school and will be hanging out at home with us.
Tuesday-On the off chance that Valentine clearance did not go 90% yesterday at Target I will head out today.  P has her playgroup in the morning.  It is supposed to be raining all morning so I am happy we will be playing inside.  Hopefully after naptime we will be able to play outside.  S does not have catechism because of President's Day.
Wednesday-Another nice day of playing outside.
Thursday-Wait for it…..we will be playing outside.
Friday-We will spend the day with B before he goes to work.
Saturday-We have my cousins little one's b-day party before naptime and then we are hanging out at home.
Sunday-We will just be hanging out at home.
Disclaimer: I have never claimed to be any great writer. So any mistakes that are made are my fault. Sometimes I mix up names B, S, and P, but I think you can figure out who I am talking about. If you find any grammatical errors just fix it in your mind so it sounds right.