February 13, 2017
Comments Off

on Manic Monday
Manic Mondays are when I let you know what plans I have for the week.  Some weeks I may be very busy where other weeks there may not be any plans.  Since I now have two little ones to take care of I am going to post weekly goals for myself to try to hold myself accountable.  I have also decided to do a quick recap of what we actually did versus what I thought we were going to do.
This Week
Weekly Goal
Monday-It is going to be a pretty quiet day at home.
Tuesday-P had her play group in the morning and then S has catechism after school.
Wednesday-No plans for today.
Thursday-P and I may run to Target to check out the Valentine clearance and see what is left.  Otherwise we will just be at home.
Friday-S is off school so we are going to visit with my aunt and uncle in the morning and then I have a hair appointment while P takes her nap.  I am sure today is my hair appointment.
Saturday-No real plans it is going to be super nice out today and tomorrow so lots of outside playtime.
Sunday-No plans just trying to get outside and play.
Last Week Recap
Monday we hung out at home because S got sick last night so he spent the day at home again.  Thankfully he was on the mend and you could tell he was feeling like his old self again.  P and I hung out in the living room playing while S hung out in my bedroom playing on his tablet.  It was nice enough after naptime that P and I went outside to play.  How often can you play outside in February in a spring coat?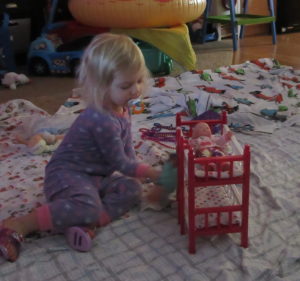 Tuesday thankfully S went to school.  P and I went to her playdate.  We ended up leaving early because she was being her usual #Mowgli self.  When we got home P got to wake up B.  We then hung out with B until it was time for P to take her nap.  S had catechism after school.  The weather was nice enough that P and I took a walk while he was at class and ran a few errands.
Wednesday was much colder outside so we hung out inside.  It snowed on and off most of the day and then after school it snowed and never stopped.  Not much accumulated we just had non-stop flurries.
Thursday we hung out at home.  S had a two hour delay due to ice roads.  Otherwise, not a whole lot going on.  I baked all the Valentine cookies for S.  S had his busfriend come over for a playdate, and Baby A came over to play.  I worked on baking cookies and making them all dinner.  We used the air fryer again and man does it make good crispy chicken tenders and French fries.  S's friend asked if I got it all from Chick-Fil-A.  Nope I told him I made it all.  He was astonished.
Friday I was wrong and my hair appointment is actually this week not last week.  P and I went to my sister's in the morning to let their dog out after we got S on the bus.  I worked on decorating Valentine cookies for S during P's nap.  We spent the day at home and it turned out to be a pizza night for us.  B and S picked up the pizza after they let my sister's dog out again.  (Do you see the pattern of dog sitting we did for the weekend?)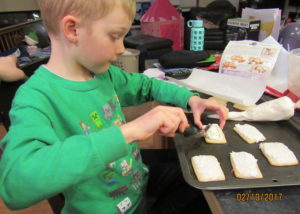 Saturday we hung out at home in the morning and after P went down for her nap B and I went to our glass making class.  We made heart paperweights.  It was a nice little afternoon date that we did with my sister and aunt.  We actually all had a good time.  B and I plan on doing it again.  S and P had there first real babysitter who was our teenage neighbor.  He did great and we will definitely be using him again.  I finished decorating the rest of the cookies for S's Valentines and made a bunch of chocolate covered pretzels.  When I was done we went to the neighbors for dinner and had Jambalaya.  It was spicy!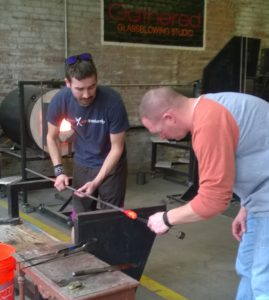 Sunday was a quiet day of hanging out at home.  P slept till 8:30am!  It is amazing.  P went down for her afternoon nap at 2pm and slept till after 6pm.  Thank fully she was back down at 9pm for the night.
Last Week
Weekly Goal
Monday-It looks like we will be confined to the house again since S is going to be staying home from school again.  This sucks I was ready for him to go back to school and for this sickness to be over.
Tuesday-P has her playdate in the morning.  I am currently on the fence if we will go or not.  I do not want to spread any germs to the other little kids or moms so we may have to skip this week.
Wednesday-It looks like we are going to be hanging out at home.  I want to make chocolate French macarons that I got in my Target Christmas clearance.
Thursday-Today is cookie day.  I will be making sugar cookie dough to make Valentine cookies for S, to eat at home, and to freeze for later use.
Friday-We are hanging out at home.  I have a hair appointment in the afternoon while P is taking her nap.  B will be home to hang out with her if she wakes up.
Saturday-B and I are taking a glassblowing class with my aunt and sister.  We are going to make hearts.
Sunday-Today S and I will be decorating the cookies for his Valentine's Day party at school.  I am excited to have a reason to decorate cookies.  To me it is like coloring.
Disclaimer: I have never claimed to be any great writer. So any mistakes that are made are my fault. Sometimes I mix up names B, S, and P, but I think you can figure out who I am talking about. If you find any grammatical errors just fix it in your mind so it sounds right.