January 9, 2017
Comments Off

on Manic Monday
Manic Mondays are when I let you know what plans I have for the week.  Some weeks I may be very busy where other weeks there may not be any plans.  Since I now have two little ones to take care of I am going to post weekly goals for myself to try to hold myself accountable.  I have also decided to do a quick recap of what we actually did versus what I thought we were going to do.
This Week it is going to be a really quiet week around here.  There aren't any real plans for this week.
My Weekly Goal-I need to get all of my clearance post updates done.  I have I think 3 or 4 of more.
Monday-No plan for today.  I want to go out for dinner tonight but other than that nothing,
Tuesday-P and I have our mom group playdate in the morning.  S has catechism in the evening.
Wednesday-Just hanging out at home working on getting P to go on the potty.  She is very good at holding it but will not go on the potty.
Thursday-When P is taking her nap I am going to run to Target to check out the toy clearance.  This is the time of year when they do a big toy clearance markdown.  I usually can get a good half or two-third of the gifts I need for the year done.
Friday-We are just hanging out at home.  No plans.
Saturday-A weekend of absolutely no plans.   I am sure this will change but as of today we are not doing anything.
Sunday-No plans.
Last Week Recap
I did not set a weekly goal for myself so there was nothing to or not to accomplish.
Monday I ran to a few Targets for the 90% Christmas clearance.  I got some good finds.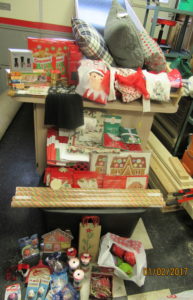 Tuesday we were going to go to our weekly playdate for P but she got up at 5am so she ended up taking her nap at 10:30am.  I was so anxious to go to Target in Perrysburg for the 90% Christmas clearance that I woke B up after only a few hours of sleep so I could shop.  The rest of the day we hung out at home.  I thought P had catechism but was pleasantly surprised when I found out we still were on winter break.
Wednesday I had a doctor appointment so I left a little early and ran to Target to do some returns of items I bought at 70% and then found again at 90%.  I also found some more hidden clearance at Target.  After my doctor appointment I went home and spent the rest of the day with P playing.
Thursday we hung out at home.  P wore underwear after S went to school.  She started at 9am and as of 12:30pm did not have any accidents.  While that is awesome she also did not go to the bathroom.  I put a diaper on her and she still did not go.  When she woke up from her nap her diaper was still dry.  Finally about 4:15pm she went in her diaper.  While P was taking a nap I ran to Target to check out the toy clearance situation at our store.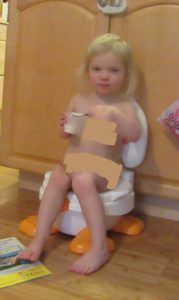 Friday S had school and we hung out at home.  P had a recheck doctor appointment for cough.  She got a clean bill of health and just has to ride out this nasty cough.  I took a nice long nap while P took hers.  It was much needed.  The rest of the night we hung out at home.
Saturday was super cold so S decided he didn't want to go the build at Home Depot because the wind chill was -8°.  The rest of the day was us hanging out at home.
Sunday was another cold day so we stayed inside.  P was willing to run around with no diaper on for a few hours.  We didn't have any accidents but P didn't go on the potty either.
Last Week
My Weekly Goal
Monday-The kids and I are running to the Perrysburg Target first thing in the morning.  If it went 90% then I will come home and wake B up at 10am to watch the kids so I can go to the other stores.
Tuesday-I am going to our Perrysburg Target in the morning.  It is the only Target that has not gone 90% yet.  After P's nap B and I are running to Toys R Us with her.  We actually ran out of diapers!  This is a first since P has been born that I went to get diapers and there were none.  S does not have catechism so he is going to hang out at Grandma G's while we shop.
Wednesday-I have a doctor appointment in the morning and am then spending the rest of the day hanging out at home.
Thursday-This is the first day I am spending the entire day at home.  We are going to attempt to see how P does potty training.  It is going to be a day of naked running!
Friday-Depending on yesterday went will determine most of our day.  We do have a doctor appointment in the morning for a recheck on P's pneumonia.  She still is having coughing fits.  When we get home more running around naked getting potty trained.
Saturday-There is a build in the morning at Home Depot and then we are hanging out at home so P can work on her potty training more.
Sunday-If P finally gives in and accepts we are potty training she may actually get to wear underwear.
Disclaimer: I have never claimed to be any great writer. So any mistakes that are made are my fault. Sometimes I mix up names B, S, and P, but I think you can figure out who I am talking about. If you find any grammatical errors just fix it in your mind so it sounds right.