January 4, 2017
Comments Off

on Manic Monday
Manic Mondays are when I let you know what plans I have for the week.  Some weeks I may be very busy where other weeks there may not be any plans.  Since I now have two little ones to take care of I am going to post weekly goals for myself to try to hold myself accountable.  I have also decided to do a quick recap of what we actually did versus what I thought we were going to do.
This Week
My Weekly Goal
Monday-The kids and I are running to the Perrysburg Target first thing in the morning.  If it went 90% then I will come home and wake B up at 10am to watch the kids so I can go to the other stores.
Tuesday-I am going to our Perrysburg Target in the morning.  It is the only Target that has not gone 90% yet.  After P's nap B and I are running to Toys R Us with her.  We actually ran out of diapers!  This is a first since P has been born that I went to get diapers and there were none.  S does not have catechism so he is going to hang out at Grandma G's while we shop.
Wednesday-I have a doctor appointment in the morning and am then spending the rest of the day hanging out at home.
Thursday-This is the first day I am spending the entire day at home.  We are going to attempt to see how P does potty training.  It is going to be a day of naked running!
Friday-Depending on yesterday went will determine most of our day.  We do have a doctor appointment in the morning for a recheck on P's pneumonia.  She still is having coughing fits.  When we get home more running around naked getting potty trained.
Saturday-There is a build in the morning at Home Depot and then we are hanging out at home so P can work on her potty training more.
Sunday-If P finally gives in and accepts we are potty training she may actually get to wear underwear.
Last Week Recap
It feels like it has been a year since last Monday.  Trying to remember what happened last Monday is almost impossible it has been an incredibly long week.
Monday we hung out at home during the day.  We did run out to Target so I could get a few items I wanted and was willing to pay for them when they were only part of the 50% Christmas clearance.  In the evening we went to a new pizza/bar/arcade place.  It had a bunch of old games that could be played for free.  Some of the games did not work but you really couldn't complain because they were free.  They had $5 pizza which is amazing so that is really why we went.  B's cousins and kids all met us there and play together.  Afterward we went back to his aunts for the kids to continue to play.  P still did not feel well and spent most of the time lying on top of me.
Tuesday I finally got P into the doctor's.  It wasn't until after her nap so it was a long day.  She was diagnosed with pneumonia and an ear infection.  That would explain the crazy coughing and fever.  After her appointment we went home and thankfully May was at Meijer's and picked up her scripts for me.
Wednesday was a day of staying at home because of P being sick.  B and S went to the Lights Before Christmas in the evening with B's cousin and kids.  They had fun and P and I hung out together at home.  P is horrible at taking her antibiotics and hates the breathing treatment.  P and I went over to May's for dinner.  We had chicken jambalaya.  I actually liked it and went back for more!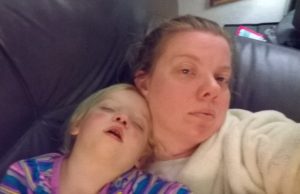 Thursday I ended up running out to two Targets by myself to check out the Christmas clearance.  It had gone 70% at both stores.  I got so much at both stores and felt like I didn't need to go to the other two Targets.
Friday my curiosity got the better of me and I ended up going to the other two Targets and to the Perrysburg Target again.  I got just as much stuff and then some.  B cut his hand so I had to cut my trip to the Perrysburg store short so he could go to the ER to get stitches.  The rest of the night the kids and I hung out at home and B went to work.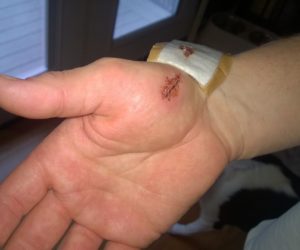 Saturday was New Year's Eve.  We didn't really have any plans.  B had to work at night so it was just going to be me and the kiddos.  Since P was still sick we stayed home during the day.  While the kids were eating dinner I made sugar cookie dough and baked the cookies in mini cupcake pans.  Afterward I stuffed the cookies with the fudge that did not set for Christmas Eve.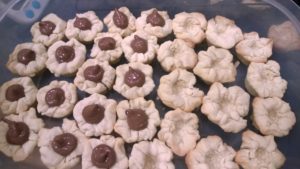 Sunday we hung out at home.  I did run to Target to check and see if the Christmas clearance did go 90%.  It did not but it got me out of the house for a few minutes anyways.
Last Week
So I tried my hardest to do my daily posts last week and it just did not work.  I was so busy getting ready for Christmas that I had to choose between getting stuff done for Christmas or work on my blog.  I chose to get things done for Christmas.  So I am looking at it like I took a week vacation from the blog and just forgot to do my posts ahead of time.
This Week
Weekly Goal
Monday we are just hanging out at home and are going to try to go to the Lights Before Christmas.  We also want to get as much of the Christmas stuff put away as possible.
Tuesday– I want to attempt to organize the living room with the new couches and table.  We also are going to go through all the toys upstairs and consolidate what we keep in the living room.  S is going to try to have a sleepover with his cousins.
Wednesday-We are just hanging out at home.  We are going to tackle another room in the house to organize and clean.  We are going to do the computer room, P's room, and our bedroom in the next three weeks so it is just a matter of deciding what room we are going to do which day.
Thursday-Organizing another room.
Friday-Organizing another room or finishing the rooms we have already started.  B goes back to work.
Saturday-Today is New Year's Eve.  B is working at night so it is just me and the kids.  We usually don't do anything but hang out at home.  The kids go to bed at the regular time.
Sunday-New Year's Day.  We are just hanging out at home.  I may run to Target if the Christmas clearance goes down to 70% or 90%.
Disclaimer: I have never claimed to be any great writer. So any mistakes that are made are my fault. Sometimes I mix up names B, S, and P, but I think you can figure out who I am talking about. If you find any grammatical errors just fix it in your mind so it sounds right.