November 29, 2016
Comments Off

on Manic Monday
Manic Mondays are when I let you know what plans I have for the week.  Some weeks I may be very busy where other weeks there may not be any plans.  Since I now have two little ones to take care of I am going to post weekly goals for myself to try to hold myself accountable.  I have also decided to do a quick recap of what we actually did versus what I thought we were going to do.
This Week
Weekly Goal-I really want to get my Christmas cards ordered and possibly shipped out this week!
Monday-I am hoping to get my Christmas cards ordered.  First I have to make them on the computer with our holiday pictures.
Tuesday-I am hoping to make the sugar cookie dough for my Christmas cookies in hopes to bake them tomorrow!  S has catechism class in the evening and it is going to be around 60° so we are also going to spend as much time as we can outside.  Bi s going to work on winterizing outside getting all the toys put away.
Wednesday-B is going to work over at his parents so I am going to try to cook cut-out sugar cookies.  I have found these cookies freeze beautifully so I am going to freeze my Christmas cookies for another few weeks and then get them out to decorate them.
Thursday-We don't have any plans so we are just going to hang out at home.  The elf will make his appearance today!
Friday-I am going to try to decorate birthday cookies with my neighbor for her son's celebration at school.
Saturday-The kids have a build at Home Depot and Lowe's in the morning.  My niece is in the Nutcracker and then S has a birthday party in the evening.  Phew it is going to be a busy day and B will only be around to be home while P takes her nap!
Sunday-I think we will just be hanging out at home.  It will probably be another day when we make another Christmas craft or even our gingerbread train!
Last Week Recap
Last week was crazy.  We did a lot but at the same time didn't really do that much.  As far as my goal of not being up late on Wednesday it was not a problem.
Monday S had school while P and I hung out at home.  I went to a candy decorating class in the evening at a local library and had a blast.  I got to make some fun treats and spend time with my aunt and sister.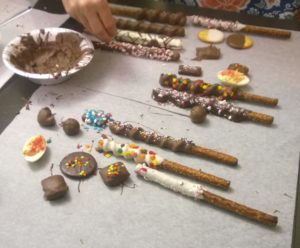 Tuesday S had school and got to have his Thanksgiving feast.  We didn't have catechism so we started making Taco cookies while we waited for B.  When B got home from work we went to see Santa at Bass Pro.  P was so excited about going to see, "Ho, Ho," but when it came time to sit on his lap she ran behind our legs and hid.  When S held her hand she walked up to Santa with him and sat on his lap.  She didn't smile for the picture but she didn't cry either.  Neither of my kids were criers when sitting on Santa's lap.  I do love when I see those pictures.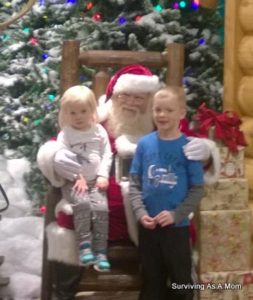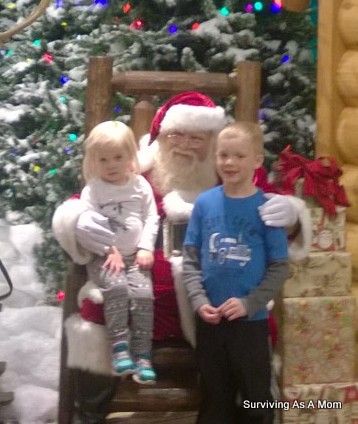 Wednesday S didn't have school so we hung out at home during the day.  Oh my gosh, S made it a long day.  We baked the cake that would turn into Olaf, and I decorated the Taco Cookies that I made.  I ended up hanging out with the neighbors for a few hours while B watched the kids.  A much needed break!
Thursday was Thanksgiving.  B had to work so we woke up and watched the Macy's Thanksgiving Day Parade.  I cannot believe how much they liked the parade.  They were all about the balloons and the different floats singing.  P got her grove on, and S did a little break dancing.  I made an Olaf cake for my aunt because her birthday always falls around Thanksgiving.  We went to my aunts in the afternoon to celebrate.  We didn't stay long because P has this nasty cold and I really didn't want to skip her nap.  Before we even started eating she was already asking to go home because she was tired.  My girl loves her sleep like I do!  P took an awesome nap while S and I watched a movie.  After B got off of work he went to Wal-Mart while we ended up going to B's aunts in the evening.  B eventually made it!  The kids had a blast playing with all the other little kids.  We stayed until after 9pm (bedtime is usually 8-8:30pm).  They did not get to bed until after 10pm.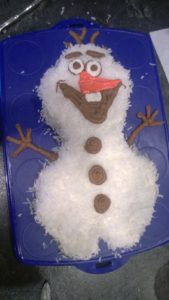 Friday B got up in the morning and ran to some more stores.  S got up super early in the morning while P slept until 9am!  When B got home from running around to a few stores he ended up taking the kids to another store with him and I got to get a little more sleep.  He is crazy to take them, especially on Black Friday!  The rest of the day we ended up hanging out at home.
Saturday the kids were going to go to a Home Depot build with B.  P asked if I was going to come so I decided to tag along.  We did the build and ended up running to Target to see if they still had Finding Dory for $10.  They did and that is all we bought!  We went to the lights parade in the evening.  S was super excited because he got to play with his cousin F and P was excited to see Aunt D and Baby P.  S was not disappointed and neither was P.  The parade was okay but it has been better in previous years.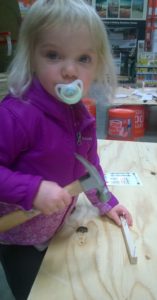 Sunday we hung out at home.  S and B worked on cleaning up more of the outside getting it ready for winter and put out the Christmas lights.  We ended up taking a walk in the evening together after P got up from her nap.  When we got home from our walk the lights were on and P was super excited.
Disclaimer: I have never claimed to be any great writer. So any mistakes that are made are my fault. Sometimes I mix up names B, S, and P, but I think you can figure out who I am talking about. If you find any grammatical errors just fix it in your mind so it sounds right.