November 21, 2016
Comments Off

on Manic Monday
Manic Mondays are when I let you know what plans I have for the week.  Some weeks I may be very busy where other weeks there may not be any plans.  Since I now have two little ones to take care of I am going to post weekly goals for myself to try to hold myself accountable.  I have also decided to do a quick recap of what we actually did versus what I thought we were going to do.
This Week
It is going to be a strange week around here.  It is going to start out slow, get busy in the middle, and slow down at the end.
Weekly Goal-I don't want to be up late Wednesday night cooking.
Monday-P and I are hanging out at home during the day.  I am going to a candy making class at a local library in the evening.  I am excited about it and the best part it is free!
Tuesday-P and I are hanging out at home.  B is dropping a ton of clothes off to his cousin since I finally got the basement cleaned somewhat and organized.  I think it is like 8-9 garbage bags of clothes.  S has his Thanksgiving feast today at school.  I think it is going to be interesting because he does not like most Thanksgiving Day foods so I don't think he will be enjoying most of the feast.
Wednesday-S is off today so he will be home with us.  I am not sure if we are going to have P's playdate in the morning.  If so we will go to that.  I am making a few pumpkin pies, one for us to enjoy at home and one for B to take to work. I was going to make a pumpkin roll but am now thinking I make the pumpkin roll into cake pop balls.
Thursday-We are going to wake up and watch the Macy's Day Parade, head to my aunt and uncle's to celebrate Thanksgiving, and then be home in time for P to take her nap.  B is working, but I have a feeling when he gets off he will head out to check out some Black Friday deals.
Friday-Today is the epic Black Friday.  I usually make lists of what I want, need, and like and B ventures out to the stores.  This is the one time where I think he likes to go shop in the crowds to see if he can find any good deals.   We have checked the ads and do not see one thing we are going to get.  He may venture out for a few odds and ends, but no big shopping sprees for us.
Saturday-There is a build at Home Depot in the morning and then a lights parade in the evening.  We go to the lights parade every year.
Sunday-I think today we are just hanging out at home and recovering from the past few days.
Last Week Recap
Monday we didn't really do anything and just hung out at home.
Tuesday was another day of hanging out at home.  S had catechism class in the evening and P and I went for a walk while he was in class.
Wednesday our playdate was cancelled.  It was the third day in row that we didn't have anything planned.
Thursday S had a fog delay so he got a few extra hours in the morning to play.  It was a nice day outside so we played outside before the bus came.  Afterward we hung out at home the rest of the day.  When S got off the bus he was bummed he wasn't having a playdate, but we did go for a walk before it got dark and he got to play at Grandma G's house.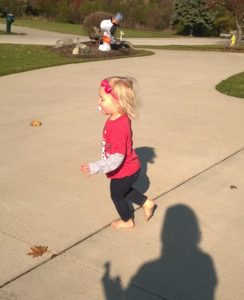 Friday P had her 2 ½ year well check in the morning.  We ran to Kohl's before that to spend our $10 Kohl's cash I got from the other week.  I was going to get P an outfit but she spotted some Thomas pajamas and had to have them.  She never picks out her own clothes and really wanted these.  I have to say I was okay with it and she got them.  Dash had her check-up at the vets in the afternoon and she needs to be on antibiotics longer because the infection is not completely cleared up.  When I got home it was a zoo of boys!  S had a playdate with the neighbor boys and then we had some other neighbors come over also.  The kids had fun, decorated the trees with ornaments, and tired themselves out on the last nice day of the year.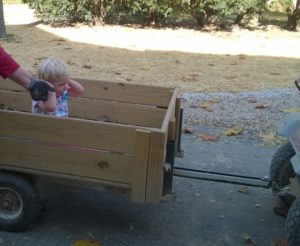 Saturday I folded laundry for over two hours.  No I was not backed up but there are a ton of little clothes in one load.  I sized P up to the next size of clothes (3T).  They are a little big on her still, but she just has hardly any 2T stuff.  She loves all the new clothes (new to her anyways) and was excited to get dressed (this is a first, she loves pajamas lately).  After naptime we started decorating the house for Christmas.  We got the tree up, train out, and all the tchotchke.  P was in love with all the stuff animals that sing and dance, Dash loved the bells hanging down from the Christmas tree, and S loved playing with the train under the tree.  We still do baby proof decorations because P is wild.  So anything breakable has not come out since before S was born.  Our Christmas tree has bells, paper ornaments, and paper garland.  I think I will do a whole post on our baby proof Christmas decorating.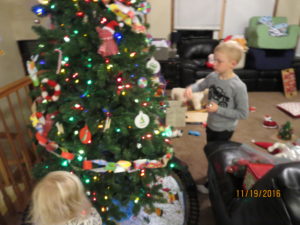 Sunday I ran to my sisters in the morning so she could go through clothes for my niece.  I am looking to get rid of all the baby girl stuff, too.  The rest will go to my cousin with no givebacks.  That means she has to take it all and what she does with the stuff she doesn't want it up to her.  The rest of the day we hung out at home.  It was the final Nascar race of the season so I had that on and of course it went into overtime.  It was a dramatic ending and I would not have it any other way.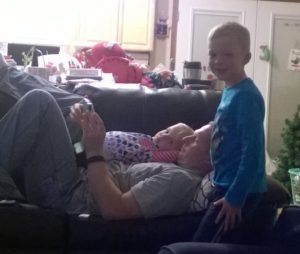 Last Week
It is going to be another quiet week around here.  We have no plans.  The only thing we cannot miss is P's doctor appointment.
Weekly Goal-I really want to get all of S's clothes that he has grown out of organized and put away.
Monday-We are just hanging out at home.  It is going to be warm enough out that they can play outside after nap and school.
Tuesday-B goes back to work.  S has catechism after school.  P and I are just hanging out at home.  I told S I would work on getting some Christmas decorations out while he was in school.
Wednesday-We have our weekly playdate in the morning.  The rest of the day we are just going to be at home.
Thursday-No plans, just hanging out at home.
Friday-P has her 2 ½ year well-check in the morning.  Afterward we are going to make a stop at Kohl's and use the Kohl's Cash that I have and do some returns.  The rest of the day we are just hanging out at home.
Saturday-The plan is to put the Christmas tree up and decorate it.
Sunday-No plans just hanging out at home.
Disclaimer: I have never claimed to be any great writer. So any mistakes that are made are my fault. Sometimes I mix up names B, S, and P, but I think you can figure out who I am talking about. If you find any grammatical errors just fix it in your mind so it sounds right.