November 8, 2016
Comments Off

on Manic Monday
Manic Mondays are when I let you know what plans I have for the week.  Some weeks I may be very busy where other weeks there may not be any plans.  Since I now have two little ones to take care of I am going to post weekly goals for myself to try to hold myself accountable.  I have also decided to do a quick recap of what we actually did versus what I thought we were going to do.
This Week
It is going to be a pretty low-key week for us.  We don't have anything planned or going on.  It looks like just a quiet week at home.
This Week's Goal-I want to get all of the Halloween decorations put away and the few Thanksgiving decorations back out.
Monday-It is going to be nice outside so with no plans I am hoping to get the kids to play outside after school.
Tuesday-S does not have school today.  It is supposed to rain today so I think we will be hanging out inside.  S has catechism in the evening.
Wednesday-P is supposed to have her playdate in the morning but with the cold I have and her cough I am not sure if we will go.  B and I may try to sneak out and go shopping to find coordinating Christmas outfits to match what we already have for the kids.  I would like to get the pictures done tomorrow.
Thursday-Another day of no plans.  I would really like to get our Christmas pictures done after S gets home from school.
Friday-Another day of no plans.  It really will be a quiet week around here (hopefully).
Saturday-There is a free Lego build at Toys R Us from 12-2.  We got invited to a birthday party in the afternoon, and then just hanging out at home in the evening.
Sunday-We have Baby L's first birthday party in the afternoon.  I am excited to see her dig into her cake!
Last Week Recap
Last week started out extremely busy and then slowed down and went back to semi-normal.
Monday was Halloween so we went to S's Halloween Parade during school and then when S got home from school we finished our Halloween desserts.  We went to my sisters for dinner and trick or treating.  The kids had a blast and it was definitely a late night for them.
Tuesday was our recovery day.  We hung out at home.  It was really nice outside so the kids played outside until it was dark and then some.
Wednesday P and I went to her playdate in the morning.  She loves playing with all the other little kids and is really going to miss it when it gets cold outside.
Thursday we ran over to the other side of town to get football tickets for the game on Friday.  While B went to pick up the tickets and some Mr. G's ice cream I ran to the Target to check out what they had in the Halloween clearance.  I found some awesome Halloween lights and couldn't help myself.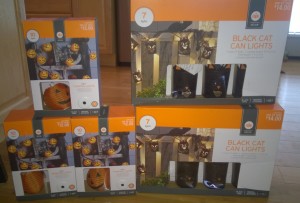 Friday we went to a football game on Friday because my nephew was playing in the band.  It was a playoff game and we got lucky that they were playing a local team.  The kids had a great time and loved watching the bands at halftime.  P did really good for her first football game.  While I don't think she knew what was going on she did yell and clap at all the right times.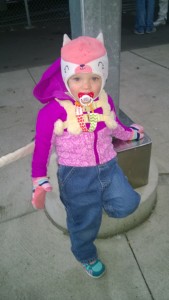 Saturday the kids and I ran to all four Targets in the morning for the 90% Halloween clearance.  We also made a pit stop at Home Depot to do the build.  After we got home and P went down for her nap I ran to the closest Target again and found a few items I missed.  The rest of the night the kids and I hung out at home.
Sunday it was nice outside so we spent as much time as we could outside.  With the time change and it getting dark outside earlier we walked over to B's parents and the kids got to jump in a big pile of leaves.  I was so happy because they were in bed by 8:30 and I got to get a bunch done and still be in bed early myself!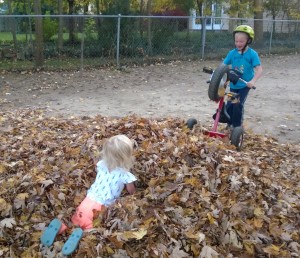 Last Week
This Week's Goal
Monday-Today is Halloween.  We are going to hang out at home during the day and then head to my sister's for dinner and trick or treating.
Tuesday-It is going to be super nice outside so I am hoping to spend as much time as we can outside playing.
Wednesday-We have P's play group in the morning.  It is going to be another day with the high in the 70s.  P is actually excited to go to the park to play with her friends in the morning.  I am getting my hair cut while P takes a nap.  The rest of the day we are going to spend outside enjoying probably the last warm day of the season.
Thursday-I think B is going to head out to my uncles to help them with some repairs.  P and I may make a run to Target to check out the Halloween clearance.
Friday-We are just hanging out at home.
Saturday-B will be sleeping in the morning so I am going to take the kids to the Home Depot build.  They are going to make helicopters.  We have been doing this for four years and this is the first helicopter.  I am kind of excited.  We will probably just hang out at home the rest of the day.
Sunday-We have no plans so just hanging out at home.  I may run to the four Targets if the Halloween goes 90%.
Disclaimer: I have never claimed to be any great writer. So any mistakes that are made are my fault. Sometimes I mix up names B, S, and P, but I think you can figure out who I am talking about. If you find any grammatical errors just fix it in your mind so it sounds right.