November 2, 2016
Comments Off

on Manic Monday
Manic Mondays are when I let you know what plans I have for the week.  Some weeks I may be very busy where other weeks there may not be any plans.  Since I now have two little ones to take care of I am going to post weekly goals for myself to try to hold myself accountable.  I have also decided to do a quick recap of what we actually did versus what I thought we were going to do.
This Week
This Week's Goal
Monday-Today is Halloween.  We are going to hang out at home during the day and then head to my sister's for dinner and trick or treating.
Tuesday-It is going to be super nice outside so I am hoping to spend as much time as we can outside playing.
Wednesday-We have P's play group in the morning.  It is going to be another day with the high in the 70s.  P is actually excited to go to the park to play with her friends in the morning.  I am getting my hair cut while P takes a nap.  The rest of the day we are going to spend outside enjoying probably the last warm day of the season.
Thursday-I think B is going to head out to my uncles to help them with some repairs.  P and I may make a run to Target to check out the Halloween clearance.
Friday-We are just hanging out at home.
Saturday-B will be sleeping in the morning so I am going to take the kids to the Home Depot build.  They are going to make helicopters.  We have been doing this for four years and this is the first helicopter.  I am kind of excited.  We will probably just hang out at home the rest of the day.
Sunday-We have no plans so just hanging out at home.  I may run to the four Targets if the Halloween goes 90%.
Last Week Recap
Monday after school I took the kids to trick or treat at businesses with their cousin F and P.  S loves his cousin F and misses hanging out with her all the time so this was their time to hang out.  P had a blast and loved going from business to business.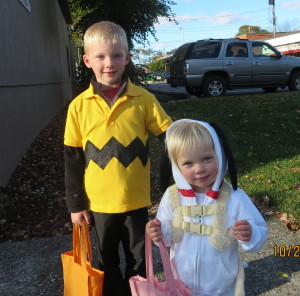 Tuesday P refused to go to the last storytime so we hung out at home.  S had catechism after school and then we had parent/teacher conferences with S leading the conference.  P hung out with Grandma and Grandpa.  She did great hanging out at their house with them.
Wednesday was our one day to hang out at home this week.
Thursday P and I hung out at home during the day.  We kind of got into a routine if we don't walk as soon as S gets on the bus we play in the playroom for the morning.  She really likes this because the train track is set up for her.  After school the kids ate there dinner early and then we went to trunk or treat at St. Rose.  P again had a blast doing this and did great.  After we were done I went to the library for the Architectural Scavenger hunt results while B took the kids to Bass Pro Shop to get their pictures with the Peanuts gang.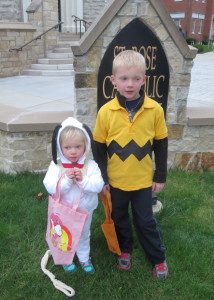 Friday S did not have school because of parent/teacher conferences.  We had the preschool business trick or treat in the morning.  We had told S last year that, it was his last year to go, so this year he dressed up to go along but did not get candy.  I can't believe how mature he was because he was totally okay with it.  My niece tagged along and hung out at our house with us for the day.  The rest of the day we hung out at home.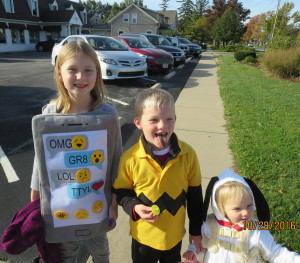 It was super nice out on Saturday so B took S and his friends to a build at Toys R Us to make a Lego Frankenstein.  After P got up from her nap we took the boat out for one last time this year.  It was a tad bit windy so we didn't stay out too long.  It was so windy on the way back that P turned backward and buried her face into me.  She just kept saying, "Home, home, home."  When we got back to the dock P changed her mind and did not want to stop so we ended up riding around for a little while longer.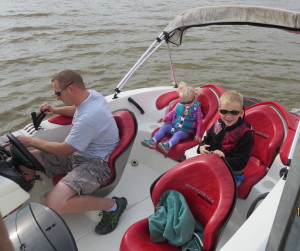 Sunday B and S went to his aunts to help her fix her furnace.  S got to play with his cousin L.  After they were done we ended up going to a pumpkin farm.  The kids had fun doing the hay ride, corn maze, and playing in the big corn box in the barn.  S had a bit of a meltdown so we didn't stay that long.  When we got home we made eyeball buckeyes and candy corn meringues.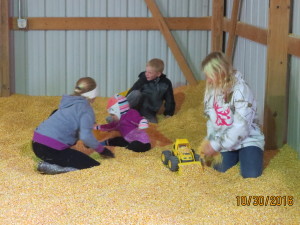 Last Week
With Halloween creeping up on us we are going to have a busy week.
Monday-I got the kids pictures done and cards made.  Now I just need to get them addressed this morning and put in the mail.  After school they are doing trick-or-treat at local businesses from 3p-5p.  S gets off the bus at 4pm so we have about 45 minutes.  Last year that was plenty of time.  B is working so it will just be me and the kids.  We are going to attempt to meet up with my sister and nieces to go together.
Tuesday-P has storytime in the morning at the library. She has refused to go the past two weeks.  I am not sure I can convince her to go, but will try.  After school S has catechism.  We also have S's school conferences afterward.  P is going to hang out with Grandma while we go.  These are student lead conferences so S goes with us.  It will be interesting to see how this works.
Wednesday-P has playgroup in the morning.  After school we don't have any plans.  It is the only day this week!
Thursday-There is trunk-or-treat at St. Rose in the evening.  We have been going since S was a baby.  This is not huge by any means but perfect for us.  Right afterward I have a meeting at the library to go over the architectural scavenger hunt results.  I am excited this is the first year I actually completed it!
Friday-S does not have school because of parent/teacher conferences.  The local businesses in downtown are doing trick-or-treating for little ones.  I have to check what the age limit is.  If S is allowed he will be able to trick or treat, if not he will go along and help P.  I am sure something else Halloweenish will come up for the afternoon.
Saturday-As of now the only thing going on is a build at Toys R Us for a Frankenstein Lego.  I plan on working on desserts for Halloween!
Sunday-My goal is to finish any desserts for tomorrow.  The rest of the day we will be hanging out at home.
Disclaimer: I have never claimed to be any great writer. So any mistakes that are made are my fault. Sometimes I mix up names B, S, and P, but I think you can figure out who I am talking about. If you find any grammatical errors just fix it in your mind so it sounds right.