October 24, 2016
Comments Off

on Manic Monday
Manic Mondays are when I let you know what plans I have for the week.  Some weeks I may be very busy where other weeks there may not be any plans.  Since I now have two little ones to take care of I am going to post weekly goals for myself to try to hold myself accountable.  I have also decided to do a quick recap of what we actually did versus what I thought we were going to do.
This Week
With Halloween creeping up on us we are going to have a busy week.
Monday-I got the kids pictures done and cards made.  Now I just need to get them addressed this morning and put in the mail.  After school they are doing trick-or-treat at local businesses from 3p-5p.  S gets off the bus at 4pm so we have about 45 minutes.  Last year that was plenty of time.  B is working so it will just be me and the kids.  We are going to attempt to meet up with my sister and nieces to go together.
Tuesday-P has storytime in the morning at the library. She has refused to go the past two weeks.  I am not sure I can convince her to go, but will try.  After school S has catechism.  We also have S's school conferences afterward.  P is going to hang out with Grandma while we go.  These are student lead conferences so S goes with us.  It will be interesting to see how this works.
Wednesday-P has playgroup in the morning.  After school we don't have any plans.  It is the only day this week!
Thursday-There is trunk-or-treat at St. Rose in the evening.  We have been going since S was a baby.  This is not huge by any means but perfect for us.  Right afterward I have a meeting at the library to go over the architectural scavenger hunt results.  I am excited this is the first year I actually completed it!
Friday-S does not have school because of parent/teacher conferences.  The local businesses in downtown are doing trick-or-treating for little ones.  I have to check what the age limit is.  If S is allowed he will be able to trick or treat, if not he will go along and help P.  I am sure something else Halloweenish will come up for the afternoon.
Saturday-As of now the only thing going on is a build at Toys R Us for a Frankenstein Lego.  I plan on working on desserts for Halloween!
Sunday-My goal is to finish any desserts for tomorrow.  The rest of the day we will be hanging out at home.
Last Week Recap
Monday I kept my phone with me all day in case S decided he did not feel well enough to be at school and wanted to come home.  He made it all day.  After school I still wouldn't let S run around and play so he had to find calm things to do.  He did.  He ended up helping B in the garden by cutting down the celery.  The rest of the evening we played outside until dinner.  It was so nice out and I knew it wasn't going to last all week.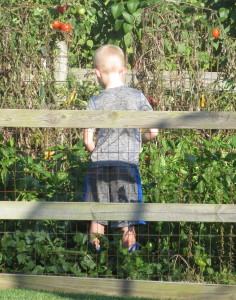 Tuesday no matter how hard I tried to convince P to go to storytime she wouldn't.  We ended up staying home and going for a walk before naptime.  After school I took S to catechism.  P and I played at the playground while he was in class until it started to rain.  P and I hung out in the car until his class was over.  She sat in my lap in the driver's seat and kept dancing to the music.  Afterward we went and picked up a pizza for dinner.
Wednesday we went to P's playgroup in the morning.  We only stayed at the park for a short while because we went to my aunt and uncles for a quick visit before naptime.
Thursday S's soccer practice was cancelled.  I wasn't going to let him go anyways because it was raining out and he still had the nasty cough.
Friday B traded our car in for a new one.  We now have a VW GTI.  To me it is just a car.  As long as I can get from point A to B I am good.  It does suck this car does not have navigation!  After school S played outside and then before dinner B decided we needed to get everything out of the garden.  I spent about 20 minutes getting green peppers.  I had two huge totes in that short amount of time.  I hadn't even gotten through half the plants when I had to leave to go to my paint class.  I painted Starry Night with Snoopy.  My sister came with me and I love the way mine turned out.  It is going to go in P's room when we redo her room after her crib.
Saturday S had his last soccer game of the season.  He was beyond excited to play.  When he saw his Uncle J made it to the game he came running on the field with two big thumbs up!  While he didn't score any goals during the game (or season) he had fun and that is all that matters to us!  After the game we went out to my aunt and uncles to hang out for a little while.  Afterward we went to a local funeral home that decorates for Halloween and host a little party.  If you bring a non-perishable food item you get a pumpkin!  This is how we get our pumpkins every year!  S had a good time, but P hated seeing all the fake spider webs and spiders.  Even the cutouts that were hanging from the lights freaked her out.  She definitely hates bugs!  P went down for naptime, while S went to play with his cousins.  B got his uncles bobcat and worked on digging and moving dirt at his parents.  P and I went over to B's parents when she woke up.  We had pizza over there and then headed home for the kids to go to bed.
Sunday we didn't have any real plans.  We were hoping to go out on the boat because the weather was so nice.  B went back to his parents to finish with the bobcat and moving dirt, etc.  Although it was nice outside it just didn't work out and we didn't go out on the boat.  The kids carved a pumpkin after dinner.  B had to return the bobcat at bedtime so I got him to take P with him while I put S to bed.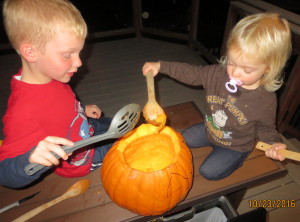 Last Week
My Weekly Goal-None for this week.
Monday-It was so nice outside that we planned on just hanging out at home all day.  I wasn't sure how S was going to feel either since he still had a bit of a bark when he went to school in the morning.
Tuesday-P has storytime in the morning.  I am hoping I can convince her to go this week.  It is going to be nice so I am hoping we can spend time outside before the rain starts.  S has catechism in the evening.  P and I are going to hang out till he is done.
Wednesday-P has her playdate at the park in the morning.  We are only going to go for a short while because we are going to visit my aunt and uncle before P's nap.  Lately when she falls asleep in the car she does not transfer to her bed for the rest of her nap so I need to make sure we are home before she falls asleep. S has his playgroup after school for an hour.  P and I will pick him up form that and then we are just hanging out at home for the rest of the night.
Thursday-S has his last soccer practice in the evening.  I am not sure if he will actually have the practice because we are supposed to get a ton of rain.
Friday-B plans on ripping out the rest of the garden.  That means we are going to have a ton of hot peppers and green peppers.  I am doing another painting class in the evening.  It is an abstract version of "Starry Night" with Snoopy and his doghouse.
Saturday-S has his last soccer game of the season.  I have to say I am not sad about it.  A local funeral home decorates for a few hours for Halloween.  If you donate a canned good you get a pumpkin.  Plus you get to decorate cookies, make crafts, color pictures, pet animals and more.
Sunday-As of now we don't have any plans.  That can easily change since we are getting so close to Halloween I am sure there will be activities.
Disclaimer: I have never claimed to be any great writer. So any mistakes that are made are my fault. Sometimes I mix up names B, S, and P, but I think you can figure out who I am talking about. If you find any grammatical errors just fix it in your mind so it sounds right.