August 11, 2016
Comments Off

on Manic Monday
Manic Mondays are when I let you know what plans I have for the week. Some weeks I may be very busy where other weeks there may not be any plans. Since I now have two little ones to take care of I am going to post weekly goals for myself to try to hold myself accountable. I have also decided to do a quick recap of what we actually did versus what I thought we were going to do.
This Week-Another week of not getting this done for Monday. I am going to get this and all the rest of the daily postings caught up. It has been a busy week.
My Weekly Goals-I need to get everything ready for S because school starts next week.
Monday-We have our last week of swim in the morning. P needs to get an early nap and then we have are going to the demolition derby at the fair! S is beyond excited to go.
Tuesday-Swim in the morning, S has his registration at school where we have to turn in paperwork, and then we are going to a Mud Hens baseball game at night.
Wednesday-We have swim in the morning and then we are hanging out at home the rest of the day. It is going to be super-hot so we are spending the day indoors. I have a few load of laundry that need folded.
Thursday-This is our last day of swim for the summer. That means no more toddler time at the pool. It is going to be another hot one so we are hanging out at home. B and I have dentist appointments while P is taking her nap. The farmer market is in the evening but I doubt I will go. B may go if he wants anything.
Friday-No plans for today. We are hanging out at home! B heads back to work.
Saturday-B will sleep in the morning. I am going to a Josh Grobin/Sarah McLachlan concert with my sister at DTE. B is going to watch the kids and then my other sister is going to come over and watch them when he goes to work. I just hope P can make it. Two times in one week is too much for her and me! (Separation anxiety on both our parts. I can pretty much guarantee she will sleep with me half the night.)
Sunday-We are going to spend the day getting stuff ready for S to start school on Tuesday. I think I am more nervous than he is!
Last Week Recap
I finally got all of my Target posts done for the summer toy clearance.
Monday we started a new/last swim session for the summer. P loves to go to swim every day. Her hair is starting to show all the chlorine it has been getting. I have done a few deep conditions to her hair which have helped. We had S's last tee ball game under the lights. S did awesome and P had fun entertaining.
Tuesday we went to swim and then S had science camp in the afternoon. P and I hung out at home while he was there and spent some time together. The rest of the day we hung out at home.
Wednesday we went to swim in the morning and then hung out at home the rest of the day.
Thursday we went to swim and then I dropped S off at my sister's for my niece to watch him while I took P to the dermatologist. We got some cream to try on P's Keratosis Pilaris. While there is no cure for it, I am hoping to make it significantly better for her. I also started using coconut oil on her skin which I have read online that can significantly help improve it also. We then went to my dad's to swim and have a little party for my niece (F) for her 9th birthday. Later in the evening we went out to eat for her birthday also.
Friday we went to my neighbor's parents to swim. S loved that they had a deep pool that he could dive and do somersaults into. P had a blast riding around on my back in the pool. B ended up picking up overtime so he worked all day. We went home for P's nap after swimming and then hung out at home the rest of the night.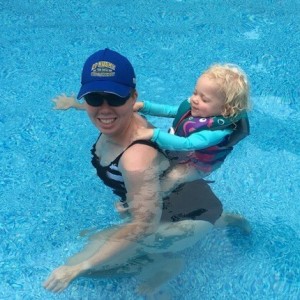 Saturday P and I hung out at home in the morning. She took an early nap which I had to wake her up from so we could go to a swim birthday party. S and P had a blast swimming and then playing afterward at the birthday girls' house. They both liked the ice cream cake, except S told me he ate around the fudge. Seriously whose kid is this? He does not like chocolate of any kind (white is okay, but is that really chocolate?).
Sunday we hung out at home and ended up going swimming at my neighbor's parents again. My sister came over to watch the kids and B and I went to a Sarah McLachlan concert with my sister. It was an amazing concert. Just her playing her guitar or piano. Almost like a Storyteller concert.
Last Week
This Week-I know this is late but really if I didn't do it this week and skipped it I would have nothing to compare to next week to see how much we actually did or didn't do that we planned.
My Weekly Goals-I am going to get all the Target posts done this week.
Monday-S starts his new swim session today.  This is the last session and then school starts in two weeks.  S has his last tee ball game which is "under the lights" at 7:30pm.
Tuesday-We have swim in the morning and no real plans for the rest of the day.
Wednesday-Another day of swim and then just hanging out at home.
Thursday-We had swim in the morning, and P has a doctor appointment at the dermatologist afterward.  S is going to hang out with his cousin and she is going to watch him.  Afterward we are going to my dad's to swim for F's birthday.  In the evening we are going to Loma Linda's for F's birthday dinner
Friday-The plan is for B to make chili sauce with his mom.  First Friday downtown is in the evening.  It will just depend on the heat.
Saturday-There is a build at Home Depot in the morning and then P needs to take an early nap.  We have a birthday party in the afternoon which is a swim party.  I want to make sure P has plenty of sleep so she in not cranky.
Sunday-If B does not get his chili sauce made on Friday he plans on doing it today and then we have a Sarah McLachlan concert in the evening.
Disclaimer: I have never claimed to be any great writer. So any mistakes that are made are my fault. Sometimes I mix up names B, S, and P, but I think you can figure out who I am talking about. If you find any grammatical errors just fix it in your mind so it sounds right.