August 5, 2016
Comments Off

on Manic Monday
Manic Mondays are when I let you know what plans I have for the week. Some weeks I may be very busy where other weeks there may not be any plans. Since I now have two little ones to take care of I am going to post weekly goals for myself to try to hold myself accountable. I have also decided to do a quick recap of what we actually did versus what I thought we were going to do.
This Week-I know this is late but really if I didn't do it this week and skipped it I would have nothing to compare to next week to see how much we actually did or didn't do that we planned.
My Weekly Goals-I am going to get all the Target posts done this week.
Monday-S starts his new swim session today.  This is the last session and then school starts in two weeks.  S has his last tee ball game which is "under the lights" at 7:30pm.
Tuesday-We have swim in the morning and no real plans for the rest of the day.
Wednesday-Another day of swim and then just hanging out at home.
Thursday-We had swim in the morning, and P has a doctor appointment at the dermatologist afterward.  S is going to hang out with his cousin and she is going to watch him.  Afterward we are going to my dad's to swim for F's birthday.  In the evening we are going to Loma Linda's for F's birthday dinner
Friday-The plan is for B to make chili sauce with his mom.  First Friday downtown is in the evening.  It will just depend on the heat.
Saturday-There is a build at Home Depot in the morning and then P needs to take an early nap.  We have a birthday party in the afternoon which is a swim party.  I want to make sure P has plenty of sleep so she in not cranky.
Sunday-If B does not get his chili sauce made on Friday he plans on doing it today and then we have a Sarah McLachlan concert in the evening.
Last Week Recap
Since I didn't have any goals for last week I didn't have anything to get done.  It was a hot week so we spent most of the time hanging out at home.  We did swim every morning and tee ball on Monday and Thursday.
Monday B got to see S play his first tee ball game of the season.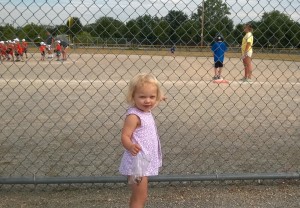 Tuesday B took S to swim and I took P over to May's house for clay class.  She went to class and I got to watch Baby L.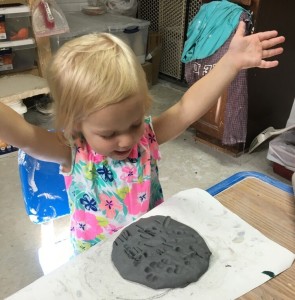 Wednesday we went to swim and then hung out at home the rest of the day.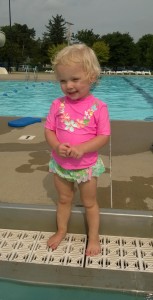 Thursday we did tee ball and swim in the morning.  When B got up I went to our Target hoping the toy clearance took place.  None of the toys got marked down.  I asked the head person on the markdown team and she told me they were not marking toys down this week.  Bummer so I headed home.
Friday I really wanted to check out the other Targets, but B worked last night so I had to watch with the kids.  I took the kids to Haslinger's Orchard to get some peaches for peach pie and then we stopped by B's aunts on the way home so S and P could play with their cousins.  When we got home P went down for a nap and B went to get his windows tinted on his truck.  Since he was on that side of town he ran to the Airport Hwy Target to check a few items for me and actually did pretty good.  When he got home I decided I was going to run to the other Targets and check. I started at the Target on Alexis Rd and scored big.  I then went to the Target on Monroe St. and got some more toys!  When I got home and after the kids were in bed I made two peach pies and 6 mini pies.
Saturday we went to my brother's to hang out for the day and spend time with them.  I took them a peach pie because it is my niece's favorite and my brother's family loves my pies.  The kids had so much fun and S is still talking about it and when he gets to play with his Uncle J again.  S keeps telling me when he gets an Xbox then he can play Minecraft with his cousin T from our house.  We got home from my brothers right before 8pm.  P fell asleep almost immediately when we got in the car so she got to stay up a little later.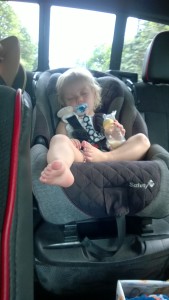 Sunday B let me sleep in till about 10am.  S was itching to run to Target so he could see if they did the reset of the toys and he could find more Hot Wheels Minecraft Carts.  I think B was pushing him to go to Target and that is why S kept bugging me.  We went to Target and what do you know the toys did go on clearance.  What a kick in the butt that the markdown associate lied to me when I asked her.   I did find a few things so that was good.  We got all of S's school supplies except for his book bag and sadly for B and S they did not put out the new Hot Wheels Minecraft Carts.  The rest of the day we hung out at home.
Last Week
My Weekly Goals-I don't really have any this week.
Monday-S starts his last week of tee ball and then swim class after.  The rest of the day we are just hanging out at home.
Tuesday-I am staying home to watch my neighbors little one while B is going to take S to swim.  P may go with me and do a clay class or go with B and swim.  B starts back on midnight.
Wednesday-This is the first time we are going to have to be quiet during the day in over 2 months because B will be sleeping.  We have swim in the morning and then we are just hanging out at home the rest of the day.
Thursday-We have tee ball and swim in the morning.  I am going to bring the kids home and when B gets up I am running to Target to check out the toy clearance.  If my Target toy clearance goes 70% I plan on running to the other Targets.  Hopefully I will find some Legos!
Friday-B will be sleeping in the morning, and I am planning on making a few peach pies and some mini pies for the neighbors.  If I am really ambiguous I will make some whippersnapper cookies.
Saturday & Sunday-B is off for the weekend so we are going to visit with my brother either today or tomorrow.  So one day we will see my brother and the other hopefully B will get the boat prepped so we can go out on it.
Disclaimer: I have never claimed to be any great writer. So any mistakes that are made are my fault. Sometimes I mix up names B, S, and P, but I think you can figure out who I am talking about. If you find any grammatical errors just fix it in your mind so it sounds right.