June 28, 2016
Comments Off

on Manic Monday
Manic Mondays are when I let you know what plans I have for the week. Some weeks I may be very busy where other weeks there may not be any plans. Since I now have two little ones to take care of I am going to post weekly goals for myself to try to hold myself accountable. I have also decided to do a quick recap of what we actually did versus what I thought we were going to do.
This Week
My Weekly Goals-I would love to make some kind of 4th of July desserts.
Monday-We have tee ball, then swim, and then S has yo-yo camp.  Afterward we are going to hang out at home because it is supposed to be super-hot.
Tuesday-Today we have swim then yo-yo camp.  While S is at yo-yo camp, P and I are going to make a run to Target.  I am hoping to find the Minecraft toy that was on clearance.  If I can get it at 50% off I plan on picking it up and hoping I will eventually get it at 70% off.  We have a funeral showing in the evening when B gets home from work.
Wednesday-S has swim and yo-yo camp.  Either Grandma G is going to take him and I am going to the funeral or she will go to the funeral and I will take S.  P is going to do whatever I do.  S has water world in the afternoon and then we will hang out at home.
Thursday-Today is tee ball, swim, and then yo-yo camp.  Afterward we will head home while P takes her nap and then head to the farmer's market when B gets home from work.
Friday-B is off today and as of right now we don't have any plans.
Saturday-There is a parade in the morning to celebrate Perrysburg being 200 years old.  The kids are going to love the parade.  The rest of the day we are hanging out at home.  Maybe go to my dad's depending on the weather.
Sunday-B is working but we are planning on going to the fireworks in the evening.  S and P's cousin is coming in town for a few weeks.  P probably won't care, but S is excited.
Last Week Recap
Monday we went to S's first tee ball game and then ran to swim right after.  When we got home I could not believe how whiny P was.  I figured out she was hungry and tired.  She was so tired that she ended up taking her nap at 12pm, which is an hour and a half earlier than normal.  We went to my dad's in the afternoon to swim.  S got to swim with his cousin F.  After B got home from work he came over and traded so I could run to Target by myself.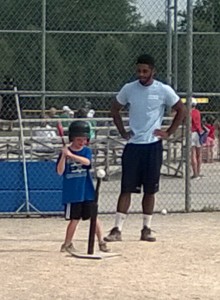 Tuesday we only had swim.  After 45 minutes of swimming, P was done so we didn't stay any longer.  Since she left good I thought she would be fine when we got home, but that swimming really wears her out.  She came home had a snack and was sleeping by 12:30pm.  S and I just hung out.
Wednesday we had swim and then went home for a snack before S had water world.  He was pretty disappointed with water world.  He thought it was going to be a free for all of fun with water.  Unfortunately it was set up to have four stations and they really weren't that much fun.  The first station was duck, duck, goose.  They had a cone of water that they dumped a little on every head and the rest of the person they pick to be the goose.  The second station was crab walking soccer.  They had plastic down and sprayed it with water and then had the kids try to kick a large ball all over.  There were so many kids in each group that the kids could barely move.  The third station was slip and slide.  The kids had to go one at a time and some got to go twice, but most only once.  The fourth station was an obstacle course where at the end they jumped in a baby pool.  They didn't sit in the pool just got their feet wet.  At the very end of the hour each kid got one water balloon and they all chased each other around.  That is how I thought the entire hour was going to be.  At the end I knew what S was going to say to me and he did, "They didn't have any super soakers."  In the description of the camp it said "We will have fun with water balloons, slip-n-slides, and super soakers with many different activities and games."  I guess not what either of us expected.  P was really good the entire hour and played with me in the shade.
Thursday S had tee ball, swim, and then we went to my aunt and uncles and hung out for the afternoon.  The kids had a blast playing with their cousins visiting from Florida.  P got her first M&M by accident.  I couldn't figure out why she was walking around with a mouth full of food.  I kept telling her to swallow and she wouldn't.  Finally S told me she had an M&M.  When I told her to spit it out, she did.  She had chewed the M&M and then did not know if she should swallow it.  P fell asleep on the way home and we went to the farmer's market after B got home from work.
Friday B was off so we hung out at home.  B got to sleep in which he so badly needed.  Somehow they got B to make pancakes for them both days he was off.  In the afternoon S went to B's aunts to play with his cousins and we joined them after P woke up from her nap.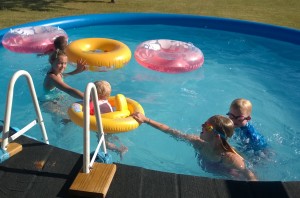 Saturday we hung out at home.  While P took her nap, B and S went to his parents to play with the bobcat again.  When they got home S wanted to swim so P and S swam while B made dinner.
Sunday was hot so we were just going to hang out at home.  I thought about going to my dad's to swim and realized that S had a fever.  When it reached 103° and S started complaining of a headache I gave him Tylenol.  I was hoping the fever would kill whatever bug was bothering him.  S literally stayed on the couch all day.  When I realized he fell asleep on the couch I knew he was really sick.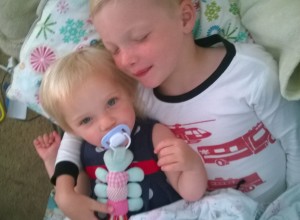 Last Week
My Weekly Goals-I don't really have any goals I would just like to get S to all of his stuff on time since it is the first week.
Monday-S has his first tee ball game and then swim lessons right afterward.  The rest of the day we are going to hang out at home because it is going to be HOT!
Tuesday-We have swim in the morning and hanging out at home.
Wednesday-We have swim for S again in the morning and then he has water world in the afternoon.
Thursday-S has tee ball again in the morning and swim right afterward.  There is also the farmer's market in the evening after B comes home from work.
Friday-We get a break from swim lessons today unless one of the other classes gets cancelled this week.
Saturday-We are just hanging out at home.
Sunday-Another day of hanging out at home.
Disclaimer: I have never claimed to be any great writer. So any mistakes that are made are my fault. Sometimes I mix up names B, S, and P, but I think you can figure out who I am talking about. If you find any grammatical errors just fix it in your mind so it sounds right.