April 25, 2016
Comments Off

on Manic Monday
Manic Mondays are when I let you know what plans I have for the week. Some weeks I may be very busy where other weeks there may not be any plans. Since I now have two little ones to take care of I am going to post weekly goals for myself to try to hold myself accountable. I have also decided to do a quick recap of what we actually did versus what I thought we were going to do.
This Week
My Weekly Goals– I am hoping to get the paper lantern hot air balloons put together.
Monday-We have a vet appointment in the morning for the kitty.  It is going to be the nicest day of the week so we will play outside as much as possible.  I need to tie down the new trampoline mat and net while B plans on tilling the garden.
Tuesday-S has soccer practice in the evening.  This week B and I are going to split.  One of us is staying home with P and the other is taking S to his practice.
Wednesday-No plans so we will just hang out at home.
Thursday-No plans, maybe a run to Target.
Friday-B is off and I am sure he will be exhausted.  He plans on planting the garden today and tomorrow if the weather permits.  I am sure I will be chasing P around and working on her decorations for her party.
Saturday-S has a soccer game in the morning.  It is the 200th birthday for our town so they are doing a big celebration.  Depending on what they are doing we may go to that.
Sunday-B is working, so I think we are just hanging out at home.
Last Week Recap
I did accomplish my goals and finished the banner for P's party.  I also got the tags made for the sweets table.  I just need to add the baskets.  I colored the 3-D eggs which will make the balloons.  I wasn't sure what I was going to do with them but I think I am going to attach them to buckets to hold the silverware or the jelly beans on the tables.
Monday it was super nice outside so we spent the entire afternoon outside and even the evening.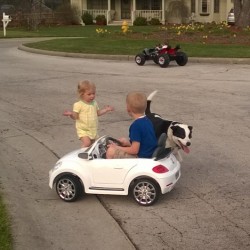 Tuesday I can't remember what we did, so we must have spent the day at home.
Wednesday S and B went to the Humane Society and adopted a new kitty.  We haven't figured a name out yet but are working on it.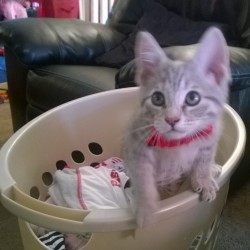 Thursday we hung out at home.
Friday there was a Family Fun Night Carnival at S's school.  P was amazing there and did not complain or throw fits when she did not get to do any of the games.  She did get to pick ducks.  Afterward we went for a late visit to my sister's to drop off some storage bottles for my niece.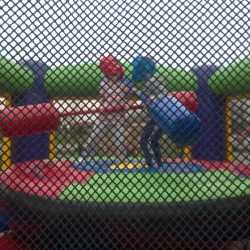 Saturday we had S's first soccer game of the season.  Things didn't go as planned.  P decided today was the day she was going to sleep in till 10:15am.  S's soccer game started at 10:15am so I had to leave B home and take S to the game.  One of the coaches wasn't able to make it so I helped out on the sidelines.  S spent the afternoon over at Grandma G, and Grandpa Bob's breaking down a brick wall.  After P woke up from her nap we went over and watched him go brick by brick on the wall until dinnertime.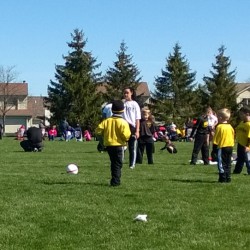 Sunday it was nice so we spent most of the day outside.  If you didn't see on Instagram or yesterday's post, B found a skee ball machine being given away for free and we were lucky enough to be the first and got it.  Before dinner we went for a walk.  Much to my surprise S ended up playing with his friend while I took P for a walk.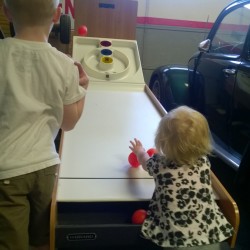 Last Week
This Week's Goals-I am hoping to finish P's birthday banner, and hopefully the tags for the sweet table.
Monday-This is going to be the nicest day of the week.  It is supposed to be 80° and sunny.  The only thing we are going to do is play outside.
Tuesday-It is not going to be as warm.  Somewhere in the 60's.  S has his first soccer practice today.  He is very excited about it.
Wednesday-Since Monday is supposed to be nice and Tuesday S has soccer practice, today we need to get S's homework for school done.  I like to do it on Monday's but with the nice weather predicted I don't want to waste our time inside.
Thursday-It is supposed to be rainy so I assume we will just hang out at home.  B is working so it is just the kids and me.
Friday-We don't have any plans so as of now we are hanging out at home.
Saturday-S has his first game in the morning.  I am hoping for good weather.  I hate to sit at soccer games when it is cold or rainy.
Sunday-We are just hanging out at home.
Disclaimer: I have never claimed to be any great writer. So any mistakes that are made are my fault. Sometimes I mix up names B, S, and P, but I think you can figure out who I am talking about. If you find any grammatical errors just fix it in your mind so it sounds right.