October 23, 2013
Comments Off

on ipsy October Glam Bag Review
With infinite beauty product combinations in the marketplace, choosing the best items for your needs can be a challenge! That was why Michelle created ipsy. Michelle and her team of stylists have selected products they love, for you to try.
Each month, subscribers will receive a beautiful Glam Bag with deluxe samples and full-sized beauty products. Members can watch and play along with the stylists with the same products that they are using.  All for only $10 a month.
I have really started to enjoy getting this subscription and look forward to every month.  I got this a few weeks ago, but have been slacking on writing reviews.  Now that I am not watching Baby A any longer I now have a little more time to get caught up.
This is what my package looked like when I opened my mailbox.  It came in a pretty pink bubble wrap package.
When I opened the package it was a white make-up bag with pink writing on it.  The bag said, "Love of beauty is taste.  The creation of beauty is art."  It came with this postcard titling this month as "The Art of Beauty."  The postcard contained the companies who contributed to this month and discounts available.
LA Fresh Oil-Free Face Cleanser Wipes (10 Wipes/$3.33 (30 Wipes/$9.99))-These are a dry cleanser which means that you can use these wipes to clean your face/make-up and not have to rinse when you are done.
Zoya Nail Polish-Giovanna ($8)-Zoya nail polish uses the Big 5 Free Formula: No formaldehyde, formaldehyde resin, toluene, phthalate or camphor.  The best way to describe this color is emerald green.  It even has a metallic look to it.  I am not one to paint my nails but will be using this around the holiday season.
Buxom Lip Polish-Dolly 2ml($19)-This polish promises to tingle, plump, & shine with this shimmering, sheer lip polish that creates the look of fuller, more voluptuous lips.  I tried the lip polish and it definitely tingles, but was very sticky.  I think I will pass this along to one of my sisters or niece.
Big Sexy Hair Blow Dry Volumizing Gel ($5) – Applying the hair gel to damp hair with plump up hair strands before blow drying.  Blow dry the hair to expand the volume.  I have not tried this yet, but plan on doing so the next time I have to do my hair.
Nourish Organic Deeply Nourishing Coconut & Argan Body Lotion 1 oz. ($1.50)-This lotion says it is clinically proven to improve skin elasticity.  This smells great and was not at all greasy when I used it.  I am definitely going to use this whole sample no questions asked.  I am thinking about heading to Target to get more.
Make-up bag ($3)-This make-up bag was okay.  Not something I would pick out for me.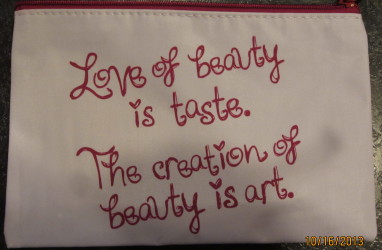 All in all the total of this ipsy bag of cosmetics comes to $36.83 (not including the make-up bag).  With this bag of makeup only costing $10, I would say it is totally worth it, this has been one of the higher priced bags I have received.  This was by far the best month for me to date.  I liked everything in it.  If the Buxom lip polish wasn't so sticky I would be using everything in this bag.  I am going to continue to get ipsy and see what next month brings.  If you are interested in subscribing to ipsy, click here, and help me get a bonus gift next month.
Disclaimer: I have never claimed to be any great writer. So any mistakes that are made are my fault. Sometimes I mix up names B, S, and P, but I think you can figure out who I am talking about. If you find any grammatical errors just fix it in your mind so it sounds right.