October 22, 2015
Comments Off

on Got Me Tipsy Coffee Mugs Review
Disclaimer:  I received this product for free or highly discounted in exchange for an honest review.  All thoughts and opinions expressed are mine.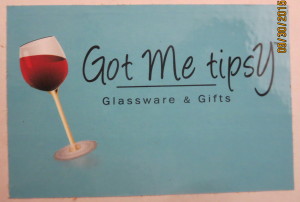 So I am not a coffee drinker by any means.  I think I have only tried it once or twice in my life!  I wish I drink coffee because then I could take advantage of all the caffeine.  But as it goes I am not.  I couldn't resist these two coffee mugs.  One is a little stick to your siblings and the other makes you laugh.
I really wanted to take the "Favorite Child" mug to Thanksgiving or Christmas and use it.  With the saying "I love how we all know that I'm your favorite child," it was perfect.  I know my siblings would notice it and if they asked where I got it I was going to say, "From Mom."  Now with our family is broken as it is that wouldn't be very funny and everyone would for sure be like, "You can totally be her favorite child."  So that's not going to work out in my favor.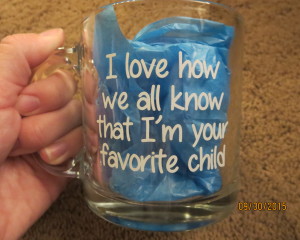 The other coffee mug is the "Go Away" mug.  It is the perfect thing for those who say they need at least one cup of coffee in the morning before they do anything else.  You know the ones that say, "I can't even think until I have had my first cup of coffee."  This is the perfect way to measure when you can finally talk to them or ask a question.  With three lines indicating where they are at on the okay ask me a question scale, Go Away, Not Yet, and How Can I Help You? it lets you know when it is safe to approach.  If your boss could take a good joke this would be the perfect cup to give to them.  Once you know the cup is empty it is okay to enter their office!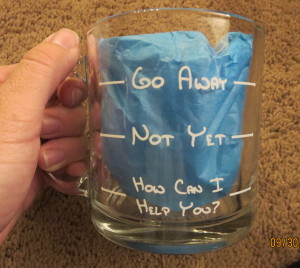 The cups are awesome.  Because the mug is clear and the writing is white you can't really see what it says until you put liquid in it (or in my case blue tissue paper).  The glass is thick enough that you don't have to worry about it being fragile and yet not that thick that it is a heavy mug to pick up.
The Got Me Tipsy Favorite Child Coffee Mug is only $16.95 and the Got Me Tipsy Go Away Coffee Mug is only $18.95 on Amazon.com.  Click here to order the Favorite Child mug and here for the Go Away mug. #GotMeTipsy
I was chosen to review the Got Me Tipsy Coffee Mugs through Tomoson.com.  Basically how it works is you select items you would like to review and if they chose you, the product is purchased through Amazon.com.  If you have a Prime Account with Amazon shipping is free and a coupon code is provided from the company making the product free or highly discounted.  In exchange they are looking for an honest review on their product.
Disclaimer: I have never claimed to be any great writer. So any mistakes that are made are my fault. Sometimes I mix up names B, S, and P, but I think you can figure out who I am talking about. If you find any grammatical errors just fix it in your mind so it sounds right.