January 28, 2017
Comments Off

on Foto Friday
Foto (Photo) Friday is a show and tell of pics from the past week.  I was going to finish this last night after I put the kids to bed but decided to just got to bed myself.  I got some much needed sleep and was in bed before 9:30pm!
B and I got dressed up for his holiday party on Saturday night.  The theme was prom.  While some got really fancy and wore prom dresses, we just wore something nice.  B ended up matching his "work husband" they both had on gray shirts and maroon ties!
Sometimes you just need a good nap while the little one sleeps.  P woke up halfway through her nap and the only way to get her to go back to sleep is to lay down with her.  I try not to fall asleep but it never works and I end up taking a nap, too.
Someone got woken up early by P.  He was sound asleep and P snuck into his room and woke him up at 6:45am. The one day that he is still sleeping and he gets woken up.  He came out on the couch and buried himself trying to fall back asleep.  It didn't work.
P had to show me her find of a Finding Dory placemat.  She has been carrying it around the house with her like it is her prize possession.  She now loves Dory and Nemo.  While she still loves Frozen and Toy Story, this is her new favorite!
We went to Michael's to see if our store had grab bags.  They did!  This is the first time they have ever done that.  P loved the Santa that was in one of the bags.
Sibling love.  The two were snuggling in the same chair and actually being nice to each other.  S kept giving P kisses and she kept saying, "Again, again."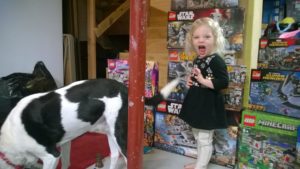 P was in the basement with me when B was showing me what he bought at Meijer.  They had an additional 50% off clearance prices on the toys.  He got so much he can never give me a hard time about going to Target again!
Disclaimer: I have never claimed to be any great writer. So any mistakes that are made are my fault. Sometimes I mix up names B, S, and P, but I think you can figure out who I am talking about. If you find any grammatical errors just fix it in your mind so it sounds right.