December 4, 2016
Comments Off

on Foto Friday
Foto (Photo) Friday is a show and tell of pics from the past week.
P loves to go and do "Bam, Bam" at Home Depot and Lowe's builds.  This week we went to Home Depot and P and S both built a picture frame.  She loves to hit the nails with the hammer.  She is pretty good at it, but it still scares me to hold the wood when she hits the nails.
We went to the lights parade last Saturday night.  The kids had a blast watching all the floats.  P was shaking her groove thing to all the Christmas music.
Dash climbed inside the side table and we thought it would be funny to close the door on her.  She sat inside and just stared out at us.  The other side also has a door so we opened that door and Dash just sat in there for the longest time looking out at us.  I think she thought she was safe from the kids grabbing her and yet she could still see what was going on.
When Dash finally climbed out S wanted to see if he could fit.  Since both sides have a door he could crawl in one way and look out the other way.  He thought he was hilarious and we couldn't help but laugh at him.
I am not sure what came over P but she climbed in the drivers seat and wanted to drive the truck.  S took it upon himself to get in the passenger side and push the gas pedal for her.  She was a crazy driver but they both had a ton of fun driving around.
I took P to the park on Wednesday because it was so nice out.  It was 60° outside.  P's playgroup did not meet but one of the other mothers and I met at the park so the kids could play together.  This is her first time on a merry-go-round.  She loved it and kept coming back to ride it more.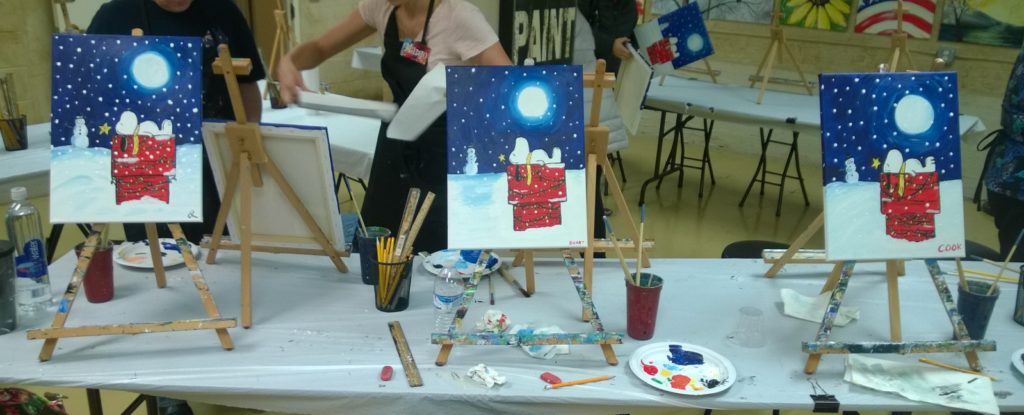 I went to another paint class this week and got to paint another Snoopy picture.  It is already hanging on the wall.  I love it and cannot wait till I get to do my December class in a few weeks!
Disclaimer: I have never claimed to be any great writer. So any mistakes that are made are my fault. Sometimes I mix up names B, S, and P, but I think you can figure out who I am talking about. If you find any grammatical errors just fix it in your mind so it sounds right.