September 10, 2016
Comments Off

on Foto Friday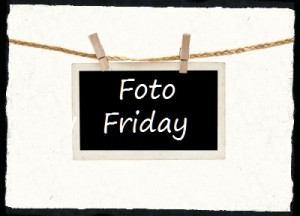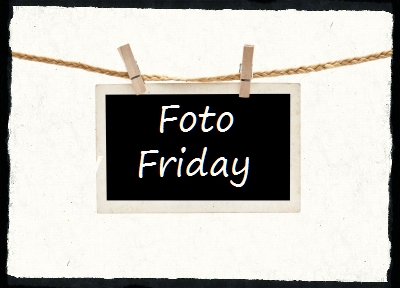 Foto (Photo) Friday is a show and tell of pics from the past week.  It has been crazy hot outside this past week, so I tried to pack in as much as we could for the kids to enjoy the last bit of summer weather.
This was from last Friday night.  We were at the car show and I knew there was no way P was going to sit in her stroller or walk holding my hand.  She wore her "baby leash" and didn't mind it in the least.  She probably held my hand for about 20% of the time.  She did hold her baby the entire time.  I thought she would give it to me after a few minutes but she never once tried to give it to me.  The sunglasses came off after about 5 minutes.
Last Monday we decided to go and feed the ducks in the morning.  I try to walk or ride my bike 5-6 days a week in the morning and decided to take them both for a bike ride.  B went with us to help with S because we let him ride his own bike for the first time over to a local pond instead of the third wheel behind me.  He was definitely tuckered out after we got home.
I have no idea where my child learned to lay out.  I never do, and I can't think of when she would have seen someone doing it.  She kept readjusting her towel and laying on it.  I think she was tired and hinting to me she wanted her nap since it was about 1 1/2 hours past her naptime.
Before we left P got to drink her bottle.  Since she was so tired I knew she would sit with Papa and drink her bottle.  She wasn't sleeping in this picture I just caught her when she had her eyes closed.  It is the sweetest picture ever and I am sure they will both cherish this.  I so see a future Christmas present.
P has been all about gymnastics and track & field since the Olympics were on.  She grabbed a few pieces of B's 2×4 that he was cutting and used them as a balance beam.  She was trying to do little jumps and turns on the wood.  When she jumped off the ends she made a big production of it and would put her hands up above her head and say, "Ta-da!"
I caught S climbing the fence to get in the tree.  I had no idea what he was doing but knew this would be a good picture.  When  I figured it out if you look above his head you will see the jumbo ball got stuck in the tree.  It must have popped out the top of the trampoline net.
B started working on the playhouse for S and P.  It has been a long time coming, but both kids were super excited about it.  S has wanted to be very involved when it came to building the walls.  While (as far as I know) B does not let him use the saws he does let him use the ShopVac and clean up the sawdust behind him.
I love the creativity P has.  S would never go and find a coloring book and color on his own.  I love to color and thought my kids would too.  Not S he shows no desire or interest.  P is the exact opposite.  She loves to color and write with pens and pencils.  This time she got a coloring book and pencil, sat down on the floor, and worked on her pictures.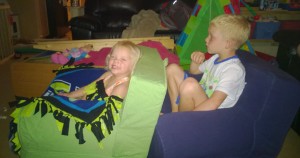 P was so excited when we got the seat covers for there chairs washed and B reassembled them.  She lined the chairs up, got her Toy Story blanket and sat down in her chair.  She kept calling S until he came and sat in his chair behind her.  There own little movie theater set-up.
I wasn't going to include this video but I love it.  P was dancing Friday morning and I happen to catch her when she wasn't looking.  I really had to bite my lip to keep from laughing out loud at her.  She was just shaking it, and then she caught me and started showing off.  When S is at school we usually turn on music videos instead of cartoons.  She loves it, and I love not having to listen to kid shows all the time.
Disclaimer: I have never claimed to be any great writer. So any mistakes that are made are my fault. Sometimes I mix up names B, S, and P, but I think you can figure out who I am talking about. If you find any grammatical errors just fix it in your mind so it sounds right.