April 2, 2016
Comments Off

on Foto Friday
Foto (Photo) Friday is a show and tell of pics from the past week.  It was a super busy weekend with egg hunts and helicopters.  The rest of the week we dealt with colds and long nights.
S and F had a blast doing there egg hunt together.  They stuck together the entire time.  Of course, they had to open there eggs together to check out the loot.  If you notice S has tan ears on because he says they are boys ears.
P did great the entire day on Sunday.  She was in a great mood.  She crashed almost immediately after we left.  The second day in a row she fell asleep in the car.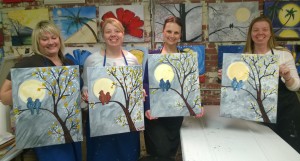 Tuesday two of my sisters and my neighbor went to a painting class (youcanbeanartist.com) with me.  We had a great time and plan on going back again soon!
We went to Sidecut Park on Wednesday.  The river was moving super fast.  S wanted to play down by the river and had to wear his mud boots.  P on the other hand preferred to stay on the paths with me.
P grabbed S's hand on the way home from the park.   It was the cutest thing I have seen them do together in quite a while.  About three minutes later she was sleeping.
Wednesday night we were up every two hours.  P could fall back asleep and be in bed, but almost to the minute of two hours she woke back up.  She woke up from her nap running a fever and had it all night long.
Thursday morning she woke up and her fever had broken.  You can see by her glassy eyes that she does not feel good.  She also skipped her nap so she was extra tired.
Thursday night she went to bed no problem, but woke up about an hour later.  She fell asleep on me and I ended up letting her sleep on the couch next to me so I could comfort her in her sleep.  She stayed on the couch until about midnight and then I put her in her bed.  I didn't hear another peep until 9am.
Friday she felt much better and was willing to play.  I love the little pony she had on the top of her head.  S and P jumped in the inflatable SpongeBob we have.  We got it from my brother who got it for my niece and nephew about 11-12 years ago.  It is still going strong.  Nothing a little duck tape hasn't taken care of!
Disclaimer: I have never claimed to be any great writer. So any mistakes that are made are my fault. Sometimes I mix up names B, S, and P, but I think you can figure out who I am talking about. If you find any grammatical errors just fix it in your mind so it sounds right.