March 18, 2016
Comments Off

on Foto Friday
Foto (Photo) Friday is my show and tell of pics from the past week.  It looks like it is a P week.  Every picture this week is of P, somehow I didn't get any of S.  Poor guy!
Sunday
While B and S were at a train and toy show at Owens Community College, P and I kept busy.  When P woke up she didn't believe me that B wasn't home so we went outside to check it out.  It had been raining all day and I showed her the worms on the cement.  She was stomping on them until she did one and it moved on her.  She bent down to check it out.  I told her to pick it up and she freaked out.  She immediately backed up to the house and refused to move.  I had to go out and get her because her feet were stuck and she was not moving.
After we went back inside we made Shamrock sugar cookies.  S loves to watch and help mix food, but P she was hands on and wanted to do the rolling herself.  I couldn't give her a little roller and some dough she wanted the real deal of the big roller and dough.  She loved it.
Monday
When I was getting a shower this is what P was doing.  S came running to tell me P was wearing my "thing."  I had no idea what he was talking about but when I found her she was wearing my cover-up and bra.  When I tried to get them off her she refused and ran away.  At least they were clean!
While waiting for S to get on the bus, P packed her own bag and waited right next to S.  What was in her little bag?  A binky and bottle.  She was set for the afternoon.  When S got on the bus she really did try to get on the bus with him and was not happy when she couldn't.
While S and I did homework after school, P worked on hanging her gel clings on the door.  That was Monday, today on Friday all the bunnies are ripped in pieces hanging all over the doors.
I am trying to get P used to wearing her hair up so after I blew her hair dry before bedtime I put it in a little French twist.  It is super cute from the back.  From the front you can't tell I did anything.
Tuesday
This is how P lounges in her chair when it is bottle time.  She cracks us up how she lays down in her chair with her feet kicked up.
P had to have a helmet on like S did so we found her the Buzz Lightyear helmet.  I thought it fit, but when I took it off I could barely get it off and it left a sweat ring where the helmet was.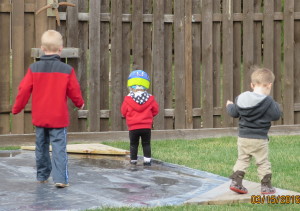 This is what I saw when S started yelling at me about P.  She was jumping in the puddle, S was trying to stop her and Baby A was going to join in the fun.
Wednesday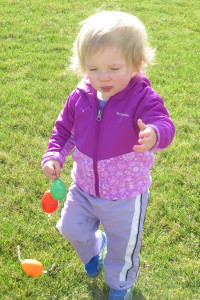 It was so windy that after S got off the bus we had to go outside and pick up eggs.  I swear half of the eggs were on the ground.  The more we hung back up, the more that kept falling off.  We finally gave up and said we would fix them again on Thursday.
Thursday
P eats a bowl of cereal in the morning, with milk on it.  She does such a good job not spilling it.
S is actually in this picture.  We had a breakfast train that delivered breakfast.  S drives the train and unloads it for both of them.  P figured it out on her own that night and can drive the train on her own.
Practicing pigtails for today's Easter pics.  You can tell from her face she doesn't like them, but man are they cute.  They worked out great for the pictures and she didn't complain once about them!
Disclaimer: I have never claimed to be any great writer. So any mistakes that are made are my fault. Sometimes I mix up names B, S, and P, but I think you can figure out who I am talking about. If you find any grammatical errors just fix it in your mind so it sounds right.