April 11, 2016
Comments Off

on Dresses I Got From Amazon.com
Disclaimer:  I received this product for free or highly discounted in exchange for an honest review.  All thoughts and opinions expressed are mine.
I recently had a wedding to go to and wanted a new dress.  I had the opportunity to review four different dresses.  I was hoping one of them would be a lucky winner for me.  Here are the results.
Flora Florida's Women Elegant Semi Formal Midi Dress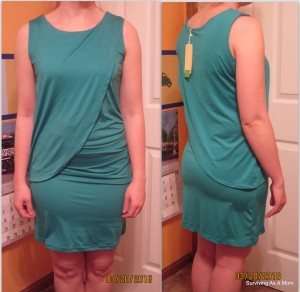 This dress looked super cute and I could not wait to try it.  There are three different colors to choose from-taupe, black, or green.  I thought the drape in the front would give a smooth finish to the top half and cover that tummy trouble area.  The dress was made of 100% polyester.  Polyester material comes in so many different forms I had no idea what kind of material this dress was going to be.
When I got the dress, I loved the way it looked and the color.  I chose the green in a size small.  When I buy dresses I always get a small or x-small.  I knew if I got a medium it would be too big and be a bad fit.  When I put the dress on it did not fit anything like I thought it would.  The material was super slinky and clingy.  It clung to every bump and lump that I had.  The drape on the front was really pretty.  The drape also was the exact same on the back.  The material under the drape ran the opposite direction right on my chest which left a mark to make it look like I was wearing the wrong type of bra.  I wasn't.  The dress also hugged my legs that left them very unflattering.  It also pulled weird in the front and kind of puckered at the bottom hem of the dress on the front.  Overall, this dress was a loser for me.  I really wanted it to work, and maybe if I was 20 lbs. less it might have.  I think if I had gotten a medium it still would have clung wrong on my legs and been too big on the top half making it droopy.
The Flora Florida's Women Elegant Semi Formal Midi Dress is $19.99 on Amazon.com.  #dresses
Anca Demi Women Zebra Print Bodycon One Shoulder Club Midi Dress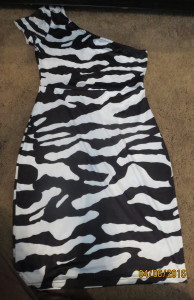 I really liked this dress.  I am not into animal print, but this dress had me sold.  I loved the one shoulder look.  The dress said to order it in regular size or up one size.  I decided to order it in a small (the size I would wear).  I knew if this dress came too big it would look terrible.  The material was 60% polyester, 20% spandex, 10% cotton, and what is the other 10%?  I have no idea what that 10% was going to be so I took my chances
Unfortunately, I did not win the gamble.  This dress did not look good when I opened the package and it did not look good when I tried it on.  It looked so bad I refused to let B take pictures of me in it.  The material was a very cheap polyester feel that was slinky and clingy.  It really clung.  The print could not even hide the flaws.  I loved the look of only having one shoulder, but did not like the cut across my chest.  You could see the wrinkle from the elastic on the top of the dress.  It did not give an expensive look that I would have liked.
The Anca Demi Women Zebra Print Bodycon One Shoulder Club Midi Dress is only $16.99 on Amazon.com.  #dress
Women's Drape Crew Neck Basic Casual Short Cap Sleeves Stretchy Mini Dress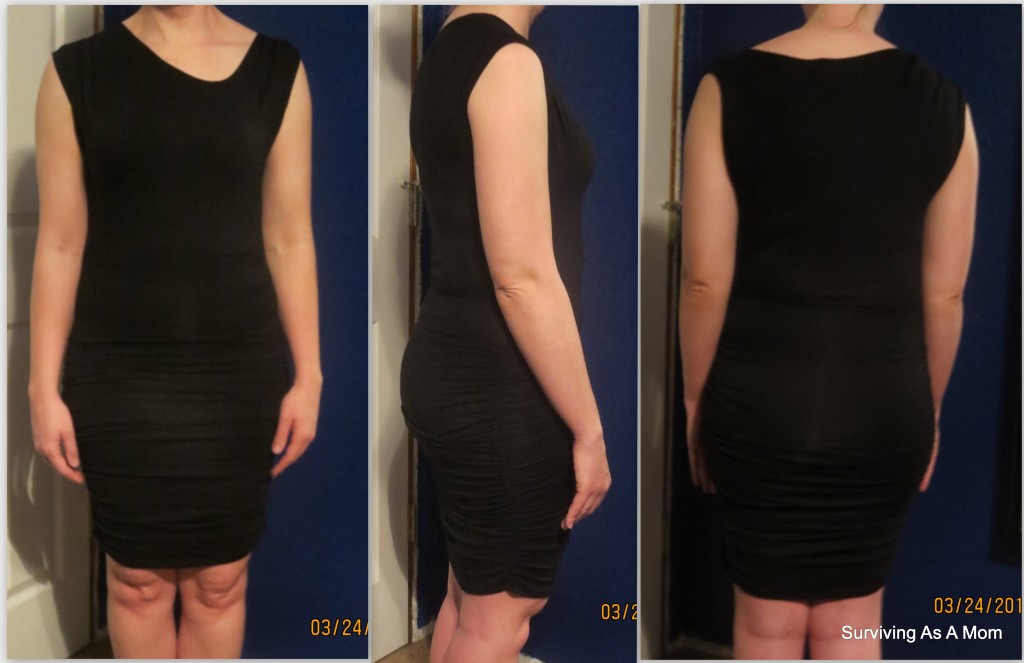 I had really high hopes for this dress.  After the other two dresses I was really hoping for more with this dress.  After ordering the other dress in green I went for the tried and true and ordered black.  This dress is made of 95% Rayon and 5% Spandex.  When I opened the package up I could not believe I would even fit in this dress.  It looked tiny.  There was a ton of ruching up and down the entire dress.  I thought it could look really good or really bad.
I am not sure what to think of this dress.  It was very clingy, but because it was black and ruched it hid any imperfections.  I was able to bunch the dress up in areas where I needed it and smooth it out in areas where I did not need it.  I loved the way the neckline was off centered and each shoulder was a different thickness.  I think I could bunch up the bottom half of this dress and wear it as a killer shirt with some tight jeans and strappy heels.  I don't think I would be comfortable wearing this as a dress (at least not now, maybe if I lost 20 lbs.), but will try it as a shirt.
The Women's Drape Crew Neck Basic Casual Short Cap Sleeves Stretchy Mini Dress is $19.99 on Amazon.com.  #Simlu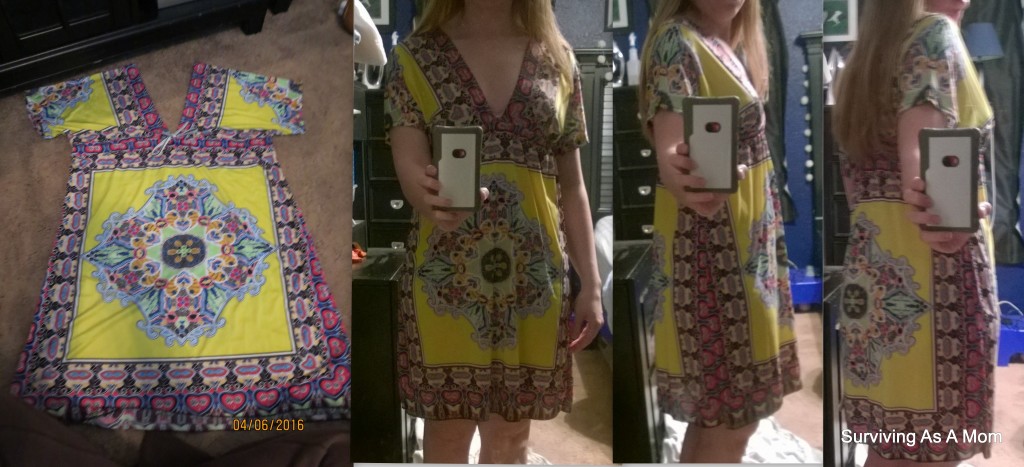 I decided to go for a Hail Mary and try one last option.  This beach cover-up actually came in six different styles: dress with a tie, shirt with waist tie, open cardigan, strapless dress, oversized shirt, and shirt dress.  I decided to get the dress with a tie in the Bohemia Yellow pattern.  It never said what the dress what made of, but I was hoping it would be made of polyester but have that sateen look to it.  This dress was a one size fits all.  I was hoping to get it before I had to attend the wedding and it would be perfect.
The material was rather thick and heavy.  It felt like the same material as the last three dresses.  This was definitely not what I was hoping for.  I tried it on anyways and it was not a good fit.  It would not work as a dress for a formal event.   I don't even know if I would wear this as a cover-up.  The material is so heavy for what it was made for that I would think twice before I ever considered getting this for a cover-up.  The fit of the cover-up was a little big.  If I pulled in the back of the dress it was a better fit.
The Neosans Women's Beach Cover-Up is $12.99 on Amazon.com.  #swimsucoveup
So out of the four dresses none of the dresses ended up working out for the wedding I had to attend.  I ended up just wearing something from my closest.  I now know that I should have saved myself the time and just wore what I had planned and not something new.
I was chosen to review the dresses from Amazon through Tomoson.com.  Basically how it works is you select items you would like to review and if they chose you, the product is purchased through Amazon.com.  If you have a Prime Account with Amazon shipping is free and a coupon code is provided from the company making the product free or highly discounted.  In exchange they are looking for an honest review on their product.
Disclaimer: I have never claimed to be any great writer. So any mistakes that are made are my fault. Sometimes I mix up names B, S, and P, but I think you can figure out who I am talking about. If you find any grammatical errors just fix it in your mind so it sounds right.