August 29, 2016
Comments Off

on Dresses I got from Amazon.com Part 2
Disclaimer:  I received this product for free or highly discounted in exchange for an honest review.  All thoughts and opinions expressed are mine.
I got a chance to review three more dresses from Amazon and made sure if I was unsure what size to size up.  I was bound and determined to have one of them fit and look cute.  Here are the three dresses I got.

The Appcome Women's Short-Sleeve V-neck Midi Dress is a slim fit dress with a sweetheart V-neck.  The dress has a high waist and hits just above the knee.  The dress comes in 8 different colors: blue, deep gray, gray, khaki, light blue, light green, orange, and pink.
I loved the top of this dress when I saw the picture.  I could not wait to try this on.  With the v-neck and ruching under the bust I was hoping it would give more of an empire waist fit and hang looser on the bottom.  I ordered the blue and loved the color when I got it.    The fit from the bust up is amazing.  I love the way it looks and that is where it ends.  The ruching under the bust gives a ton of extra material to make it look like it could be a maternity dress for someone who carries really high.  The bottom part of the dress hugged my butt and thighs too tight.  My thighs have always been my problem area and I know that so it wasn't much of a surprise.  I never had a belly before having kids and now have a small one so it is always a surprise when I try dresses on and they do not fit in the stomach area.  The dress was extremely see through and there is no way it could be worn without a full body slip underneath it.  Because the material is so soft I am going to keep it and wear it as pajamas.
The Appcome Women's Short Sleeve V-neck Midi Dress is $8.99 on Amazon.com.  #Appcome

This dress is a wear to work business party one-piece dress.  The dress is made up of 95% polyester and 5% spandex.  There is a polo V-neck with a ¾ sleeve and high waist pencil dress for women.  The dress is high waisted with a belt to accent the waist.  With the buttons giving a finished look to the dress.
I purchased a Milkuu swimsuit in two different sizes.  I anticipated I would need a large but was surprised when it was too big and the medium was a perfect fit.  I went ahead and ordered the 8/10 in the dress since the large swimsuit was so big.  The dress fit great on top.  It was snug and gave a nice fit from the chest up.  Unfortunately the bottom half of the dress was a whole different story.  It emphasized every bad part of my body that I want to hide.  It showed my stomach, butt, and thighs.  If someday I could lose the weight and trim my stomach and thighs this would be an awesome dress to wear to so many different functions.
The Milkuu ¾ Sleeve Business Party Pencil One Piece Dress is $10.00 plus $6.99 for shipping on Amazon.com.  #Milkuu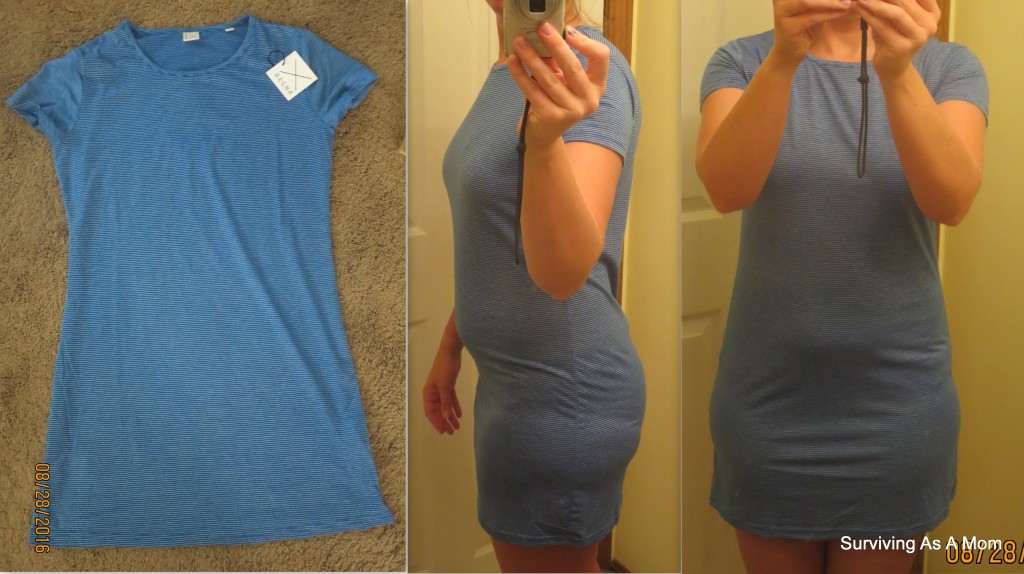 The Regna X dress is the basic original comfy fit deep round neck dress.  The dress is soft and comfortable cap sleeve long tee.  The fine jersey fabric breathes well and has a nice drape to it.  The dress can be paired with shorts, leggings, and skinny jeans for a casual every day look.  The dress is 60% polyester, 36% rayon, and 4% spandex.  It comes in nine different colors: stripe black, stripe blue, stripe grey, stripe light pink, brown, heather grey, olive, black, and navy.
When I saw this dress on the model I saw how short it was and was thinking I could just wear it as a long tee.  I chose the stripe blue tee/dress and loved the color when I opened the package.  The material was soft and felt just like a comfy tee.  When I tried the dress on it fit great.  As a tee this was a perfect fit, except that it was too long to be a tee.  This is the perfect tee to wear as a dress.  It is actually a good length for a dress or to wear with leggings.  Again the dress hugged my problem areas of stomach and thighs so it was not a win for me.  Because of the comfort I am going to keep this and wear it for pajamas.
The Regna X Basic Women's Round Neck Short Sleeve Tunic Mini Dress Top is $9.99-$15.99 on Amazon.com.  #RegnaX
Overall, I struck out with these three dresses.  At some point I have to realize that if I am going to order a dress from Amazon I am going to have to order two sizes up for it to even come close to fitting.  These three dresses did not fit for wearing as a dress but on the positive side I got two new nightgowns to wear.
I was chosen to review the dresses from Amazon through Tomoson.com.  Basically how it works is you select items you would like to review and if they chose you, the product is purchased through Amazon.com.  If you have a Prime Account with Amazon shipping is free and a coupon code is provided from the company making the product free or highly discounted.  In exchange they are looking for an honest review on their product.
Disclaimer: I have never claimed to be any great writer. So any mistakes that are made are my fault. Sometimes I mix up names B, S, and P, but I think you can figure out who I am talking about. If you find any grammatical errors just fix it in your mind so it sounds right.