October 18, 2015
Comments Off

on Deluxe Cook V-Blade Mandoline Slicer Professional Review
Disclaimer: I received this product for free or highly discounted in exchange for an honest review. All thoughts and opinions expressed are mine.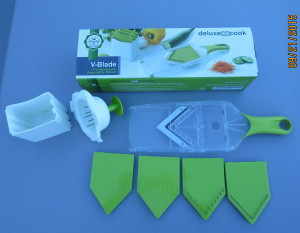 I love the look when you can slice fruits and vegetables into fun shapes or designs. Why does eating an apple that has been sliced thin like chips or Julienned to look like fries more appealing to eat? Why will my son eat apples with the peel on if I make them chips or fries? I don't have the answer for either but love the results of both.

The Deluxe Cook V-Blade Mandoline Slicer Professional is a great tool in the kitchen to slice or Julienne food. It comes with four different blades to produce two different size slices and two different size Juliennes. It also comes with a guard to put the food in when slicing so you do not cut yourself. The blades are very sharp and can easily cut. My neighbor used it and she did not use the guard when cutting carrots and took a huge chunk out of her hand.
I tried the V-Blade Mandoline Slicer two different ways with apples to see which way the kids preferred to eat them or if they just wanted them chunked up. I Julienned apples one day for all of us for a snack and S gobbled them up. I actually enjoyed them also. P grabbed them by the handful and tossed them on the floor. Apples are a 50/50 thing with her. Sometimes she eats them sometimes she doesn't. It just depends on the day. Another day we tried slicing the apples like a potato chip. I didn't really care for them this way because they were still too big to eat. I had to cut them in half just to eat them. S didn't really care for them, and said he liked the fries better. I think because they were so thin they were softer and lost their crunch.
Cleaning the V-Blade Mandoline slicer was a piece of cake. All I had to do was take the two pieces apart and stick them in the dishwasher. All the blades go in a convenient storage case to prevent getting cut by the blades. I have been storing it all in the box it came in. It all goes back in the box easily and I don't have to worry about anyone cutting themselves.
The Deluxe Cook V-Blade Mandoline Slicer Professional is only $39.99 on Amazon.com. Click here to order Deluxe Cook V-Blade Mandoline Slicer Professional. #deluxecook
I was chosen to review the Deluxe Cook V-Blade Mandoline Slicer Professional through Tomoson.com. Basically how it works is you select items you would like to review and if they chose you, the product is purchased through Amazon.com. If you have a Prime Account with Amazon shipping is free and a coupon code is provided from the company making the product free or highly discounted. In exchange they are looking for an honest review on their product.
Disclaimer: I have never claimed to be any great writer. So any mistakes that are made are my fault. Sometimes I mix up names B, S, and P, but I think you can figure out who I am talking about. If you find any grammatical errors just fix it in your mind so it sounds right.