December 1, 2013
Comments Off

on Black Friday Haul
So here is a recap of the Black Friday shopping that B did for our family.  I do not like to go out and battle the crowds for the great deals.  B on the other hand loves to do it.  When he ventured out this year he said the crowds were not nearly as bad as they have been in the past.  He did however spend way more than we had even dreamed of spending. B spent a total of $1,072.06 (not including tax).  The two places that B ventured off too this year were Wal-Mart Thanksgiving night and Menard's Friday morning.  Here is everything we got on Black Friday.
Here is the haul from Wal-Mart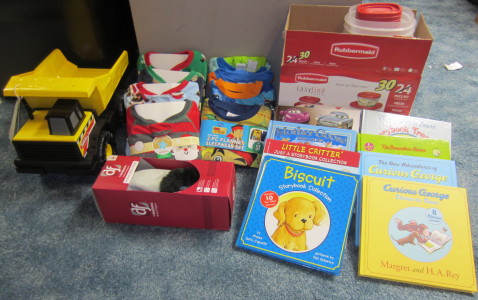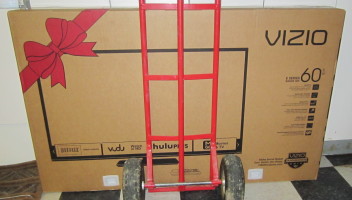 B spent a total of $791.92 (not including tax) at Wal-Mart.
Believe it or not B got the 60" Smart TV for $688.  We did however make a deal about it.  In order to keep the TV we have to sell our entertainment center.  Do we need a new TV, nope the TV we have works just fine, it is just huge and takes up a lot of space.  I can't justify getting rid of it so we would probably move it down to S's playroom.  If we can't sell the entertainment center, then the TV gets returned and all stays the same.
$5 Storybook Collections-We got quite a few of these last year for S and I like them as much as he likes them.  We got the ones we were not able to get last year and the new ones that came out.
B was able to get S quite a few pajamas for next winter for only $4.50 each.
B also got me a new pair of Dearfoam slippers for $6.  I got pair last year and liked them so much I wanted a new pair to replace them.
Another set of Rubbermaid containers for $6.92(I think to date we have bought 6 of them in the past 4 years).
Tonka Dump truck for $10.  B is either going to give this to S or take the wheels off of it and use it for a dump truck toy box he has been building since B was born.
Here is the haul from Menards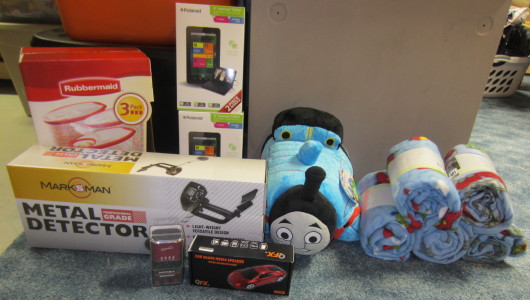 B spent a total of $280.14 (not including tax) at Menards.
Although we ordered tablets from Meijer.com Wednesday night (at $79 each for a 7") I also wanted B to check and see if he could get the tablets from Menards.  B was able to get two of them, one for me and one for my dad.  They were $88 a piece.  Now I can compare them and see if I want the 7" or 9" screen.
I also wanted to get speakers with SD card slots to try and use in S's room to play his song so that we can get rid of the CD player in there and the CD that skips his song all night long. We found two that we liked so we got one that was a square and one that was shape of a car.  They were each $9.99.  Once we check them both out we will return one of them.
A Thomas Pillow Pet for S for only $4.99.
B got a metal detector for his dad for Christmas for only $24.
B was also able to find some cute fleece blankets for S.  They are railroad/train and car patterns.  He is going to love them and for only $1.44 each how could we pass those up.
Rubbermaid Cereal Keepers for dog food for only $4.99.
B got a Retractable Hose Reel for himself for $34.99. (I will have to trust him that it is a good price.)
B also got himself a clamping work bench for $7.99.
Menards to B is like Target to me.  I swear he goes there at least once a week just to see what good deals they have that week.
Disclaimer: I have never claimed to be any great writer. So any mistakes that are made are my fault. Sometimes I mix up names B, S, and P, but I think you can figure out who I am talking about. If you find any grammatical errors just fix it in your mind so it sounds right.