April 18, 2013
Comments Off

on April Spring Carefree Crafts Review
Carefree Crafts is a monthly kids craft subscription club aimed at kids 3-10. Each month you'll get a curated package of fun crafts that you and your kids can assemble. Each month is centered on a holiday or seasonal theme, and once completed, the crafts become toys or decorations for your kids.  The total for subscription is $14.95/monthly which includes shipping cost.  You can also get crafts a la carte so if you only want a few, or want certain crafts you did not receive you can buy them.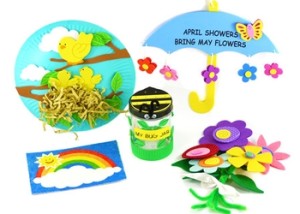 Carefree Crafts Welcome Spring came in a padded envelope via USPS.  I ordered this last week and was pleasantly surprised how fast it came.  It was addressed to S, so it made his day to get a package in the mail and not just an envelope.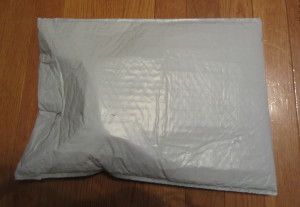 When S and I opened the package all of the materials were in a clear Ziploc bag.  Below you can see a shot of what the package looked like.  There were 5 spring related crafts enclosed.  It also gave a brief description of each craft and some tips on explaining Spring.
April Showers Bring May Flowers Sign Craft Kit-This craft came with everything needed to complete the project.  When S saw all of the crafts he was so excited I told him he could do one project before bedtime and he picked this.  He loved the umbrella and the flowers that were hanging off of it.  S was able to do about half of this by himself.  I had to tie the strings for the flowers and peel off most of the backings on the stickers.  S tried to get the backings off but was getting frustrated and asked for help.  The only messy part (which really was that messy at all) was adding a few dabs of glue onto the back of the butterfly to attach it to the umbrella.  You can see how happy S is with his completed project.
Update:
I loved the umbrella craft, and we hung it up for the entire month of April.
Paper Plate Spring Bird's Nest Craft-This looks like a fun craft and it will take everything in my will power to try not to fix the project so it will look like the picture.  S will have fun doing this, but it will look nothing like the picture. It is going to drive me nuts!!!
Update:
I thought for sure that S could never make this look like the picture.  It was so easy to make it.  With most of the foam being stickers, this was right up S's alley and he could do it all by himself.
Spring Sand Art-S was so excited to see a rainbow, but upon reading other reviews I knew that he may not receive the rainbow picture.  I had seen a frog on lily pads in another review (from Ramblings of a Suburban Mom), but was surprised when we got a duck in a raincoat.  S has been obsessed with his raincoat so this was perfect for him.  We have had so much rain lately, his raincoat has got a lot of use.  His bathroom is also duck themed so maybe we will hang this in there when it is done.
Update:
There were directions on how to do this, after we were done I realized that the yellow paper was supposed to be peeled off to reveal a sticky paper.  That would have been way easier.  S had a good time and that is all that really matters.
Bug Jar Craft Kit-This will be perfect when it gets a little warmer out and the lightning bugs come out.  S loved catching them last year, hopefully this year he will be able to do it by himself.  The jar already has holes in the lid which is good to keep the little bugs alive longer than just a few hours.   It looks like you could have gotten the ladybug or bee jar and we got the bee.  Let's just hope S does not want to try and get bees for the bee jar.
Update:
S loved making this bug jar.  He has a bug container that he uses outside all the time for roly-poly bugs.  S decided to keep this jar inside for bugs that come into the house.  Instead of gluing all of the foam pieces down like the directions tell you to, we used the glue dots included.  So much easier and a lot less mess!
Flower Bouquet Craft Kit-I told B he should do this project with S for Mother's Day.  We will probably do this craft and put it in a vase on the island for everyone to see.   This may be the first bouquet of flowers Neezer doesn't try to eat.
Update:
S decided to make these for our neighbor Teetee who was having surgery.  He gave them to her a few days before her surgery because he would not be able to see her afterward for a while.  He loved making these and they were so easy being sticky foam stickers.  I wish all of the crafts were this easy for him.
I think this is great to have everything you need to complete 5 really cute crafts.  I love that they all related to each other and had one theme.  S and I will have fun doing all of these crafts and I liked not having to search for the glue or string to complete these projects, but was kind of disappointed that all of the crafts we received this month were from Oriental Trading.  I think we are going to give this another try next month and receive the Mother's Day package.  I will post pictures of the crafts when they are completed, along with how S liked them so check back to this posting to see the final products.
What do you think about Carefree Crafts? If you are interested in signing they are offering the first month for only $2.95 if you use the code "FREETRIAL"! If you want to sign up or learn more click here.
Disclaimer: I have never claimed to be any great writer. So any mistakes that are made are my fault. Sometimes I mix up names B, S, and P, but I think you can figure out who I am talking about. If you find any grammatical errors just fix it in your mind so it sounds right.