September 4, 2013
Comments Off

on Wild Wednesday
Wild Wednesday is about all the crazy or unbelievable things that have happened in the last week to me, in the news, pop culture, etc.
Since last Wednesday here is what has happened:
I got coupons in the mail to try more UNREAL candy.  Apparently, some who were asked to sample the product could not print out the coupons so they sent out real coupons.  I had no problem using my printed coupons and let Mom's Ambassador know but they still sent me real coupons.  Guess I have to go and get two more bags of candy.  What a punishment! (Not really)  Last time I got peanut M&M's and peanut butter cups.  This time I am thinking regular M&Ms and Milky Ways.
S was so funny going down the hills at my Uncle F's.  He would scare everyone going down the hill because he kept looking at everyone instead of watching wear he was going.  I had to tell everyone to not yell at him so he would look where he was going.  The trees were really big and it would have been a big accident if he had hit one.  Happily he managed to miss all the trees.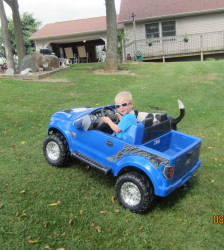 How crazy was the Real Housewives of OC this past week?  The Secrets Revealed episode was hilarious.  I could not believe all the things we learned.  Let alone the secrets, the bridal shower that Heather threw was amazing.  So beautiful.
We went to the zoo yesterday and had a great time.  All the animals were very active.  The baby polar bears were busy rolling around in the water with their mom.  I think B and I liked to watch them more than S did.  S liked to watch the wallabies, but when they got close he was a little jumpy.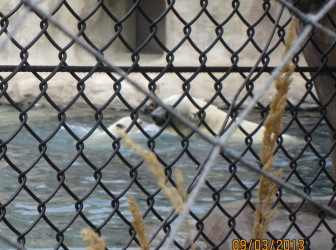 Even though I hate snakes, we decided to take S into the Reptile House at the zoo (the first time S has seen it).  I wanted to make sure that B showed S all the snakes to make an effort to keep S from being afraid of the snakes.  I couldn't help myself and ran my finger up S's leg and he jumped sky high in the Reptile House.  It was hilarious and when we finally figured out it was me he was not so scared anymore.
When we got home from the zoo, my mailbox was stuffed with mail.  I got three packages and a few envelopes with free stuff.  B got a box from his sister.  I knew the mailbox would be full of mail.
Disclaimer: I have never claimed to be any great writer. So any mistakes that are made are my fault. Sometimes I mix up names B, S, and P, but I think you can figure out who I am talking about. If you find any grammatical errors just fix it in your mind so it sounds right.