March 1, 2017
Comments Off

on Wild Wednesday
Wild Wednesday is about all the crazy or unbelievable things that have happened in the last week to me, in the news, pop culture, etc.
Since last Wednesday here is what has happened:
It is so windy outside as I type this that the wind keeps waking P up from her nap.  It sounds like thunder.  I love it!
Last night we went out to eat to celebrate a birthday late.  We met at the restaurant at 7pm.  I fed the kids before we went because I knew there was no way they would make it that late without eating.  I cannot believe how good they both did.  We were there for 2 ½ hours and they both managed to stay entertained and behaved.
P went all day yesterday in undies with no accidents.  Amazing right?  Well she never went to the bathroom either!  She went from 9-5 (including naptime) and never went.  I finally got her to go on the potty at 5pm, but she did not go again until sometime during the night.
I am still walking on the tread climber every day.  I was running on the treadmill for 22-28 minutes and can barely walk 17 minutes on the tread climber.  I have worked my way up from 12 minutes but cannot get past 17 minutes.  At least it is something.
I found a new author and cannot get enough of her books.  I am flying through her books.  It has been taking me 3-4 days to read a book.  The series 'The Diva' by Krista Davis.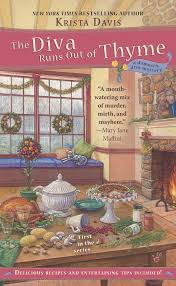 Disclaimer: I have never claimed to be any great writer. So any mistakes that are made are my fault. Sometimes I mix up names B, S, and P, but I think you can figure out who I am talking about. If you find any grammatical errors just fix it in your mind so it sounds right.