February 22, 2017
Comments Off

on Wild Wednesday
Wild Wednesday is about all the crazy or unbelievable things that have happened in the last week to me, in the news, pop culture, etc.
Since last Wednesday here is what has happened:
I have been going to bed early for the past week or so not getting anything accomplished on the blog.  I don't know why I have been so tired but I am.  I need to go back to taking naps so I can be productive at night after the kids go to bed!
We are having spring in February.  It is going to be in the 60's today and going to be just as nice Thursday and Friday before it goes back to being winter.
B was changing our sheets and went to change the cover on the mattress pad only to discover the feather bed had exploded inside the mattress pad cover.  Yes we have a pillowtop on the mattress, a mattress pad and feather bed.  I love a soft squishy bed.  I am so glad I was out shopping when B discovered the exploded feather bed.
I did good doing the laundry this weekend, even treating the stains with shirts on them.  Then I just never got around to folding them and they are still sitting there.  Maybe I will get them folded today!
It was so nice outside today that instead of working on the computer we played outside.  It was in the 60s!  I was wearing capris.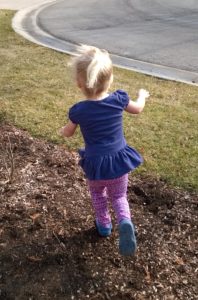 Disclaimer: I have never claimed to be any great writer. So any mistakes that are made are my fault. Sometimes I mix up names B, S, and P, but I think you can figure out who I am talking about. If you find any grammatical errors just fix it in your mind so it sounds right.