October 6, 2016
Comments Off

on Wild Wednesday
Wild Wednesday is about all the crazy or unbelievable things that have happened in the last week to me, in the news, pop culture, etc.
Since last Wednesday here is what has happened:
I did 6 loads of laundry between last night and today and finished folding it all at 11:50pm.

 

Four hours of folding clothes.

 

Kid clothes are so small.

 

You sure can fit a ton of their clothes in one load.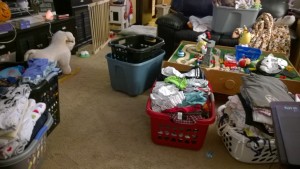 We got the kids Halloween pics done today.

 

I swear P just keeps proving to me over and over again that she is a feral child (#mowgli).

 

She kept running around the backgrounds.

 

It was hard to get a good shot of P and S together.

The stinkbugs have come out in droves.

 

I cannot believe how many I kill every day.

 

Today I am not kidding I bet I killed 20-30 in one sweep of the back of the house.

We decorated for Fall/Halloween and I cannot believe how much it makes me excited for Christmas.

 

The closer we get to Halloween means the closer I get to decorating for Christmas!

Disclaimer: I have never claimed to be any great writer. So any mistakes that are made are my fault. Sometimes I mix up names B, S, and P, but I think you can figure out who I am talking about. If you find any grammatical errors just fix it in your mind so it sounds right.