May 25, 2016
Comments Off

on Wild Wednesday
Wild Wednesday is about all the crazy or unbelievable things that have happened in the last week to me, in the news, pop culture, etc.
Since last Wednesday here is what has happened:
I cannot believe it is going to be a high of 85°!  Last week we had highs in the low 60's and now we are in the upper 80's.  We never seem to get that lovely in between temperatures.  We go from one extreme to the other.
Dash is still a crazy little kitty.  Somehow she must know she is getting declawed on Friday because she has been scaling the screen door a ton but has gone one step further and tries to get up on the molding on top of the door.  I think she really wants to get to the top of the cupboards in the kitchen so she can walk them.  I am totally okay with that, let her stay up there and not on my counters!
This week I have decided to take P's naptimes for myself.  I have taken that time to nap, read books, play games on my phone and spend time with kitty.  I know these are my last few days of alone time before S is home with me all summer.  The craziness is going to start with camps, swim classes, and more.
I have caught up on my DVR and seen all the season finales for this year so far.  I am pretty excited about all the new shows that are coming out this summer and cannot wait.  Once they get underway I think I will do a review on the shows I like and don't like.  Right now I cannot even keep track of what shows are new, when they start, and what channel they are on.
I really missed Derby because she was my little buddy and would hang out with me in the living room after everyone else went to sleep.  I wanted another little dog so I could have that buddy.  Much to my surprise Dash hangs out with me every night.  When the kids go to bed all of a sudden she comes running out to the living room and will either sleep on me or right next to me until I am ready to go to bed.  At that point I take her to bed with me where she bugs B and then falls asleep.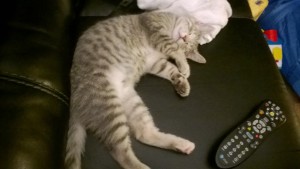 Disclaimer: I have never claimed to be any great writer. So any mistakes that are made are my fault. Sometimes I mix up names B, S, and P, but I think you can figure out who I am talking about. If you find any grammatical errors just fix it in your mind so it sounds right.