March 31, 2016
Comments Off

on Wild Wednesday
Wild Wednesday is about all the crazy or unbelievable things that have happened in the last week to me, in the news, pop culture, etc.
Since last Wednesday here is what has happened:
I really refrained from going to Target and checking to see if Easter clearance went 70%.  I know I should have but decided to wait till Thursday.
I found a new show and watched both seasons in less than a week.  Amazon Prime created the show Bosch and it is AMAZING.  I loved it and was totally hooked half-way into the first episode.  Totally worth taking the time to check it out.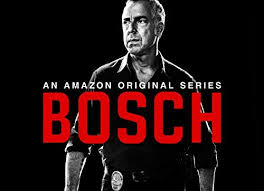 S went to play with his best friend and cousin L last night.  I ended up picking him up after the art class.  It was about 10:15pm when I got him.  He usually is in bed between 7:30-8pm.  He did not get in bed until after 11:30pm.  I told him if he slept till 11am that would be awesome.    He slept till 8am which is later than his usual 6-7am.  Hopefully he does it again tomorrow to catch-up more.
P woke up this morning with S's cold.  Now she has drainage coming out of her nose and her original cold that is stuck in her throat/chest.  She is miserable and cannot sleep.  She took a four hour nap this afternoon and woke up with a fever.  She went to bed at her normal bedtime and has already been up twice tonight crying.  The first time she fell asleep on me and slept there for a few hours.  Since she was so upright the way I was holding her she never coughed once.  The second time she let B hold her for a while and went back to bed no problem.  Fingers crossed she sleeps the rest of the night.
Disclaimer: I have never claimed to be any great writer. So any mistakes that are made are my fault. Sometimes I mix up names B, S, and P, but I think you can figure out who I am talking about. If you find any grammatical errors just fix it in your mind so it sounds right.