October 21, 2015
Comments Off

on Wild Wednesday
Wild Wednesday is about all the crazy or unbelievable things that have happened in the last week to me, in the news, pop culture, etc.
Since last Wednesday here is what has happened:
I may actually get this posted on Wednesday during the day.
I managed to pictures last night of all the new products I received. It took me over an hour to get them all photographed.   There were 38 products. Crazy that is all in one week!
Now if only I could get caught up on the reviews.
P is in love with all the stuffed toys we have that sing and dance. We have a dog, Snoopy, a few pigs, a gopher, two dolls, and a few others. Wait till we get out the Christmas decorations. I think we have four or five more in there.
We are on our third day of really nice weather. I have made S play outside every day after school. We just aren't going to get many more days like these.
After S got on the bus today P and I went for a walk. When we got back she jumped on S's Crazy Cart (he rode it waiting for the bus to pick him up), tried putting his helmet on and going for a ride. It was hilarious to watch her with that helmet and when she actually did get it on she just shook her booty back and forth.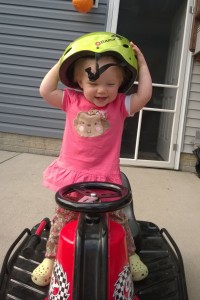 A little on the celebrity stuff, I truly thought Lamar Odom was goner. I figured for sure he was brain dead when they said he was on a ventilator and in a coma. I just wonder how bad it is for him. Is Khloe going to get back with him? I'm going to wait and see.
Does anyone else watch Botched? That show is crazy. Last night they had someone on that had their dentist give them a nose job. And you wonder how you made the show! That's like saying I'm going to let my foot doctor fill my cavity. You have to be crazy to do either!
Disclaimer: I have never claimed to be any great writer. So any mistakes that are made are my fault. Sometimes I mix up names B, S, and P, but I think you can figure out who I am talking about. If you find any grammatical errors just fix it in your mind so it sounds right.