October 10, 2016
Comments Off

on Tryazon Q Wunder Party Review
Disclaimer:  I received this product for free or highly discounted in exchange for hosting a party.  All thoughts and opinions expressed are mine.
I love to host parties for my friends and family.  I have hosted parties through different companies and this is through Tryazon.  This party was the Q Wunder Party.  I wasn't really sure what to expect when it comes to this game.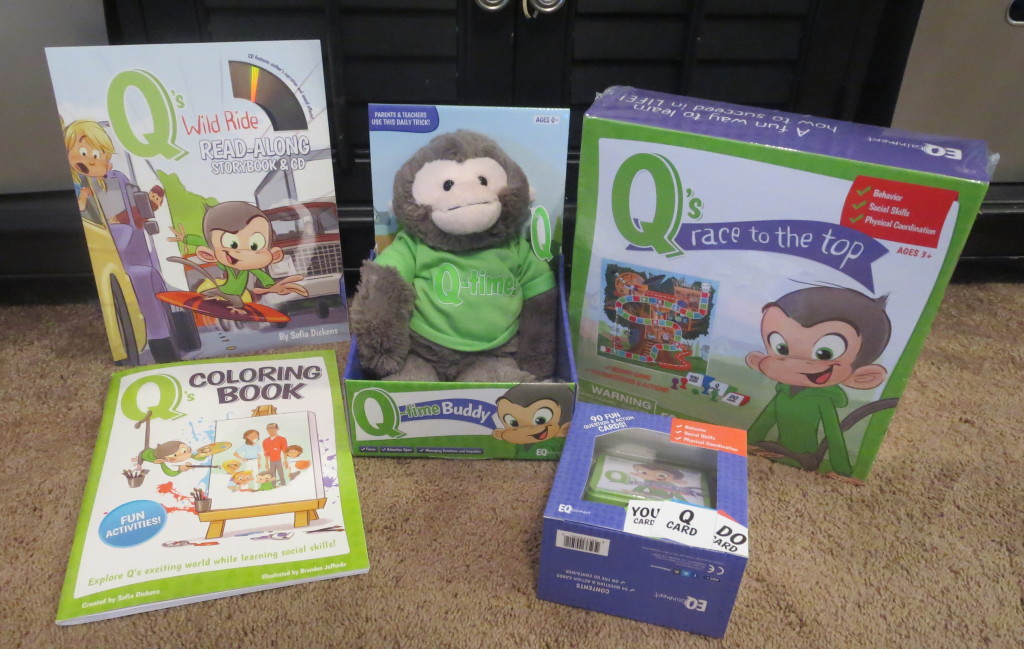 About the Company
EQtainment is on a mission to improve the world's social and emotional skills through entertainment.  All of EQtainment products, games, music, and programming are fun tools that help develop feeling identification and verbalization, manners, social skills, creative thinking and even balance and coordination.  EQtainment has also developed one of the first measurement tools to help parents identify and improve social and emotional skills in their children with customized content delivered through the Q Wunder App.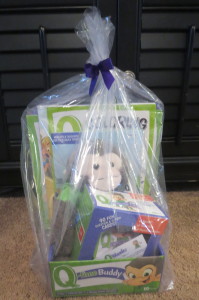 Why Social and Emotional Skills?
A growing body of research suggests that improved social and emotional skills in children leads to readiness and may likely lead to life success-career, relationships, health, and happiness.
Kindergarten teachers in the U.S. report more than 30% of children entering the classrooms are social and emotionally unprepared.  But how much can actually improve these important life skills?  Nearly 3,000 scientific reports have concluded that while emotional intelligence is heavily influenced by early childhood experiences, it can be improved with practice, guidance, and coaching.  The state of Illinois made headlines for mandating social-emotional learning standards, ultimately leading to an 11 percentile-point gain in academic achievement amongst students.  For more information, visit http://eqtainment.com/
The Game
In the game "Q's Race to the Top," children help Q race to the top of his tree house by answering questions and performing actions.  The questions are designed to promote feeling identification and verbalization, manners, social skills, creative thinking, balance and coordination.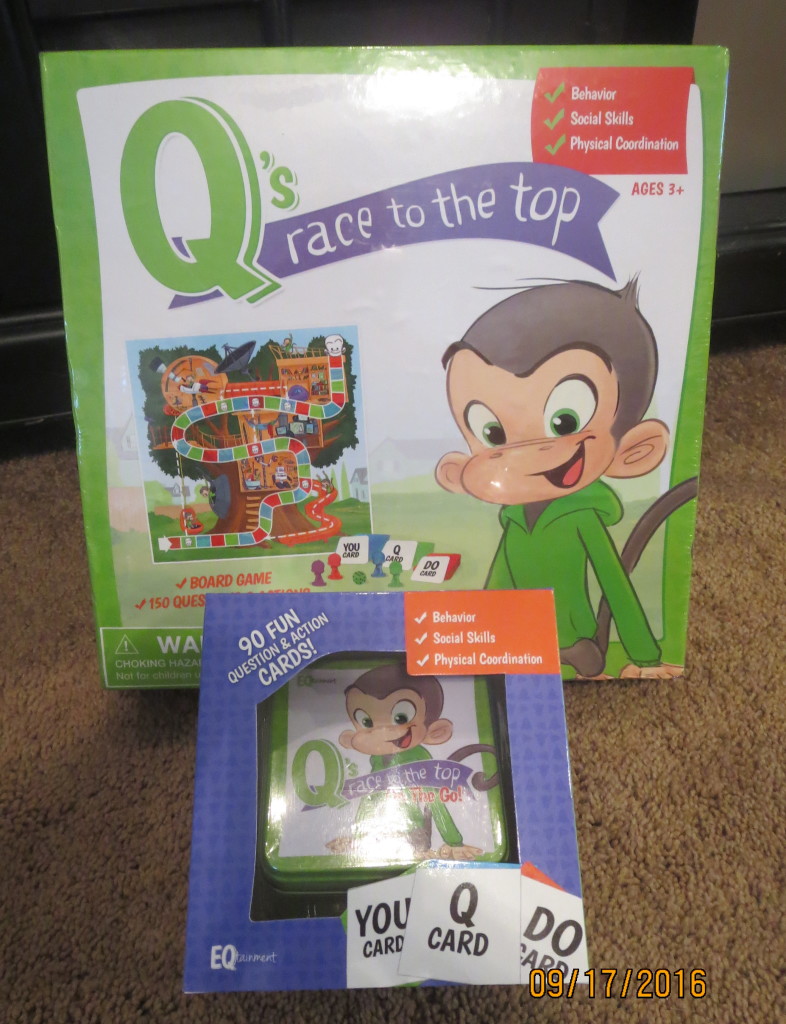 I wasn't sure how my 6 year old was going to like the game, but he really surprised me.  S could definitely benefit from this game.  We know that he does not do the best in social situations and it is usually his way or the highway when it comes to playing.  We have tried many different ways to get him to realize that he has to compromise with his friends when playing and controlling his temper.  This game really hits everything that we are working on with S.  S was so focused on trying to win the game that he didn't even realize we were working on his social skills at the same time.  He happily answered questions and performed tasks.  My niece was playing with us and she did really well at showing S how to answer the questions and not be embarrassed to answer them honestly.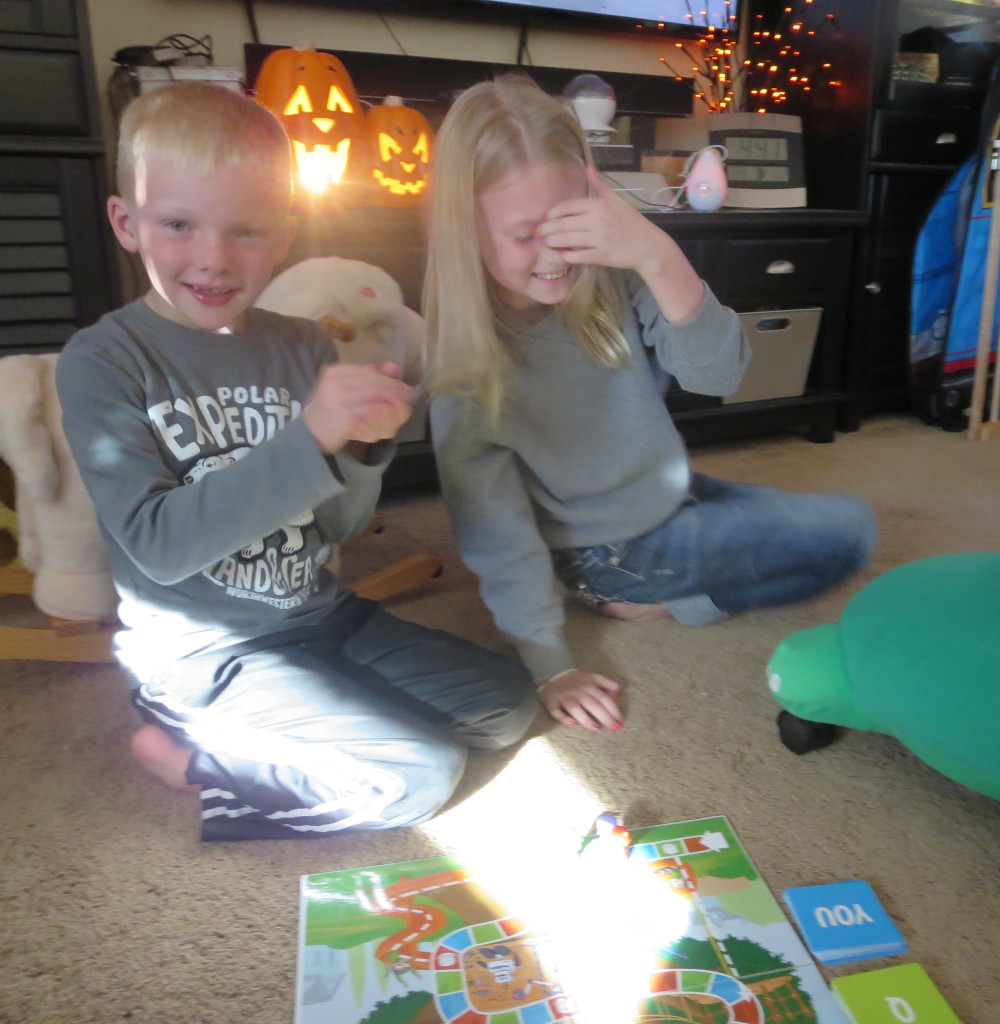 Q's Race to the Top was very simple to play and did not take a lot of explanation.  You rolled the die and moved that far ahead.  There were three different colored spaces that correspond with a card.  The card categories were:
You-The "You" cards ask questions about things that have happened and how you dealt with them, or what you would do in a certain situation.
Do-The "Do" cards are tasks to be performed that will have with coordination and balance.
Q-The "Q" cards are about Q the monkey with actions he has done and how they affect others. The cards also ask how the actions could have been done differently.
Whoever gets to the top of the tree house first is the winner!
The "Q's Race on the Go Pack" is perfect to take and play in the car or at restaurants.  This pack comes in a convenient tin and holds 90 cards.  I love the idea of being in the car and when S gets bored I can pull this out and read him cards to see what his answers will be.  It is a great way to remind him of ways to think of others.
Other miscellaneous items that were included in the party pack were:
Q-Time Buddy-Q is a really cute monkey who is great for cuddling and playing with.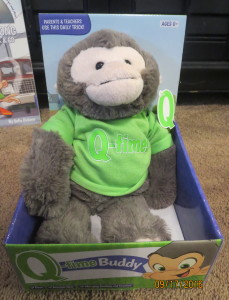 Q's Wild Ride Read-Along Storybook & CD-This was a story about Q and important lessons he learned along the way.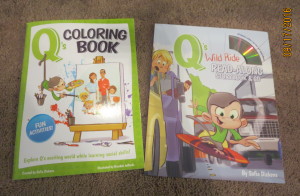 Q's Coloring & Activity Book-This is a great way for kids to kids to get to know Q and learn along the way.
The Party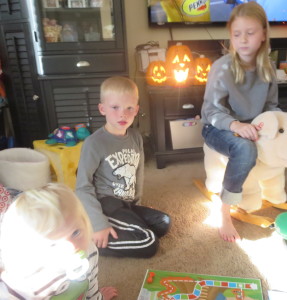 I love a good game night as much as any other person.  I decided to invite the neighborhood kids and my nieces over to play games and have a fun night.  I have to say this party was a hit and the kids had a great time.  I had the board game set up and ready to go.  Because not everyone could play at the same time I occupied the other kids with making cookies.
I tried to keep the group playing down to 1 adult and 3 kids.  I wanted an adult to play to help answer questions and read for the little ones.  I tried to mix up all the ages so the little kids could see how the big kids did it and the big kids could see how different the answers are for the little kids.  It really worked well.  As I said above when S played he was so focused on winning that he didn't realize he was learning and answering questions.  While my niece is older (10) she understood the game but was willing to participate and had a lot of fun.  I did let P play one game and she was more into copying others when they did the "Do" card.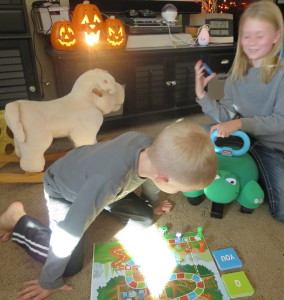 This was a nice little party that we had and the kids were entertained.  We played three rounds of the game and the winners each got a Q prize.  I gave away the storybook, activity and coloring book, and the grand prize was the Q plush monkey.  While not every child went home with a prize everyone went home with some cookies that we all baked together!
Disclaimer: I have never claimed to be any great writer. So any mistakes that are made are my fault. Sometimes I mix up names B, S, and P, but I think you can figure out who I am talking about. If you find any grammatical errors just fix it in your mind so it sounds right.