October 29, 2013
Comments Off

on Troubled Tuesday
Troubled Tuesdays is basically my complaint day to complain about all of the troubles I have, which could range from what is happening on TV shows to who knows what.
I hate when I think of really good things I should add to Troubled Tuesdays and then when I go to write Troubled Tuesday, I cannot remember what it was.
S is now almost 4 and the last time I cute Derby's hair myself was over 4 years ago.  I cannot believe it has taken me over 4 years to finally find someone who can give Derby a cute haircut.  I am so happy with her haircut, and excited for the next time she gets cut versus dreading it.
We went down to the Cincinnati area for two fun filled days of trains.  When we got to the train depot to take a real train ride, low and behold, I forgot my SD card in my laptop at home.  Thank goodness we got there early enough and B had time to run to Walgreens to get us another SD card.  I could use my phone but the quality of pictures is just not the same.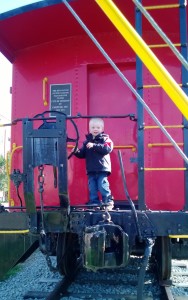 I can tell the seasons are changing.  My skin is terrible right now.  It always happens when the seasons change.  Change faster so I can get over this.  Going back and forth only wreaks havoc on my skin.
So there is this new show Dracula on NBC Friday's. What is the difference between Dracula and Vampires???  I am so confused.
Does anyone else watch PBS Masterpiece Classic shows?  I love some of them.  Right now I am watching "The Paradise."  I cannot wait for "Downton Abbey" to start in January.  I also like "Midwives", and "Mr. Selfridge."
We now have a 70% chance of rain on Thursday.  I hope S is not disappointed if it is raining and he cannot go trick-or-treating.  No way are we going out in the rain and chance getting sick.
What is troubling you?
Disclaimer: I have never claimed to be any great writer. So any mistakes that are made are my fault. Sometimes I mix up names B, S, and P, but I think you can figure out who I am talking about. If you find any grammatical errors just fix it in your mind so it sounds right.