September 3, 2013
Comments Off

on Troubled Tuesday
Troubled Tuesdays is basically my complaint day to complain about all of the troubles I have, which could range from what is happening on TV shows to who knows what.
When we went to my Uncle F last weekend, B spent hours digging up and finding rocks to bring home.  What the heck is he going to do with all these rocks?
Sunday we went out on Lake Erie to go see Turtle Island.  I could not believe what the water looked like.  It was disgusting.  I have never seen water so green from algae.  This water has never been like this before and now there is no way I would even stick my feet in it.  I am betting it would stain your clothes, but would it stain your skin?
Derby has a sore on her back.  She has to wear one of S's t-shirts so she doesn't irritate the spot anymore.  She looks so cute, but the minute you take it off she is right back to licking.  I thought the t-shirt would be better than having to wear a cone.  Go figure this spot got really bad on Saturday and the vets office is closed until today.  No way was I taking her to an emergency vet for this, hence the t-shirt.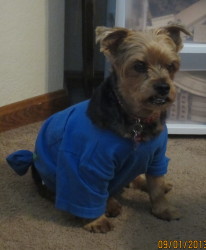 I really wish we got mail yesterday.  I miss getting the mail.  I love to go out to the mailbox every day just to see what I may get.  Today I am hoping for a really full box.
Speaking of mail, I have a huge stack sitting on the desk that I need to open.  Most of it is junk mail, but I still have to go through all of it just in case.
What is troubling you?
Disclaimer: I have never claimed to be any great writer. So any mistakes that are made are my fault. Sometimes I mix up names B, S, and P, but I think you can figure out who I am talking about. If you find any grammatical errors just fix it in your mind so it sounds right.