December 29, 2016
Comments Off

on Troubled Tuesday
Troubled Tuesday is basically my complaint day to complain about all the troubles I have, which could range from what is happening on TV shows to who knows what.
I am still no better at getting these posts done this week.
This week instead of Christmas being my excuse, P being sick is this week.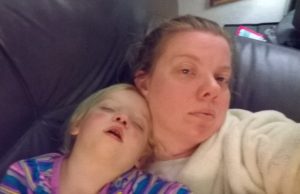 I took P today to her first sick visit.  She went 2 ½ years without having a sick visit.  That is pretty good, but man is she sick.  She was diagnosed with a right ear infection and pneumonia in her left lung.
P got her first taste of antibiotics and hates them.  They did not put her on amoxicillin but on something else.  She hates it so much that she now refuses to take her Tylenol to keep her fever down.  It is a double whammy!
Now I think I am coming down with her cold. Ugh!!!
What is troubling you?
Disclaimer: I have never claimed to be any great writer. So any mistakes that are made are my fault. Sometimes I mix up names B, S, and P, but I think you can figure out who I am talking about. If you find any grammatical errors just fix it in your mind so it sounds right.