Disclaimer:  I received this product for free or highly discounted in exchange for an honest review.  All thoughts and opinions expressed are mine.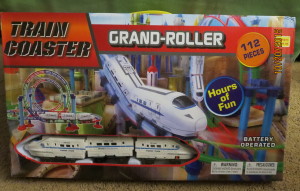 It has never been a secret how much S loves trains.  He fell in love with him when he was little and still loves them just as much.  As he has gotten older we have been able to progress in trains.  While he still plays with wooden trains he now loves to try other trains.
For S it is not just about playing with the trains it is also about making the tracks.  When we got the Train Coaster Grand-Roller Bullet Train Set in the mail I wasn't sure if I was going to give it to S right away or maybe save it for his birthday.  After talking to B we went ahead and decided to give it to him.  One morning I told him I had a surprise for him.  We put P down for her first nap and I showed S the Bullet Train set.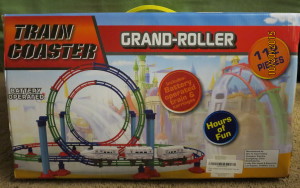 He loved it and the only thing he could say was "Whoa!"  We went ahead and opened up the package to reveal tons of parts that need to be constructed.  I could not believe how many pieces there were to this set.  Each track had to have two couplers to connect it to the next track.  It definitely made sure this track would be stable enough to handle a bullet train.  There weren't very good instructions on how to build it so S and I basically went off the pictures to figure it out.
Once we got the whole track put together it was time to install the batteries (not included) in the train and watch it go.  I love that a small screwdriver was included so I didn't have to search in the garage for one.  Once we got the train on the track and turned it on it was all about getting out of the way and watching it go.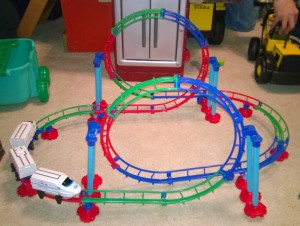 I could not believe how fast the train was moving.  It wasn't super loud, but it wasn't super quiet either.  I was glad we were downstairs in the playroom otherwise we may have woken P up from her nap.  We played with the train for about 15 minutes after we got it assembled.  S really liked playing with it.  I can see us having a lot more fun with it.
The couplers were hard to put on so there is no way we will disassemble this track to put it away.  It will stay assembled on the shelf and brought down when S wants to play with it.  In order to have two loops I do not really see any other way this track can be assembled.
The Train Coaster Grand-Roller Bullet Train Set is only $23.98 on Amazon.com.  Click here to order your Train Coaster Grand-Roller Bullet Train Set.  #grandrollertrainset
I was chosen to review the Train Coaster Grand-Roller Bullet Train Set through Tomoson.com.  Basically how it works is you select items you would like to review and if they chose you, the product is purchased through Amazon.com.  If you have a Prime Account with Amazon shipping is free and a coupon code is provided from the company making the product free or highly discounted.  In exchange they are looking for an honest review on their product.
Disclaimer: I have never claimed to be any great writer. So any mistakes that are made are my fault. Sometimes I mix up names B, S, and P, but I think you can figure out who I am talking about. If you find any grammatical errors just fix it in your mind so it sounds right.