Friday night after I did my Target toy shopping B and I went with his cousins to the Trace Adkins concert.  I was excited to see Trace Adkins again because we saw him a little over a year ago and it was an amazing concert.  This time he was playing at an outside venue and tickets were super cheap.  You had your choice of reserved seating for about $55 or general admission for $32.  Since I had been to Centennial Terrace before for a concert I knew that general admission was just fine because anywhere you went you had a great view of the stage.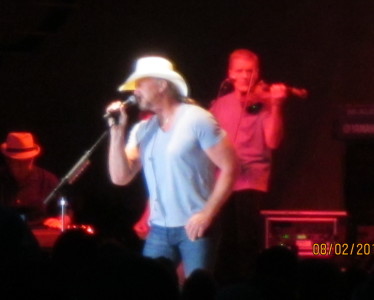 The concert did not start until 8pm so I was assuming he would not have an opening act, because last time he started at 8pm and had no opening act.  However, they introduced an act called Old Dominion.  I had never heard of them, but the announcer said they had written a song for The Band Perry.  Great so we are going to hear a band that's claim to fame is writing a song that became a hit.  I can safely say I do not have any pictures of them, and did not listen to any of there music. They played for about 40 minutes and then off the stage they went.  Thank goodness.  (This reminds me of another concert I went to and the opening act was Maroon 5 and they were terrible.  They may have gotten better, but I have been turned off by them since.  To me they are a studio band only, not good at performance.)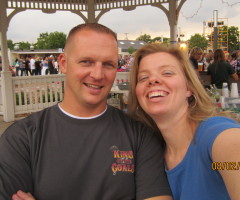 Trace Adkins came on about 9:07pm (I am giving an exact time, you will see later.) and his first song was about 4 songs combined into one.  All the songs were a little shorter than normal and they went right into the next.  It was a good concert and I was really enjoying myself.  About 40 minutes into the concert he took his hat off and took the ponytail out of his hair to let it hang loose.  I am not a girl who likes guys with long hair.  The concert continues and I am having fun and then he says, "Thank you, and good night."  Wait, What? He had only been singing for about 1 hour 5 minutes.  No way was he done.  Maybe he was taking a short break to you know go the bathroom and whatever else he needs to do.   (He took an intermission last time we saw him so I thought he was half way done.)  He came back out, big surprise, and sang a song he said had not been released yet but we could download for free Saturday morning on his website.  They were going to do a live recording of it right then.  Pretty neat and I like the idea of being there when they are recording a song that will be released like that on the internet.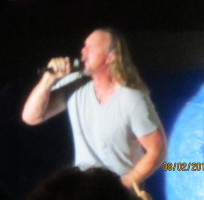 Trace sang that song and it was a good song.  I thought here we go he is really going to start jamming and go crazy.  Wrong!!  That was it.  He said, "Thank you, and be safe," and walked off at 10:25pm.  His concert only lasted 1 hour and 15 minutes.  I don't think I have ever been to a concert that was so short.  When I went to Lilith Fair about 15 years ago the last act Sarah McLachlan (my all-time favorite) played for about a hour and half in the pouring rain after 5 other bands.  My jaw just dropped, no way was he really done.  I told B we are not leaving until all the lights come on there is no way that he is already done. Yup he was done, and the lights came on.  The only thing I could say was, "At least the tickets were cheap."  What do you say to that.  I could not believe he was done.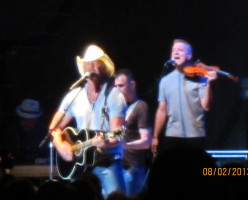 A few questions I asked myself after the concert:
Was the concert good? Yes, he gave a great performance.
Was it as expected? No, he did not play even close to long enough.  When I go to a concert I expect the main act to sing a minimum of 2 hours.
Where the tickets expensive? No, the tickets were really cheap and that is why I was so excited to go see him again.
Would I go see him again? I don't know.  I would be skeptical about how long his concert was and would it be worth it to pay for the tickets not knowing what kind of performance he was going to give.  I guess I would have to check other reviews before I saw him again to see what he was doing at other concerts.
Overall conclusion: You get what you pay for.  I should of known I was not getting a steal of a deal when I got the tickets and that there would be a catch to it.  The big bummer of the catch, it would be a short concert.  I did have a lot of fun getting a date night with B and going with B's cousins.  We love to hang out with them and have so much fun when we do.
Disclaimer: I have never claimed to be any great writer. So any mistakes that are made are my fault. Sometimes I mix up names B, S, and P, but I think you can figure out who I am talking about. If you find any grammatical errors just fix it in your mind so it sounds right.