Thursday Treats is all about the best things I have had happen in the past week as far as good things, good foods, awesome finds at stores, great TV shows, etc.
So I totally like country music if you didn't know that.  Not sure I every talked about it.  Anyways there are a ton of concerts coming up this year.  I have wanted to see a bunch of them and have gotten tickets for them.  Thankfully almost all of them are coming to Toledo so I only have to go to Detroit for one (so far) but I just bought tickets to Chris Stapleton and that is in Cincinnati.  It is the closest he is playing to us.  I am excited to go but not sure how we are going to work out the logistics.  Here is who I am going to see so far: Little Big Town, Chris Young, Taylor Swift, Indigo Girls (not country), and Chris Stapleton.  Usually we only see one maybe two a year.  I know Dierks Bentley is coming to Detroit but he hasn't announced the date yet so that will be another one.
P is so much to hang out with anymore.  She cracks me up.  She is getting old enough now that she will carry on a conversation and I can actually understand what she is saying and it makes sense.
P has really been interested in princesses since we got upgraded her books from baby to little kid in her room.  She got a whole princess series when she was younger and is now old enough to understand the stories.  Now she wants to watch all the movies which is fun.  I used to have them all but lent them out over the years because S was never into the princess stories and never got them back.  I guess we will rent them from the library or wait until they get released again to buy them.  Seeing Disney on Ice last weekend has only made her more interested.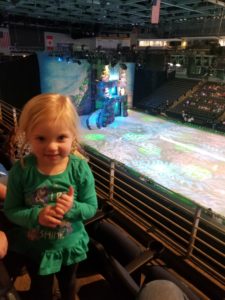 I was working on cleaning up the computer room last weekend and for the most part got it organized and stuff put away.  Now we just have to get the big counter and cabinet out of there so we can use the room again.  It was a good idea to put it in there but unrealistic when it came down to it.
Dinky is getting better about just hanging out with me at night after the kids go to bed.  The past few nights she has run around for a bit and then I find her asleep on the couch next to me.  That is how a dog is supposed to be not running around nonstop until you put her back in her pen to chill out.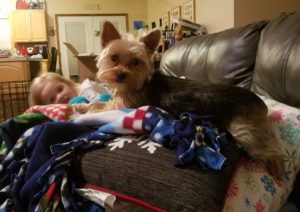 The kids got to make a super big snowman with B this week.  I went out at the end and helped a little but really it was all them.  S loves when we spray paint the snow so instead of added parts to the snowman they sprayed the parts onto the snowman.  P had to add snowballs to the snowman to make a bracelet and necklace for it.  Then they wanted to build a tunnel under the snowman to crawl through.  I think they wanted to make sure they fit everything in this one snowfall in case we don't get anymore.  The joke was on them because we got another 3 inches on Wednesday and a potential of 3-5 inches tonight/tomorrow morning.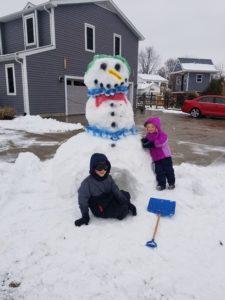 What good things have you been treated to you this week?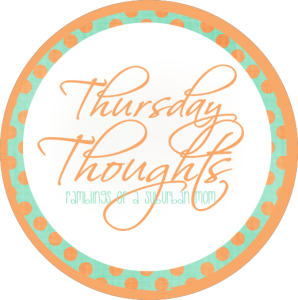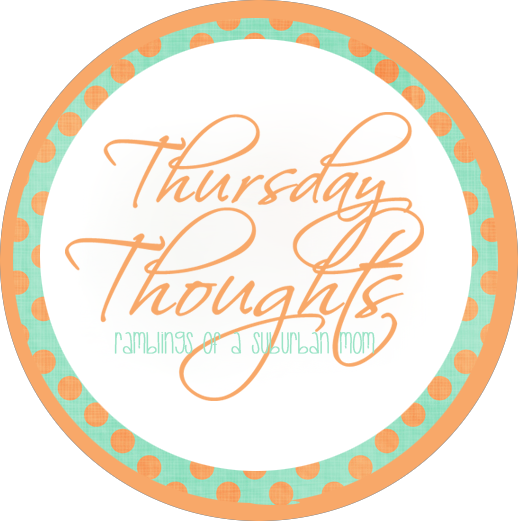 Although I do Thursday Treats, it is pretty similar to Jen at Ramblings of a Suburban Mom's Thursday Thoughts, so I am linking up with her today.
Disclaimer: I have never claimed to be any great writer. So any mistakes that are made are my fault. Sometimes I mix up names B, S, and P, but I think you can figure out who I am talking about. If you find any grammatical errors just fix it in your mind so it sounds right.